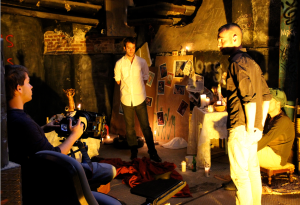 Lorenzo M. Ponce de León, a senior multimedia journalism and Spanish major, remembers the first moment he read the script to what is now his debut feature-length film.
It was February 2012, and Frédéric Conrod, assistant professor of comparative literature in FAU's Languages and Linguistics Department, approached him with the pages to El Hijo de Hernández.
Ponce de Leon had previously collaborated with Conrod on a documentary about the assistant professor's Madrid study abroad program, and was trying to figure out where to go from there. Conrod happened to be in the process of submitting a manuscript to a novel he had been working on for some time.
"He said, 'Well, my problem is, where do I find a script?'" Conrod recalls of the conversation that would soon lead to the creation of Hernandez. "I said, 'Well, I have this, if you want to take a look at it.'" The instant Ponce de Leon read the manuscript, he asked Conrod, "Can we make this into a film?"
Initially, the plan was to film in Florida, but things took a dramatic turn. "Given the atmosphere of the novel, which is more of a desert-y kind of environment," Conrod notes, "it was very challenging being here, where it's tropical and urban." The decision was made to move filming to Spain, during Conrod's Madrid program, where the atmosphere would be akin to that of the novel.
Months later, Ponce de Leon and Conrod left for Madrid with a small group of 12 other students, where the two incorporated the film's production into the program's curriculum. The final product will premiere this Friday, at noon, in FAU's Living Room Theater.
The students on the trip became half of the production crew for the film. "[Filming] gave us an opportunity to learn from each other," said Ponce de Leon. "While I have my own level of experience in film, a lot of these students were getting acquainted towards film, and getting acquainted towards production, and at the same time trying to have an appreciation for the main reason why they were going on a study abroad, which was to enjoy Spain."
Ponce de Leon notes that the students used the program and film's production as a learning lab, because circumstances placed students in varying jobs on the set like acting, camera operating, editing, and so on.
The second half of the crew was made up of professional Spanish filmmakers and actors, who assisted the students in production and assisted in casting actors. "We were all learning from the professionals," he said. "And the professionals were helping us and also learning along with us."
Production was not an easy task to get through, though. While the study abroad program lasts around a month's time, it's about the duration of Summer A, according to Ponce de Leon. The film's low budget and the rest of the pre- and post-production left the group with about two and a half weeks to film the whole movie. "It was a very intensive program," said Conrod, "but we made it and came back with all this footage that we've been editing since September [2012] with the help of film editor Catalina Pire Schmidt."
Despite the pressure the crew was under to make the film, Ponce de Leon says it was all worth it. "After this premiere, it's going to be very rewarding, because everyone is going to see what the culmination of the entire production is." Conrod agrees, and is "very grateful to the Living Room Theater [for letting] us premiere at their theater. I hope that the manager will be convinced to actually put it in there … as one of the features, maybe for a week or something."
When pressed for details on the plot, Ponce de Leon shies away, preferring to speak about making the film rather than its story. "It's not a traditional Hollywood popcorn film that you would see in a theater … it's a film that makes you think."
Ponce de Leon says that the film is "a testament that if you think something like this cannot be done, it most certainly can, and it most certainly can be done for next to nothing."
He believes audiences will want to see the film again, because "it's a film about self-discovery, a lot of self-confrontation … even if there's one person that doesn't end up liking this movie, there will at least be some quality that [the person] will like."
Conrod emphasizes that "this is an FAU production — not financially speaking, but culturally speaking." He hopes that viewers will be inclined to donate — once a means of donation is set up — to help pay for potential festival fees. "We'll have to test the reception … and build on that, see where it goes."
El Hijo de Hernández will be premiering at the Living Room Theater at 12:00 p.m. on Friday, April 12, with a sneak preview being shown at FAU's Ft. Lauderdale campus at the Askew Tower on Thursday, April 11 at 6:00 p.m.
Disclosure: Lorenzo M. Ponce de León was a Multimedia editor for the University Press from 2010 to 2011.