PREVIEW: Stories on the Skin: Tattoo Culture at FAU premiere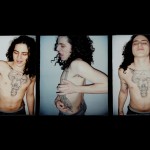 The phrase "I'm an open book" has been used time and time again, but maybe not like this.
According to Stories on the Skin co-producer, Karen J. Leader, the idea for the documentary, premiering this Friday, was that students with tattoos represent walking books.
"If artists' books are aestheticized ideas, then tattoos are aestheticized experiences," said Leader. Leader is one of the two producers in this documentary, along with Arthur Jaffe.
On Friday, Jan. 18 at 5 p.m. in the University Theatre, students will have the opportunity to see a dedication to tattoos on campus that 1,500 students and counting have participated in, all in a 40-minute documentary.
"We went into this with an open mind," said Leader. Stories on the Skin: Tattoo Culture at FAU, has been in the works since 2009. "The project has undergone several phases, including a student survey, numerous photo and video shoots on campus, an exhibition, a series of creative workshops, and an evening of live performances. The film documents these stages."
The film focuses on students' tattoo experiences — not just the art on their bodies, but the stories behind it.
"The metaphor of the book, of the writing and illustrating of the self, is a powerful frame for exploring the lived experience of tattoo," said Leader. "Like a book, it has chapters, development, characters, plot twists, moments of grace, cliffhangers, satisfying endings."
Doors to the theater will open at 5 p.m. to allow guests a chance to view a tattoo-related art exhibition and receive a temporary tattoo. A program featuring live music, dance, poetry, and theatrical performances will follow at 6 p.m., and the evening will close with the premier of Stories on the Skin.
The Stories on the Skin event will take place from 5 p.m. to 8 p.m. in the University Theatre.
The event is open to the public and a $10 donation is suggested. Shuttle service to the theater will be provided from Parking Garage II, where parking is free.