Students trapped in HPT and IRT during FAU lockdown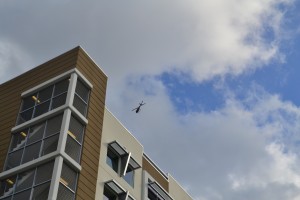 On what seemed like an ordinary day, some students prepared for finals and winter break in their dorms.
But around 1 p.m. on Thursday, Nov. 29, FAU's texts, emails, and phone calls started to blow up their phones. Soon enough, they were trapped on campus, with an armed intruder on the loose.
The gunman was said to be in the Arts and Letters building, right across from Heritage Park Towers. Although some were concerned, students trapped in HPT stayed calm about the robber so close to their home.
Freshman political science major Alex Gimbel was running around inside the dorm with no pants on and trying to shower. The gunman was the last thing on his mind.
"Honestly, I'm a little sad that I can't go eat right now," Gimbel said. "The biggest thing stopping me right now is my roommate in the shower, so I can't shower. Not the guy with the gun."
Students locked inside were complaining about not being able to go get lunch at the food court or cafeteria.
"I thought it was way over exaggerated," freshman business major Nick Johnston said. "I don't think it was actually somebody with a gun because last time we got an alert, it was somebody with a gun lighter. I didn't even think it was that serious."
While some students stuck indoors goofed around until they'd be able to leave their dorms, freshman accounting major Ashley Stitt was trapped outside of HPT. "I was a little [worried] but there was a cop over there," she said. "But you never know what could happen."
After her class got out, she said she walked through the breezeway to HPT to visit her friend, despite the alert. Once she got to the dorms, she wasn't allowed in the building. After about five minutes, she said they let her in and told her to wait in the lobby.
Once the intruder was rumored to have moved to Palm Beach State College, the campus next door to Innovation Village Apartments, students trapped in IVA waited for updates.
"Honestly, I thought it was a little somewhat overkill to have everyone on lockdown," sophomore fashion design major Danielle Rettig said. "He was probably off campus within the first half an hour of the actual robbery happening."
Rettig was not the only student to question the rumor. Sophomore philosophy and Jewish studies major Trevor Smith didn't believe the gunman's campus switch.
"I thought it was weird that someone could get from Arts and Letters all the way to Palm Beach State without being noticed," said Smith.
Not all students agreed that this wasn't a serious matter though.
But some students, like sophomore multimedia studies and English major Miranda Vilekis, were concerned. Vilekis said she knew someone at Virginia Tech during the shooting in 2007 and did not take this lockdown lightly.
"First it was like 'this is weird' and then after that it was like 'wow, this is real, and this is getting kind of scary,' so I called my mom and I was like 'hey, there's an armed gunman on campus,'" she said. "It's not something that you joke about and the whole situation was just really intense."
Chris Massana contributed reporting to this story.