Football Preview: Owls to take down rival FIU for first winning streak since 2010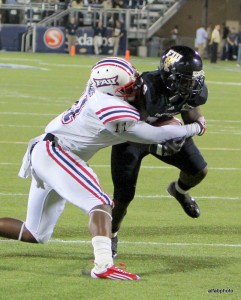 Who: FAU vs. FIU
When: Friday, Nov. 16, 8 p.m.
Where: FAU Football Stadium
TV: ESPNU
Radio: ESPN 760

Prediction: FAU 28-17
Friday night marks a special occasion for the Owls (3-7). They'll be matching up with their conference and in-state rivals, the Florida International University Panthers (2-8), for perhaps the final time, under the bright lights of FAU Football Stadium in a nationally televised game on ESPNU.
Coming off an impressive road win, FAU is looking to establish something they hadn't had in over two seasons — a winning streak — versus a team they're 8-2 against.
In front of what should be a revved up home crowd — rowdy from the 24-hour pregame festivities — expect another W to roll on in.
For the first time all season, the Owls will face an opponent with a worse record, particularly in Sun Belt conference play, where FIU is just 1-5. But that isn't to say they're a bad team. Unlucky, is how Owls' head coach Carl Pelini would describe the Panthers.
"They've played the top teams in our conference and had last-second games. They just didn't get the plays to go their way," Pelini told the Sun Sentinel. "Some years you get those plays, some years you don't. You're not looking at a team that's been losing every week by a significant amount. They're a good football team. They have to be the best team in the country with that record."
However, the Panthers appear to play into the strengths of FAU. On a statistical level, the Owls' main skill position players — quarterback Graham Wilbert, running back Jonathan Wallace, and receiver William Dukes — trump their counterparts.
The numbers don't lie.
Wilbert has thrown for more yards (2,032) and touchdowns (14) than FIU's Jake Medlock (1,863 yards, 11 TDs), Wallace has totaled more yards (561) and scores (4) than FIU's top rusher, Kedrick Rhodes (558 yards, 3 TDs). Dukes has reeled in more receptions (48) and recorded more receiving yards (659) than FIU's leading wideout, Willis Wright (500 yards, 3 TDs).
FIU also gives up 33.3 points per game, a field goal more than FAU (30.1). Though they average more points per contest (24.9, compared to FAU's 20.1), the Panthers have been held to 21 points or less in five of their eight losses this season. This should be welcomed news to the Owls' defense — in particular, a suddenly ball-hawking secondary, led by cornerback Keith Reaser (two interceptions last week, including a pick-six).
"You never want to lose to FIU," Reaser said to Owl Access. "You have to hear about it the rest of the year."
While the Owls aren't exactly an offensive juggernaut, Wilbert does have the unit running at a high level, scoring at least 34 points in three of their last four contests and drastically cutting down turnovers (no interceptions for five straight games).
This isn't to say the Owls can just assume they'll defeat FIU, or take them too lightly. The Panthers possess the same amount of incentive to beat their rivals and capture a win in the final "Shula Bowl."
"We want it back," said FAU senior linebacker David Hinds. "This is my last one, and I want to get that thing back regardless of how we get it done."
FAU needs to give their best effort and play smart football for 60 minutes. The game is likely to seem closer than the score indicates — it's just the Owls' nature — but ultimately, the players and fans will have something to hoot about as Carl Pelini's club improves to 4-7 heading into a bye week.