Football: FAU to host 24-hour tailgating festivities prior to Nov. 16 FIU game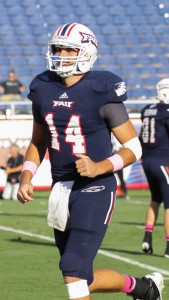 In just 10 days, FAU will do battle with its in-state rivals, FIU, in perhaps the final Shula Bowl. The stakes are high as the Panthers play their final Sun Belt game before moving into Conference USA.
But It turns out the stakes are high off the field, too.
FAU Student Government announced on Facebook that students will be able to "Party in the Rat's Mouth" during a 24-hour tailgate beginning on Thursday, Nov. 15 at 8 p.m. For the first time in school history, there will be round-the-clock tailgating festivities in advance of one of the biggest football game of the season.
The idea came about when SG President Robert Huffman tweeted that he'd make it happen if the Owls won their Homecoming contest against Troy. Then, FAU did and Huffman made good on his word.
Those who attend can help raise money for the Red Cross Hurricane Sandy relief effort.
Organizations are encouraged to participate in a money collection competition, and can sign up in the SG office by Nov. 14. After registering, there will be a jug to collect money in that must be decorated with an FAU-centric theme. The competition will run for 24 hours, and each hour the jugs will be counted to tally the donations.
Whichever organization raises the most money after the allotted time will receive a prize. There will also be a prize for the best decorated jug. Both prizes are yet to be announced.