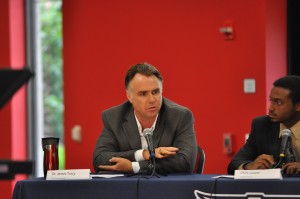 Some FAU faculty changed their mind on President Mary Jane Saunders in the span of just one year.
Every year, FAU's faculty union, a chapter of the United Faculty of Florida (UFF), doles out a survey — granting anonymity — for its faculty to leave comments on higher-ups at the university, including Saunders. Last year, 23 percent of those who participated gave Saunders an unfavorable mark.
This year? 46 percent.
"Really, this is the only way faculty can speak their mind without fear of retribution," said James Tracy, a tenured FAU professor and former UFF-FAU president.
Chris Robé, a tenured film professor, is the current UFF chapter president, and says one of this year's survey comments dealt with a disconnect between faculty and administration.
"Valuing faculty input has been the main, recurrent issue, faculty wanting more interaction with the administration," Robé said. "They do need to do more for faculty, quite honestly."
However, there was a bigger complaint among the comments left. According to Tracy, close to 200 people usually participate in the survey. Out of this year's 189 commenting faculty, 144 left comments on Saunders, the highest number among FAU's administration, with many of them expressing disapproval with Saunders and her administration's actions. A sampling of the comments faculty left for her after being asked the question: The university would be better served if President Saunders would…
Stop saying everything FAU does is FOR the students when she supports canceling classes that do not have full enrollment. The very idea of canceling a class with a cap of 24 that only has 20 or 21 enrolled is ridiculous. Why don't we just tell our students to enroll at UCF or FIU in the first place? FAU cares about the students? Saying something doesn't make it true….
Raise academic admission standards–FAU students are not the best and the brightest.
Already proving to be the worst president in FAU history. Sorry to be blunt, but the reality of her administration is that she fires people who disagree with her because she can, she surrounds herself by people who fail to give her good advice because she thinks she knows everything, and is so thin-skinned that she cannot make decisions that might make her appear weak, LIKE LISTENING TO THE FACULTY
Saunders was unable to comment for this story, according to FAU's Assistant Director of Media Relations Chris Stotz. Because of this, FAU's Vice President of Communications Scott Silversten wrote a statement to the UP about the faculty survey results:
"President Saunders values the extraordinary efforts and dedication of FAU's distinguished faculty. She understands the concerns raised following a difficult year and is dedicated to working with the entire FAU community to meet all of the challenges faced by the Florida State University System."
Although Saunders told the Sun Sentinel on Oct. 28, "We're very sympathetic to the faculty. They're being asked to do more, and we're looking for ways to reward them. It's a difficult financial time."
In last year's UFF survey, former Dean Manjunath Pendakur was hit with negative comments and resigned shortly before it was released. According to Tracy, former FAU President Frank Brogan often had negative comments in the UFF survey, never leading to any change in his job status. In fact, Brogan moved up and is now the chancellor of the Florida State University System.
When asked whether the 144 comments would impact Saunders, who's the highest member of the university after the board of trustees, Tracy pondered.
"Well, change will happen if the administration wants to change," he said. "And I think, in part, it has to do with the extent to which people are talking about this. But it seems this administration is impervious to any sort of criticism. It seems as if they are to a significant degree. They screwed up the summer completely and there was no sort of apology."
Chris Robé had a film appreciation class in the summer that was cancelled after the university announced a $24.7 million budget cut. His class was cancelled when FAU approved a policy requiring at least 24 students register for undergraduate levels and 11 students for graduate level classes.
"The policy itself was problematic but the implementation was even worse," Robé said.
The university then reopened his class a week before the semester started.
"Other faculty were going through that too," Robé said. "I wasn't the only one." Susan Reilly, the former director for the School of Communication, also spoke out at the time, saying 14 of her students who registered had their class cut.
And although Robé credits the university for dealing with the budget cuts, he wonders why the university wasn't as prepared for them as schools like FIU, who didn't make class cuts as severe as FAU.
"That was really, a really traumatic experience for everybody — for students, for the faculty, for everybody," he said. "That can't happen again."
"It's passing the buck back and forth, back and forth. It's worse than it's ever been," Tracy said. "I imagine a few years from now, unless there's some changes that take place, unless the faculty really challenges the administration and asks for their removal, to seriously rethink their management, this place won't be desirable."
Tracy and Robé both led a charge of faculty protesting last spring, all looking for answers. Many had trouble finding them.
"In our faculty meetings, people were outraged. People have been outraged," Tracy said. "I've been here since 2002 — I haven't seen this degree of frustration in faculty meetings as I've seen here."
Despite their frustration, FAU's faculty — tenured or not, anonymous or not — expect more of the same.
"The way this administration is, I mean the top level administration, Saunders and so-forth — people who don't play ball? They're asked to leave," Tracy said. "They want people who are compliant. You follow the rules and that's it. If you ask questions, then you're out. And I think the deans realize that, plus the deans get three times the salary as a faculty member would get, so they're willing to just sit there and nod. And that's essentially what they're doing."
---
The United Faculty of Florida survey this year also included faculty's comments about higher-ups throughout FAU. What follows are excerpts of the anonymous comments left for three administrators:
The university would be better served if Provost Brenda Claiborne would:

Be fired
Resign immediately
Trust faculty to make decisions
The university would be better served if Interim Dean Heather Coltman, College of Arts and Letters would:
Continue to be the strong advocate for the College that she now appears to be
Actually make decisions and stick by them
Go back to the classroom
The university would be better served if Interim Dean Mohammad Llyas, College of Engineering would: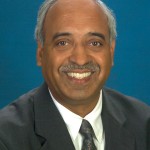 Become the permanent dean
Be allowed to function more freely
Continue as regular dean