Commentary: Carl Pelini gets signature win, Owls snap 15-game road losing streak with 37-28 victory at Western Kentucky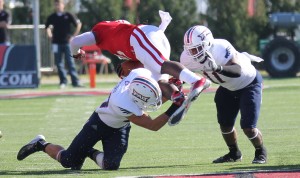 In a one-month stretch, the burdensome shackles of a brutal two-year stretch are falling off for FAU football. An offensive resurgence the past four games is being led by the steady consistency of Graham Wilbert — something few could have expected after last season's 1-11 year. The ghosts of the Owls ugly past are fading away as a new and more promising future is beginning to unfold.
The latest example: FAU gets to board their plane as winners for the first time since Nov. 2010.
The site of that last road conquest: Western Kentucky.
The opponent FAU shocked today: Western Kentucky.
So after FAU snapped its 15-game road losing streak with a 37-28 win over the six-win Hilltoppers on a windy 37 degree day, jubilant players ambushed head coach Carl Pelini with a Gatorade bath.
For a squad which has endured too many close losses, there's no shame in pulling out the Super Bowl treatment for win No. 3 of the season. Heck, it wouldn't have been a stretch for the team to carry Pelini off the field in Bowling Green Vince Lombardi style, given the fact that FAU came into the game 16.5 point underdogs and for the eighth straight week beat the spread.
Cherishing this victory makes even more sense after running back Johnathan Wallace (the star of the Navy game) almost single-handedly coughed up today's game for the Owls. FAU was ahead 31-21 after a 4-yard Wildcat touchdown run from Damian Fortner. The Owls were running the clock out with under two minutes to go when Wallace fumbled and Western Kentucky's Quanterus Smith went 75 yards to trim the deficit to three.
Typical FAU, but for at least one game, it didn't matter. For at least one game, double-digit penalties (11) weren't going to decide the outcome.
Christian Milstead's onside kick recovery, however, ensured FAU wouldn't suffer a catastrophic implosion.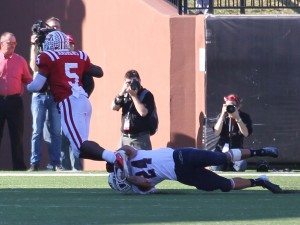 After coming up devastatingly short in numerous games this season (North Texas, South Alabama, Navy), Pelini pleaded with his team to make one more big play to seal a win.
Cornerback Keith Reaser gave his coach two.
Reaser picked off two passes in the second half, including a spectacular one with under 20 seconds left to ice the game for the Owls. Reaser alertly jumped in front on a hook and lateral, sprinting nine yards into the endzone to exact revenge on the team which shut the Owls out in their FAU Football Stadium opener last season.
"Good win FAU," Reaser said on his Twitter page moments after. " I love my team!!!!"
The Sun Belt announcing team were miffed as to what they witnessed.
"I've never seen anything like that in my life. Not even on Playstation," The color commentator remarked. "That's a Sports Center top 10 if I've ever seen it."
And that's probably the first time a commentator has uttered the words "FAU football" and "Sports Center Top 10" in quite a while.
The Owls defense absolutely dominated Western Kentucky in the third quarter, performing the way a team with a former defensive coordinator as head coach should.
Their drives coming out of the half:
Punt
Punt
Int
Loss of downs

Offensively, Wilbert (257 passing yards on 23/36 attempts) played another spectacular game. The senior quarterback finished with three TDs (two passing and one rushing) and no interceptions. FAU opportunistically turned a pair of Western Kentucky interceptions into 14 points.
Wilbert hooked up with tight end Daniel McKinney for his first two touchdowns of his career. FAU's field general completed passes to eight different targets on the afternoon, with William Dukes hauling in nine catches for 104 yards.
"Wilbert has been red hot," The color commentator said at one point in the second half. "If he was in a video game you'd see the fire coming out of his arm."
The credit first and foremost has to go to Pelini. For weeks he's been preaching patience with his team. He never badmouthed them, even while the six-game losing streak was unfolding. As a result, the Owls never quit on their coach and now enter perhaps the final game against FIU, their most bitter rival, with some late season swagger.
Pelini admitted FAU should already have five wins by now. At the start of the season, that's how many victories I predicted. However, whether the Owls end up with three or four or five wins, this season will be remembered by steady improvement down the stretch.
After the way last season ended, that's all that matters.