After four players depart in the offseason, FAU's remaining men's basketball senior class reflects on what's ahead
If the basketball team's senior class wins 17 games this year, it'll go down as the winningest class in the history of FAU men's basketball.
Going into last season, the basketball team was the talk of the athletic program. The year prior, head coach Mike Jarvis' squad collected 21 wins — the most in the Sun Belt Conference's regular season play — and expectations were high.
It just didn't unfold as planned.
The team went 11-19, with Jarvis so frustrated by erratic play that every single player on the 12 man roster started at least one game. FAU's season ended March 3 and within a month, point guard Ray Taylor (FIU), guards Dennis Mavin (FIU) and Omari Grier (Bradley), and forward Kore White (USF) all announced they were transferring.
A few weeks before this season started, the three seniors left on the team reflected back on an off-season none of them expected.
"I mean, it was a shock," senior forward Jordan McCoy said. "We all came in as freshmen together, so you expect to finish together."
"I was shocked," senior guard Greg Gantt said. "I never thought Ray [Taylor] was gonna go through with it. I never thought Dennis [Mavin] was. You hear players in the locker room after a rough year, after a rough year with coach, they feel that they're not being treated right as players. Some players are saying 'Oh, I'm gonna leave.' You know, you really just play it off because a lot of them are kids, they're our age, and it's just emotion. They're not really thinking it through, but they actually did it."
"I didn't know what was going to happen or what the team was going to be like," senior forward Andre Mattison said.
There was one man, however, who saw an exodus of players and didn't panic or pout.
"What's going through my head is, we had a great opportunity to bring in better guys," Mike Jarvis said. "Guys who really wanted to be here and be part of a championship program. It was all positive, to be very honest with you. I looked upon it as a blessing."
According to Gantt, part of the departed players' problems — if not all of them— had to do with Jarvis' coaching style.
"Everybody's different. Everyone has different tempers and different attitudes and a different look on how things are," Gantt said. "I may see it as him trying to make me better, not him trying to treat me different because he doesn't like me or doesn't want to give me a chance. My situation is different. I was playing a lot and I was still getting yelled at as much as they were, but they weren't playing as much. They were like, 'Man, I'm getting screwed.' They felt like their skill set and talent was fit for a different program. For me, I feel like I blossomed here. Coach taught me so much as a man and as a basketball player."
Jarvis chuckled when asked what he made of those criticisms being an explanation for Taylor, Mavin, Grier and White no longer playing here.
"My job is to constructively criticize," he said. "If guys don't want to be constructively criticized it tells me they don't want to be better. And you know what, they're better off someplace else. It's really that simple. They just wanted a change. Some of them wanted more minutes, some of them wanted more shots, some of them didn't want to be yelled at so much.
"The three guys that left, every one of them said that you were teaching us how to be men," Jarvis added. "A coach can't get a greater compliment than that. They just wanted more playing time or more shots. But they knew what they were getting and it was much more important than basketball. Unfortunately, a lot of people encouraged them to find greener pastures. They probably won't. But I hope they do."
It was pointed out that a fourth player — Kore White — had also left during the offseason.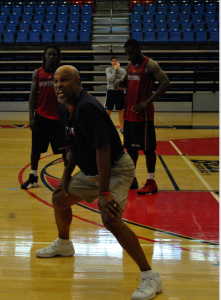 "Kore didn't leave, Kore was finished," Jarvis said. "Kore was not going to come back here to play basketball so Kore didn't leave. Kore graduated. He was done, OK? There was never a thought of Kore coming back here. He's not even part of the equation. The other three guys left that could have come back. Kore wasn't invited back." White graduated from FAU this summer, but only after announcing his transfer to USF, using his last year of basketball eligibility after sitting out a year to transfer to FAU in 2009.
Even still, Gantt — who is 265 points away from becoming FAU's all-time leading scorer; he scored 379 points, 448 points and 468 points in the last three seasons, respectively — had thoughts of not returning. Jarvis' contract was up and as player after player left, Gantt sat back and pondered.
"I had some thoughts like, 'Everyone's leaving, is coach going to re-sign, let me look at different schools.' This and that. It's normal to have thoughts like that," he said. "But at the end of the day, when coach re-signed I sat down and had a talk with him and put everything on the table and told him how I felt about everything and having these feelings. I was open with him and it was the first time I felt like I could actually open up and talk to him. He told me that he recruited me and he promised that he'd always be there for me and to always come to him and talk to him. I think this summer, me and coach got closer and I think he trusts me. We have a personal bond and I trust him so I know when I'm on the court and he may seem like an ass towards me, it's not because he doesn't like me that day. He told me I have a chance to play basketball after college and he's not gonna let me slip. He told me that."
It's not the senior year Gantt and his remaining seniors expected when they arrived at FAU.
It just didn't unfold as planned.
And maybe that's the beauty of it.