Review: FAU Hispanic comedy show gets modest laughs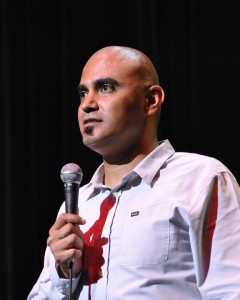 In an auditorium that can seat 2,400, the Program Board's Thursday night comedy show crowd looked a little light.
Comedians George Perez and Julio Gonzalez performed at the Carole and Barry Kaye Auditorium on the first floor of the Student Union to a crowd of about 200 students, a month before Hispanic Heritage Month.
Program Board Director Lexi Rosario blamed exams and homework for the small crowd. "The turnout wasn't like it normally is, but I think cause it's probably mid-semester and exams are coming around and there's a lot of events going on."
Students began slowly filling the auditorium seats as senior and computer science major, Joaquin Mejia, known as DJ Thunder, played some tunes. When the show started at 8:15 pm, there were around 120 students spread out through the room.
George Perez was first to perform and gave a shout out to Hispanic students in the room.
"Where are my Latinos at?" Perez shouted at the crowd.
Perez's jokes received mild applause and laughter as he joked about his many different relationships, the difference between men and women having sex, and Jesus being Hispanic.
"You know Jesus was Latino," Perez said. "Because when his mom got pregnant, no one knew who the father was."
Perez got the most laughs when he did some "Yo Mama" jokes."Yo Mama's so fat, not even Jesus can lift her spirits."
Toward the end of his skit, around 8:45 p.m., more students had come to join the show, filling in most of the bottom rows of the auditorium.
Julio Gonzalez was next to perform and mentioned that the Hispanic comedy show was taking place a month before Hispanic Heritage Month. "I find it funny because Mexicans are never early for shit," Gonzalez said, getting laughs and cheers in response.
"We did it early on purpose," Lexi Rosario said. "To get them excited for it instead of doing it in October, which is Homecoming."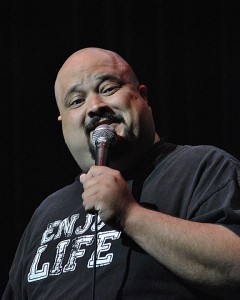 Gonzalez wore a t-shirt with the words "Enjoy Life" on it. That phrase became a mantra throughout his act.  "Have fun with it," Gonzalez said about life.
Gonzalez joked about the times in his life when he messed with people who mistakenly called him, or about how he got out of a speeding ticket by pretending he forgot to pick up his kid.
He went on to joke about women in the clubs, working with idiots, and living with his girlfriend and her ten-year-old daughter.
It was clear from students' reaction that Gonzalez was the favorite of the night.
"He was more consistent," said junior biology major Nafis Dewji. "The first guy [Perez] had his pauses, but I have to say his 'Yo Mama' jokes were pretty funny."
Overall, students laughed and enjoyed the Hispanic aspect of the show. "I'm half Hispanic so it was cool," said Richard Quadri, a sophomore business management major. "It was nothing crazy, but every now and then you're like 'yeah Hispanics!'"
After the show ended around 10:00 pm, students were quick to leave the freezing auditorium.
Comedian George Perez stood outside in the hallway selling his DVDs and taking pictures with some of the students.