Commentary: The win that felt like a loss — why the Owls are in trouble for the rest of the season
To the surprise of some reporters, at practice this week, the Owls prepared their hail mary defense during practice.
And to the surprise of the entire stadium, that's exactly what the game came down to as FAU's escaped their season opener against Division 1-AA Wagner with a 7-3 victory.
This proves that maybe FAU Athletics were correct for banning media from traveling on the team plane for road games.
The Owls entered the game as heavy 17.5 point favorites. With a new head coach (Carl Pelini), new uniforms (Navy blue with wings on each shoulder), and a new starting quarterback (Stephen Curtis), the Owls began the season with renewed optimism.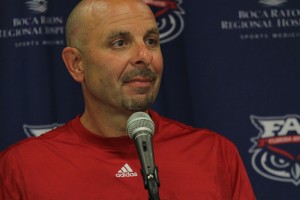 Or so they thought.
Despite that, they still looked like the 2011 version of FAU. The official attendance was 14,510, but it seemed much less than that.
This was Curtis's first ever college start, something that was painfully obvious from the onset.  He made some nice plays with his feet running the ball, but overall the offense had no rhythm with him under center. On too many occasions, Curtis either overthrew or underthrew his receivers.
And so Pelini gave up on the Curtis era after just one half, yanking him after halftime for Graham Wilbert, who threw 15 interceptions last season. Wilbert re-energized the Owls out of the tunnel, leading them to their only touchdown of the game on a 39 yard pass to wide receiver Byron Hankerson with 11:36 left in the fourth quarter.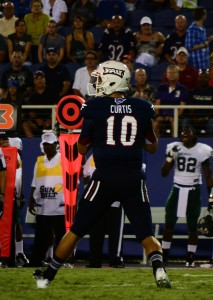 The depressingly sparse crowd finally had something to celebrate.
Wilbert was a big reason for last season's disaster. It gives him the required perspective to put this win into context.
"We're 1-0," Wilbert said. "Which is a lot better than we were last year."
Pelini tried to downplay his team's putrid performance in his first game as a college coach. He went as far as claiming he foresaw a struggle with the Seahawks, who were 4-7 last season in the Northeast Conference.
"Hey, no one ever told me this was going to be easy. I didn't think it was going to be easy and I knew it wasn't going to be perfect the first night," Pelini said. "Honestly, bottom line is: nothing that happened out there shocked me."
That's a giant spin job. No Division 1 coach in their right mind expects to be in for a battle with a Division 1-AA team.
Even if the Owls are coming off a 1-11 season, they still should have easily handled Wagner. Instead, FAU made the Wagner Seahawks look like the Seattle Seahawks for the first three quarters of the game.
Wagner crossed into FAU territory on every series for the first three quarters.
The only thing consistent was how surprisingly inconsistent FAU was after its grueling Camp Carl offseason. Mental errors and mistakes littered the contest. Every possible way the Owls could mess up, they did. Return man Travis Jones summed up the night when he muffed not one, but two punts, leaving the Owls in terrible field position.
"Honestly I prepared them as best as I could. Last thing I said to our coaches before we broke in the coaches locker room, I said they're a young football team and they're inexperienced," Pelini said. "We're going to make some bonehead mistakes. Stay patient and teach them through it."
I initially predicted a 5-7 record but after tonight I may have to re-think my stance. After getting shut out by Wagner for over 45 minutes, five wins might be pushing it.
Afterwards, Pelini said he'll never apologize for a win.
But after this win?
He should have.