FAU officially announces Pat Chun as new athletic director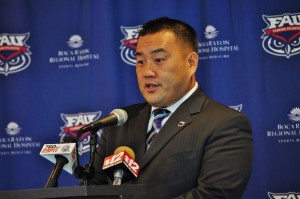 Pat Chun has been saying yes for a long time. He said it 15 years ago to his alma mater Ohio State when they offered him a job as a student worker and turned it into the role of executive associate athletics director for external relations. He said it almost 10 years ago to his wife Natalie and now has three daughters. And when the opportunity to become the next director of athletics at FAU was offered to him this weekend, Chun was not hesitant with his answer for President Mary Jane Saunders.
He said yes.
For the first time since 2003, FAU will have a new athletic director. Chun, 37, replaces Craig Angelos, who served for the last nine years and helped bring an on-campus football stadium to FAU.
"In athletics we have the responsibility of enhancing the brand of Florida Atlantic University," Chun said. "Our success should be a direct reflection of this growing and dynamic institution. We will embrace our responsibility of being an economic stimulator for this campus, for the city of Boca Raton, and the entire South Florida region."
While at Ohio State, Chun helped fundraising increase by 20 percent every year for the athletic department: a total of $117.8 million over three years. He was a member of the team that brought the largest multimedia rights deal in college sports history to Ohio State — a 10 year, $128 million partnership with IMG College in 2009.
He sees a challenge at FAU but said the support system in place in Boca will help him accomplish the tasks to build the program. Chun said he is in no hurry to put his stamp on the program but rather will take time to get to know members of the school, and the Boca community first, a place the native of Strongsville, Ohio says is so beautiful "it hits you in the face."
"You can sense the pride and the purpose with the people at Florida Atlantic. I'm lucky that they wanted me," Chun said. "We have a chance to do great things here."
Chun earned a bachelor's degree in journalism in 1997 from Ohio State. Currently, he serves on the executive committee for the National Association for Athletics Development Directors (NAADD) and is a board member for the Columbus, Ohio chapter of the National Football Foundation and College Hall of Fame.
Men's basketball coach Mike Jarvis is already sold on Chun's ability to elevate his team to a higher level. He believes Chun's experience at a premier university will be invaluable at FAU.
"He's coming from maybe the top athletic program in the country in Ohio State. You get somebody that knows how to do it," Jarvis said. "It's like getting a guy that's won three or four rings. He owns the rings. He knows what it's going to take. He knows how difficult this job is going to be. I think he's prepared for it."
Ohio State's operating budget is over $126 million, compared to just $17.5 million at FAU.
Chun acknowledged the budget issues facing FAU but says it is not unlike other schools across the country. He embraces the opportunity to create excitement and interest in the university.
"You will see that resources are a problem on every campus across America. Whether FAU, Ohio State, Florida, Florida State, they're all looking to increase fundraising. So that doesn't change," Chun said. "The challenge is there for all 120 Division I athletic programs. Our goal is to try to get some people to support FAU."
Melissa Dawson, the interim AD on the selection committee, is eager to relinquish her temporary role to Chun. She was careful not to badmouth Angelos but hinted change was necessary in the athletics department. Chun is not trying to turn FAU into the next Ohio State though. He wants FAU to create its own unique culture.
"It's not about recreating what we've done at Ohio State," he said "It's more about, let's just be as good as we can possibly be," Chun said. "We're going to take this day by day and try to understand the things we can be good at."