Baseball: FAU shuts out Western Kentucky 6-0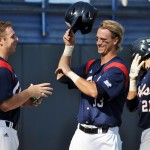 Propelled by five quick runs through the game's first three innings and a strong performance from its sophomore pitcher, FAU added to a large lead in the Sun Belt standings.Kevin Alexander pitched six scoreless innings as FAU shut out Western Kentucky 6-0 at FAU Baseball Stadium. He was initially listed as 50-50 to play in the series."Kevin had a really good bullpen session on Wednesday in preparing for today's start," head coach John McCormack said to FAUSports.com. "He had good stuff early in the game. I'm thankful that he was able to pitch today."First baseman Mark Nelson's sacrifice fly gave FAU its first run in the first inning. In the second inning, shortstop Mitch Morales doubled to right field, bringing in catcher Mike Spano. Owls second baseman Mike Albaladejo's sacrifice fly improved the lead to 3-0, driving in left fielder Dylan Seigel.
In the third inning,  junior outfielder Corey Keller homered to left field, his team-leading seventh of the season.
"The early run production really eased a lot of tension early in my outing," Alexander told FAUSports.com"I felt really good in my bullpen (session). I had a good feeling that I was going to do well. This was an important win for us today."
Alexander, now 5-0 on the season, had four strikeouts and allowed four hits.
Keller was 2 for 3 with an RBI. Third baseman Kyle Newton went 2 for 4. Shortstop Mitch Morales was 1 for 3 with an RBI.
The Owls are now 28-17 overall and 16-5 in conference play.
FAU plays the final game of the homestand on Sunday, May 6 at 12:30 p.m.