Commentary: FAU men's basketball's collective psyche ruined a season of promise
As he slowly walked off the court for the final time this season, the feeling was all too familiar for Owls junior guard Greg Gantt. For the fifth game in a row, his team came up short and Gantt was livid. As another year of his college career dwindled down the drain, all he could think about was how pathetically sad FAU's "Year of the NCAA Tournament" turned out to be and how yet again they were not ready for the magnitude of a contest with high stakes.
"It's the same shit that happened all year," Gantt said of a 70-55 loss to Arkansas State in the first round of the Sun Belt tournament. "It was frustrating. Nothing different. We get into a big game and we just chill. They came out and punched us in the mouth first and we didn't respond. Same exact thing every game. We got out challenged. We've been underachieving all year."
The loss concluded a frustrating season for the Owls. After winning 21 games the season before, FAU regressed to an 11-19 record.  The coaching was not the problem this year. Head coach Mike Jarvis tinkered with the rotation so much that every player started at least one game, but the spark never arrived. The team regressed because they only put in necessary effort for some, not all games. The players only have themselves to blame for this mess of a season.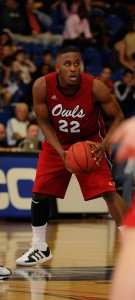 Going into the 2011-2012 season, FAU, the reigning Sun Belt regular season champs, had the talent and experience (six of top seven leading scorers returning) to take the next logical step in its ascension: the NCAA Tournament.
Mentally though, they were never really up for the challenge, and now a long off season awaits.
A season that began with hope instead deteriorated into a display of sloppy, undisciplined basketball. Take the elimination game versus Arkansas State for example. FAU had six assists … as a team. Ask Gantt, though, and he has no clue why the Owls couldn't put it together.
"I'm confused as to why we played the way we did," Gantt said. "If you look [at our team] on paper, with our talent level and the players we had returning, it just doesn't make sense."
The mental makeup of the Owls held the team back from reaching its potential. No matter how much talent a team has "on paper," if it is not unified, success will be hard to come by. Gantt points to this as a cause for the team's failure.
"Dealing with all the adversity, ups and downs, different emotions, things that we can't control. We let all of that affect the way we play the game of basketball," Gantt admitted. "We haven't been playing together as a team. There's been too many personal issues on the team that we haven't been able to deal with and put aside and play basketball."
He would not go into details about the "personal issues." However, for an experienced team, the Owls oddly lacked chemistry and it showed on the court all year. Little-to-poor execution offensively became the norm each game.
"Paying attention to the details," point guard Ray Taylor said of the missing element from his squad. "As a team we haven't been on the same page, so if you think a player is going to do one thing and you throw the ball for a curl and they fade, that's just the kind of season we've been having."
The lack of consistency in the middle also contributed to FAU's lackluster season. Kore White never filled the void of Brett Royster and the team suffered greatly because of it. White is the Owls "X" factor.
When he performs well (23 points, nine rebounds in a Feb.11 win versus North Texas and its NBA draft projected forward Tony Mitchell) the team has unlimited potential. But when White disappears (one point, one rebound in a loss against Middle Tennessee on Feb.18), the Owls are mediocre at best. His mental instability and lack of dedication led to poor results on the court according to his teammates.
"The ball bounces a little funny when you don't put all the work in that you need to," Taylor said about White.  "His effort level is not consistent at all. "
What should motivate White is the arrival of center Dragan Sekelja next season. Despite not having played in any games yet, the junior transfer from Baylor has something that cannot be taught — extraordinary height.
"I think with Dragan coming in next year it will help with rebounding," Gantt said. "There's no other 7-footer in the league."
Aside from Sekelja, incoming freshman like point guard Stefan Moody (Kissimmee Poinciana), who is 5 feet 9, but with a 40-inch vertical leap can dunk and 6 feet 9 athletic power forward Chris Bryant (Tallahassee-Rickards), the Florida Class 3A player of the year, will be counted on to provide depth. However, leadership from the upperclassman is the most important ingredient to making 2012-2013 a better season.
Soon-to-be seniors Gantt and Taylor need to change the mindset of the team, or their careers at FAU will have ended without a single postseason victory in four seasons, let alone a trip to the NCAA Tournament.
"I can't go out like I did this year," Gantt said. "I just can't do that."
The small, yet intensely loyal and rowdy crowd at The Burrow deserved better. The players are aware and have a message for them.
"To our fans: just stick with us," Gantt said. "We haven't quit on ourselves. We're still working hard each and every day. We promise that next year is going to be better."
After four straight first round exits, it better be.