Think with your other head: Sex Trivia Night
Would you be willing to admit how much you know (or don't) about sex?
The Condom Olympics continued Thursday night as FAU's Office of Health and Wellness gave the five competing teams the chance to be liked for their brains (not their bodies) in Sex Ed Trivia. As the game pointed out, that's quite a compliment seeing as the brain is the largest sexual organ in the body. Who says size doesn't matter?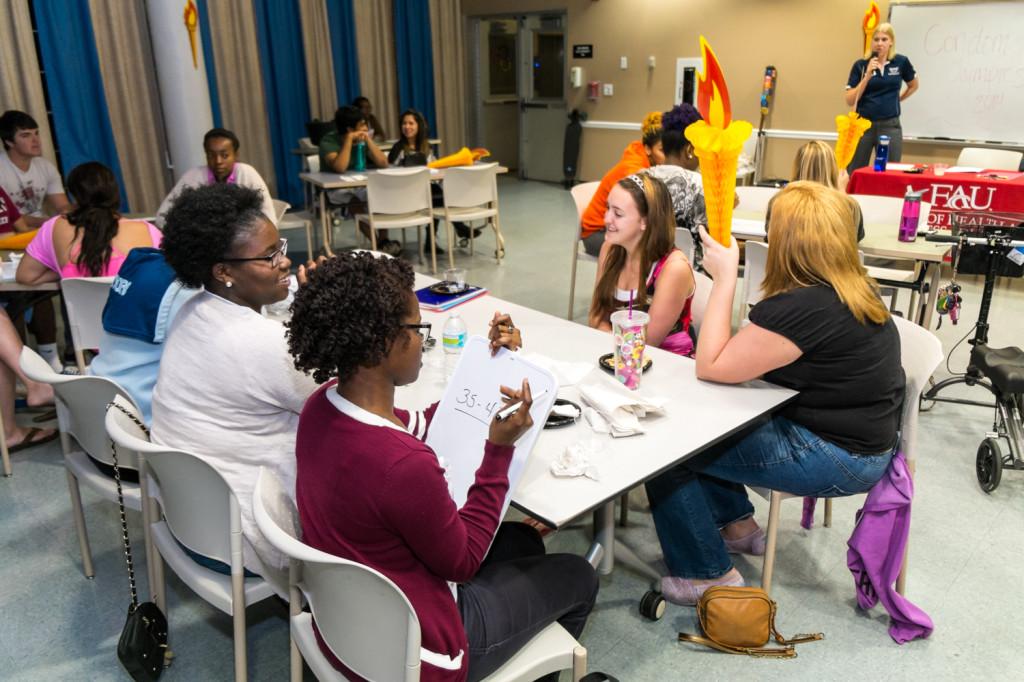 The event went on for four rounds, each round consisting of ten questions. Teams scribbled their answers onto dry-erase boards before holding ceremonial tissue paper torches in the air to signify their answer was ready.
As with any self-respecting trivia game there were rules, the two largest ones being no looking up answers on phones (at least no worrying about erasing that Google history later) and no arguing with the host, Courtney Weaver. The second one would have been a little futile anyway as Weaver, 29, is a sex health coordinator for the Health and Wellness Office and even states herself, "And believe me, I know more than you."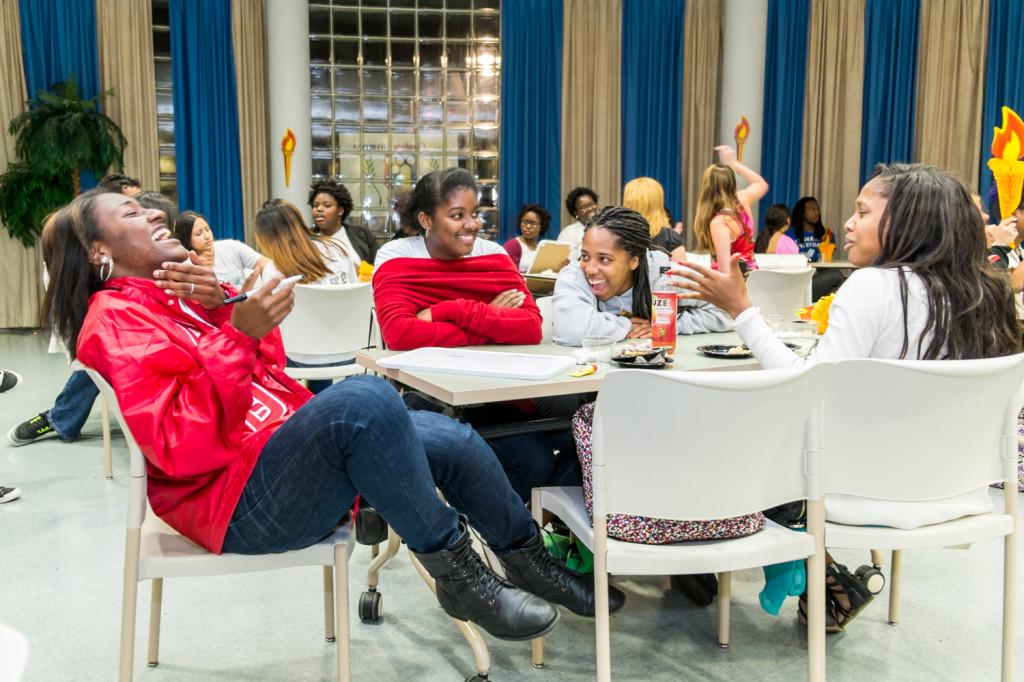 Which, apparently she does. Trivia questions covered a broad spectrum — anything from the more serious "what are the four transmitting fluids of HIV?" to "what famous painter discovered that blood filled an erect penis, not air, as previously believed?" was covered. Fun fact: it was Leonardo DaVinci. Quick, look at the Vitruvian Man…anyone?
After a round, participants were given breaks that they used to munch on the provided refreshments of spinach dip, hummus, and pita and tortilla chips. Other free goodies included Condom Olympics t-shirts and consent and safe sex pins. During the second break, teams were allowed to trade players, giving students a chance to revamp their game and meet new friends.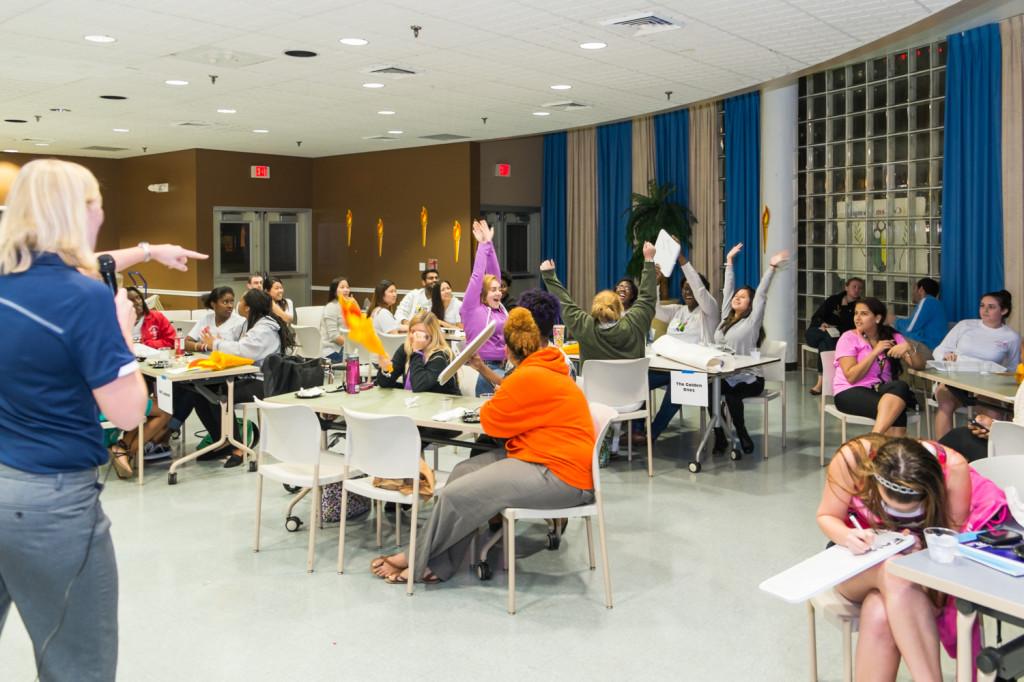 "It's a great way to get to know the other students," said Trinity Slater, junior exercise science major and Office of Health and Wellness's Peer Education team member. "We just hope to get more teams next year."
Although they started small, the Condom Olympics are gathering interest. They gained two participating teams and brought this year's total to five over last year's three.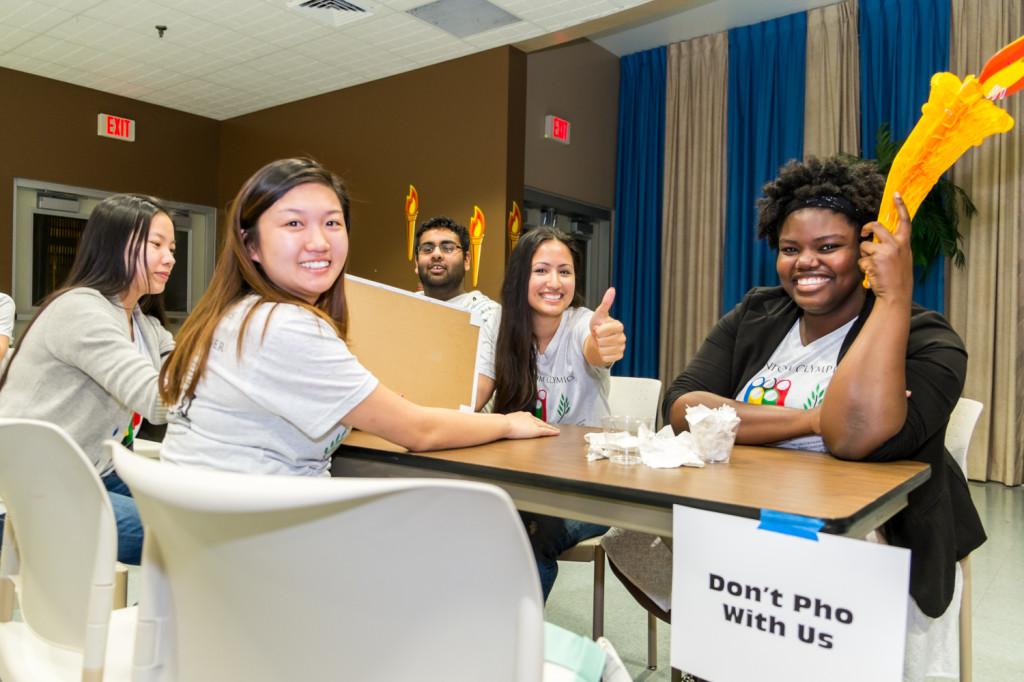 Although the Health and Wellness office took to social media and the Breezeway to promote the week's events, Weaver says students "thought it was something totally different," or didn't have enough friends to sign up. "[I just wish] that more people were aware of the resources on campus and [would] utilize them," Weaver said.
Registration for the games was open to all students until Feb. 10, and of the five teams participating, the three placing teams are The Golden Ones, Don't Pho With Us and One Legend.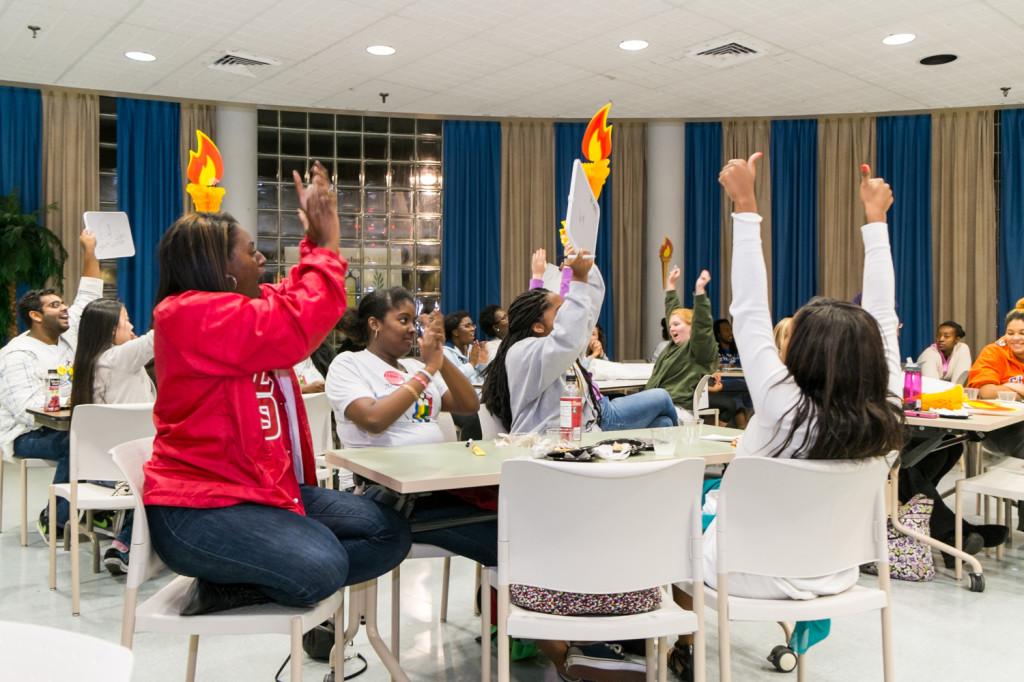 "All the teams that competed were really passionate and really competitive," said Weaver. Teams racked up 17, 12, and 10 points from Sex Ed Trivia, respectively. Although, in the trivia circuit, that might seem high, but these numbers are actually low in comparison to how many muscles it takes to make out with someone (34).
So, work out those 34 muscles. Or, ya know, whichever muscles you want this Valentine's Day. Just be sure to do it safely.