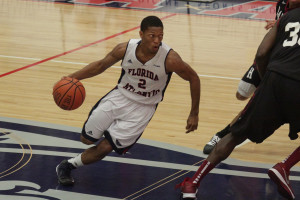 The Florida Atlantic Owls (10-15) beat University of Texas at El Paso (18-7) on the road on Feb. 13, breaking an eight game winning streak for the Miners.
FAU led 38-25 after 20 minutes of play, shooting 61 percent in that span. Guard Pablo Bertone scored 12 points in the first half.
Early in the second half, FAU led UTEP by a score of 45-28. Especially surprising given that the Owls were on the road, where they were just 2-9 coming into the game.
Scoring woes plagued the Owls, though. UTEP crawled all the way back within five points of the lead late in the second half and even took a 69-68 lead with 13 seconds to go.
Guard Marquan Botley banked in a long 3-point basket with two seconds to go to win the game. Botley tied his career high this night with 23 points, and Bertone added 18 points.
"Man I'm really living out my biggest dream. This is crazy," Botley said in a tweet immediately after the game.
FAU heads to San Antonio to play the University of Texas-San Antonio on Saturday, Feb. 15.
Note: Center Dragan Sekelja missed his sixth straight game with a hernia. Forward Javier Lacunza has been diagnosed with a torn labrum, sustained in the Jan. 11 win over Rice. He will miss the remainder of the season.