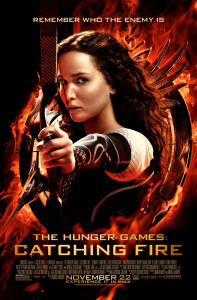 One female name is called out, one name only: Katniss Everdeen. Jennifer Lawrence is back as the girl on fire in "The Hunger Games: Catching Fire," and the 75th Annual Hunger Games, the Quarter Quell, is expected to be extra grisly. May the odds be ever in her favor.
Like the first "Hunger Games" film, this movie takes a while getting to the actual games. In the beginning, "Catching Fire" gives a look into Katniss' home life, showing how much things have changed since she became one of last year's victors. Instead of seeing scenes of the Seam, Katniss' impoverished home before the 74th games, we see the elegant Victor's Village houses Katniss, Peeta (Josh Hutcherson), and Haymitch (Woody Harrelson) live in since winning the games.
Katniss' mother (Paula Malcomson) and sister Prim (Willow Shields) seem to take well to their new deluxe surroundings while Katniss still heads into the woods to hunt with Gale (Liam Hemsworth), trying to maintain some of the life she had before the 74th games.
When the common area of District 12, the Hob, is shown it is under the totalitarian regime of Commander Romulus Thread (Patrick St. Esprit) and his crony stormtroopers (I mean Peacekeepers), appointed by the capitol to bring the "unruly" district back to order. The movie's Peacekeepers may look the same as those of "Star Wars," but when they have to break up the riots that plague Katniss and Peeta's victory tour we learn they have way better aim.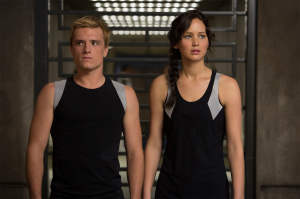 However they still don't have anything on Katniss's skills. Good thing too, since the upcoming Quarter Quell arena includes tropical forestry, sweltering temperatures, dangerous open beaches and killer monkeys.
This Thanksgiving some of you might be annoyed by relatives, but don't take them for granted. After seeing the pain on the faces of families and communities of fallen tributes from the 74th Hunger Games I'm certainly more grateful for mine. I must admit I got a little teary eyed along with Katniss at the remembrance of Rue in District 11. Jennifer Lawrence gives a phenomenal performance throughout the movie, and many of the emotionally wrenching scenes of the book are brought to life and etched all over Lawrence's face.
The conflicting love triangle between Katniss, Peeta and Gale is played out well, too. We get to see the tension Gale feels at having Peeta be such an important person in Katniss' life. Despite Katniss not knowing how she feels about Peeta herself the audience is shown how worried Katniss and Peeta are about each others well being.
Parallelling Lawrence's performance is that of Sam Claflin playing District 4 victor/tribute Finnick Odair. Moviegoers get a good look at Claflin's acting (and fabulous bone structure) as he cryptically tells Katniss he deals in secrets. This leaves Katniss questioning whether she can trust him or not. She knows he's a capitol celebrity, but we see just how crucial his presence is during the games.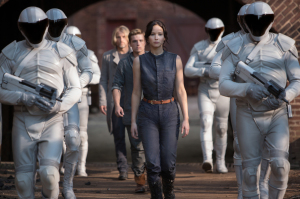 Philip Seymour Hoffman as new Gamemaker Plutarch Heavensbee pins his character down with a drawled out tone and alarming manipulation skills that of course please President Snow (Donald Sutherland). He doesn't seem to buy into the capitol lifestyle like Gamemakers before him, but President Snow takes his advice gladly and listens to his equally intelligent and cunning options for the politically charged atmosphere of the games.
Harrelson's role as Haymitch in "Catching Fire" is crucial for reason's I can't give, but his sassy remarks might be the real plot propellers here. They get bonus points for actually being beneficial pieces of advice along with their internet level sarcasm. His performance goes well with Elizabeth Banks' Effie in this movie, providing a few touching moments on the eve of the 75th games when, for the first time ever, Effie can't think of something to say.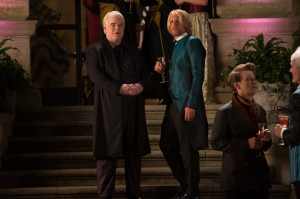 "Catching Fire's" costume designers apparently worked as hard on Effie Trinket's appearance as she does. Bank's costumes became more gaudy and flashy as the movie progressed, even Lady Gaga could take a note or two. Lawrence's costumes are flawless as well, their presence in the book are exemplified in ways anyone could hardly object to, especially the awe-inspiring appearance of the wedding/mockingjay dress. Katniss' stylist Cinna (Lenny Kravitz) outdoes himself from the previous year and citizens of the capitol aren't the only audience members amazed.
Normally I'm pretty stingy with money and will hold out for student discounts, but "Catching Fire" is definitely worth seeing ASAP and paying full price, even if doing so will make you have to take out extra tesserae. Besides, the ending is such a twist that even the writers of "Lost" might be on a run for their money.
I give "The Hunger Games: Catching Fire" three out of four stars. The book had much more information about the capitol and previous Hunger Games victors and provided  interesting backstory, but the film tells the story well enough without it. The acting was award worthy, the costumes were striking and the gripping plot points work together to make this film phenomenal. If you're looking for something to do over Thanksgiving break or need to sit still while you digest that pecan pie dessert, go see "Catching Fire".