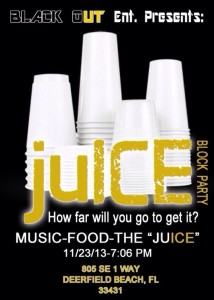 On Saturday, Nov. 25, an attempt to shut down a party resulted in seven deputies injured, at least three FAU students or alumni arrested and a student conduct investigation.
The party — held in a warehouse in Deerfield Beach — was hosted by Blackout Entertainment, a local event hosting company, and students found out about the party through twitter, texts and word of mouth.
According to Broward County Sheriff's Office Spokeswoman Keyla Concepcion, the sheriff's department began receiving calls about noise complaints at about 10:35 p.m. Deputies arrived at the warehouse shortly after receiving the complaints and found a party of about 200 people. The deputies then told everyone at the party to leave.
"When our deputies addressed the noise concerns, a few of the partygoers became unruly and charged at deputies," Concepcion said.
Concepcion said that the deputies were "rushed" by a "mob of partygoers" as one man was being taken into custody. At that point, many of the deputies were punched and "struck in the head and bodies."
Many partygoers had a different perspective of the night.
Junior exercise major Byron Knight did not describe the party as a rowdy event. "Before the cops showed up it seemed to be a nice little outing. Everybody was enjoying themselves listening to music," Knight said.
According to multiple partygoers, the police arrived around 11 p.m. One went outside to speak to the police. According to Knight, someone got on the DJ's microphone and said, "The cops are here. We don't want any problems. Everybody please go home. Everybody leave." Knight said that this statement was repeated three or four times.
According to Concepcion, deputies' orders were resisted with an obscene chant by the partygoers, directed by the DJ at the party.
The DJ of the party, former FAU student Joaquin Mejia–also known as DJ Thunder–claims this statement is false. According to Mejia, he packed up his gear immediately following the announcement directing people to leave the venue.
"Once the announcement was made that it was shut down… [I] turned everything off… Everything was pretty much disconnected, no power — nothing," Mejia said.
The cops directed the large crowd to leave through a garage to the inside of the venue, where everyone would then leave through a door.
According to freshman nursing major Regine Rivera, "Everybody had to try to squeeze through the garage because that was the only exit we could take and there was so many people that it was taking forever to do it."
According to multiple sources, about 15 minutes after the initial announcement to end the party, the police began rushing partygoers out of the venue by force.
Knight claims he saw the police acting aggressively. At that point, both Knight and Mejia saw an altercation between police and junior and criminal justice major Felix Regis — an injured and arrested student.
According to Mejia, about five police officers charged Regis and continued to hit him. Regis was dragged out of  the building toward the barbecue where he continued to be struck, according to multiple sources.
Regis writes in a statement that he also sent to the sheriff's office, "I was defenseless, I had my hands up in surrender, as evidence by no marks or bruises to my hands or knuckles."
In addition, Regis wrote in his statement that the police "slammed [him] into the dirt, they then repeatedly hit [him] in the face, head, arms, and legs, with their fist, knees, feet, and nightsticks."
In the statement, Regis writes that an officer was whispering "inappropriate things" in his ear such as, "Your life is over you piece of s***" and "Wait until we get into the back of the car, I'm going to f*** you up some more."
The police later took Regis to the hospital where his head wound was treated with 20 stitches and five staples. Regis still has scratches and bruises on his body. In addition, he still has migraines and will be returning to the doctor for a second evaluation.
After the hospital, Regis was taken to jail and held there until around 8:30 p.m. on Sunday night when his mother paid $6,300 for bail.
Regis' roommate, junior urban design major Kelvin Edmond, witnessed the confrontation between the police and his roommate Regis. According to partygoer and senior business major Ladele Tojuola, Edmond yelled at the cops to stop while taking video of the scene on his phone. As Edmond walked away, a deputy allegedly ran towards Edmond, tackled him from behind and put him in handcuffs. Edmond was later taken to jail and found that the video he took on his phone was deleted when it was returned to him.
A total of six of the partygoers were arrested — five of which were for resisting arrest without violence. Regis is being charged with battery on a law enforcement officer as well as resisting arrest.
One officer broke his hand and a total of seven deputies were injured and later taken to medical facilities to be evaluated.
According to the Sun Sentinel, the party was held in honor of FAU's new Alpha Phi Alpha pledge class. But multiple sources claim the party was not affiliated with Alpha Phi Alpha.
According to senior entrepreneurship major and charter-line member of Alpha Phi Alpha Joel Walters and multiple partygoers, the party was not hosted by Alpha Phi Alpha, but many members attended the gathering. A member from Alpha Phi Alpha is employed by Blackout Entertainment, but sources would not reveal his name. None of the six arrested that night were members of the FAU chapter of Alpha Phi Alpha.
"We want to make sure that we're clear that the party that happened was not an Alpha Phi Alpha fraternity incorporated event," Walters said. "Nobody involved in the altercations that went down with the police was part of the chapter."
FAU's Division of Student Affairs is conducting its own investigation through the student code of conduct for an off-campus violation, according to a statement from FAU's Senior Vice President of Student Affairs Charles Brown.
"The university expects students and student organizations to behave with a high degree of civility, showing a deep respect for all individuals," Brown wrote in his statement.
When the investigation is over, Alpha Phi Alpha plans to raise awareness about police brutality.
"Police brutality, especially for young African American men, has gotten more ridiculous and is something that we as people — not just our organization — needs to stand out against," Walters said.
[divider type="thin"]
Below is a full statement from Felix Regis, arrested and injured student that attended the party on Nov. 25:
On the night of November 23, 2013 at around 11:00pm I showed up to a college event (social) and while on my phone, next to the crowd, I was grabbed by someone and pulled my arm away, only to realize it was an officer. After pulling my arm away two officers (one of which was the one who grabbed my arm) began to repeatedly hit and grab me, which made me fall into the crowd. At that point my phone flew out of my hands and while they were hitting me in the crowd the people in the crowd were yelling and hitting them in hopes that they would stop beating me. I was defenseless, I had my hands up in surrender, as evidence by no marks or bruises to my hands or knuckles.  After that, the two officers pulled me out of the crowd and then about five or six officers began to tackle me in the middle of the street so I tried to escape their grasp without violence by running away. Then they pulled my pants down so I couldn't run anymore and they slammed me into the dirt, they then repeatedly hit me in the face, head, arms, and legs, with their fist, knees, feet, and nightsticks. I felt blows to my whole entire body. As I was being beaten on the floor I happen to be next to a bbq grill, which my head was slammed into.
Afterwards they handcuffed me and they picked me up and slammed me onto the car hood and even after they had me defenseless, they repeatedly beat my face, head, neck, and torso with their fist, knees, and nightsticks. At that point, the same officer that grabbed my arm was whispering inappropriate things in my ear like, "yea I got you f*****," "Your life is over you piece of s***, you messed up today!" He also said to the other officers, I got his blood all over me, and then redirected the statement towards me saying, "I know you have diseases, what diseases do you have?" (I believe he made this comment because I am black and have tattoos)
After that he removed me from the hood of the car and began walking me to the end of the street, I heard the same cop that was whispering in my ear refer to the people in the crowd as animals saying, "the animals got me good." (which seemed like another racial slur) He then began to question me asking if I was on the football team at FAU and said my career as a football player was over. The same officer then put me on the floor again, and let me lay in my blood and pinned my leg to my back with the officers knee holding my leg down, and twisting my wrist (while handcuffed) saying to me, "wait until we get into the back of the car, I'm going to f*** you up some more," he also asked what my major was, I replied that it was criminal justice, and he laughed about it and told the other officers guess what his major is. I then played unconscious so that they would stop harassing and beating me. After awhile they picked me up, pulled my pants up, and walked me to the police car. As we were walking to the police car he said, "So you're going to cry like a little b****" and I replied, "no sir, I take it like a man"
I was finally in the back of a police car, I sat there for awhile, until they transferred me to officer Toth's car, he then drove me to the hospital, where I got numerous amount of stitches and five staples to the right side of my head, they also took CAT scans. The nurses asked the officers if they should clean all the blood and dirt off of me, and they insisted that they should not, so I sat there with dry blood all over me.  (until a few hours before my release) While I was laying in bed at the hospital I heard the officers laughing and joking saying, "haha, we have workers comp now."