[easingsliderlite]
[divider type="thin"]
[dropcap2]T[/dropcap2]he Owls went into Friday's game knowing that a win would not only make them bowl-eligible, but it would also avenge a 34-24 loss that the Owls suffered during their final game of the 2012-2013 season.
Starting quarterback Jaquez Johnson hit tight end Nexon Dorvilus for an 11 yard touchdown pass that began the scoring for the Owls. After the extra point, FAU had a 7-0 lead after just two-and-a-half minutes of gametime.
Dorvilus claims that he did not see the ball coming his way.
"I didn't even see the ball," the Miami-born senior said. "I just put my hands up."
On the ensuing kickoff, the Panthers would return the ball to midfield, and a facemask penalty later pushed FIU to the Owl's 25 yard line.
The defense recovered, and yielding just three points after kicker, Austin Taylor converted a 45 yard field goal that made the score 7-3, still in favor of Florida Atlantic.
The defense played very strongly for the entirety of the game, surrendering just 20 total yards of offense in the first quarter, and 132 total yards for the game.
[quote_center]"They've been tremendous," says Coach Brian Wright of the defensive unit. "They've been flying to the football, they've been fun to watch."[/quote_center]
A 59 yard touchdown pass from Jaquez Johnson to William Dukes made the score 14-3 with less than a minute to go in the first quarter.
Early in the second quarter, defensive end Martin Wright would reach 3.5 sacks, setting a new FAU single-game record. The senior and Miami native would end the game with five sacks.
Martin Wright claims he had no idea that he set the record. "I was just playing."
FAU went into halftime up 14-3, only surrendering 64 yards of offense to FIU while amassing 210 yards of their own.
During the third quarter, senior defensive end Cory Henry broke the FAU career sack record. His 16th sack became a new career record. Henry also claims that he had no idea that he had set a record. (FAU also broke their season record for sacks in this game, which is now 29.)
Later on in the same quarter, Jaquez Johnson threw a 23 yard touchdown pass to Alex Deleon, a score that would become the last for the Owls. Jaquez Johnson would finish 10-19 for 218 yards and 3 touchdowns.
FIU managed to hit a second field goal with 11:02 remaining in the first quarter, but scored no other points. The six point output is the fifth time that FIU has been held under seven points this season.
The 21-6 win is the fourth consecutive for FAU, bringing the, to 6-6 on the season, and making the team bowl-eligible.
The immediate reaction from the winning team following the win was described by center Mustafa Johnson as "pure joy."
"For us to come together, win, and have a chance at one more is something special," says the senior, who also emphatically believes that his team deserves a bowl bid this year.
"They've been through so much, whether its coaching turnover, whether it was having defeat after defeat, just not knowing success. The biggest thing that I wanted to do, as far as coming here, was to turn it around and show these guys what it's like to be in meaningful games," says Mustafa Johnson.
Coach Brian Wright lauded the most senior members of  his team for developing a camaraderie that clearly benefitted this team.
"I was just so happy for our seniors because they have really stuck together and led this football team. To see them ring the bell is a great feeling," said the now 4-0 Brian Wright.
After reaching six wins, the Owls now will have the task of waiting to find out their postseason fate (or lack thereof).
"We're gonna wait and see what happens with the bowl eligibility. We took care of what we needed to take care of these last four weeks," said Coach Brian Wright. "I couldn't be more proud of our group for that."
Nexon Dorvilus echoed much of the same sentiment.
"What a journey this team has been through. We've controlled what we could control. Whatever goes down is not really up to us anymore."
"I never thought we would be bowl-eligible," says Martin Wright. "I take my hat off to the coaches. They could have BS'd the whole season, but they didn't. They buckled down and made us a better team."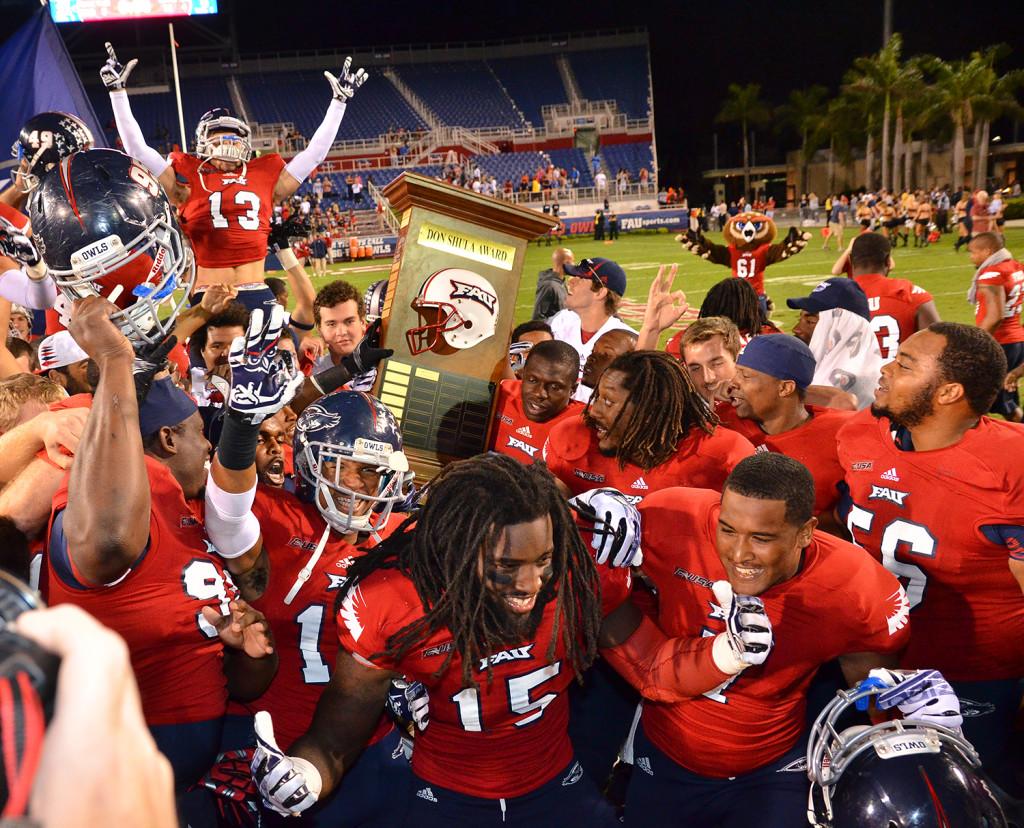 Even more excruciating is the wait the FAU coaching staff now will endure regarding their position(s) at this school, or lack thereof. Athletic Director Pat Chun may choose a brand new coach to lead this program, which would mean an entirely new staff.
Brian Wright, unsurprisingly, feels as if he is the right man for this job, and also feels that this team has performed valiantly under him.
"I'm not sure who else could have been put in this position besides myself and this coaching staff, that could have done what we did. I'm very proud of the assistant coaches and this football team," says Brian Wright.
The players, though, seem to fully support the man who has lead them to four straight wins.
Jaquez Johnson added strong support of Coach Wright. "I think he has a great chance of staying, based on what we did in these last four games. The way I'm looking at it, we are a couple of plays from being in the conference championship game. With Wright staying, we can build off of everything we did this year."
When asked whether he felt Coach Wright was appropriate for the long-term job, Nexon Dorvilus answered with a resounding "Yes," then added, "one problem I feel like we've had at this school is a lot of turnover. There's really never been any solidarity. I feel like Coach Wright would be the perfect guy for this job."
Dorvilus also suggested that the record of the still-undefeated Coach Wright should be considered as well.
[quote_center]"I feel like we are building something really nice here, we're building something successful. Also, he's 4-0 . What else do you want?"[/quote_center]
[divider type=""]