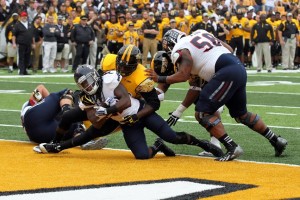 Who: Florida Atlantic University vs. New Mexico State (Boca Raton, FL)
When: Saturday Nov. 23 at 3:00 PM ET
Where: FAU Football Stadium
TV: N/A
Radio: ESPN 106.3
Prediction: FAU 34, New Mexico State 20
By Wesley Wright
After a 34 point victory over a winless Southern Mississippi team, Florida Atlantic takes on New Mexico State this weekend, in a game could bring the Owls one step closer to bowl game eligibility.
NMSU enters Saturday's game with just one win, a 34-29 decision over Abilene Christian. The Owl offense should have no problem exploiting an NMSU defensive unit that is surrendering an astoundingly-bad 46 points per game this season.
Coming off of a 333 yard performance versus Southern Miss, the Owl running game will continue its remarkable success this weekend. Redshirt senior running back Damian Fortner has played well in the last few weeks, in his position behind backs Jonathan Wallace and Jay Warren.
Interim head coach Brian Wright had high praise for Fortner at Monday's press conference. "I am very proud of Damian. Because he had the right attitude, he has been able to perform at a high level when called upon."
Look for those three to capitalize early and often against a NMSU defense that is dead last in defending the run this season (Aggies are surrendering 312 rushing yards a game, the next closest team, New Mexico, is giving up fifty yards less.)
The passing offense should have ample opportunities to gash an Aggie defense, hat is in the bottom third of the country in passing yards allowed.
For as pitiful as their defense has been, the NMSU offense has been playing much better in recent weeks. The Owl defense, a unit that played absolutely terrific last weekend, will be up to the challenge of stopping a Aggie offense that is averaging just 22 points a game, but has scored heavily in their last few contests.
"I see an offense that is extremely explosive," Wright says of New Mexico State. "They have scored at least 34 points in their last three games."
Since cornerback Keith Reaser went down with a season-ending ACL injury on October 5th, the Owl secondary has held it together simply by committee. Andre Brown, Christian Milstead, and Cre'von LeBlanc have all been making plays lately, and will need to continue to do so this weekend against a pass heavy New Mexico State offense.
Under the direction of Jewan Kirk, the former linebackers coach turned interim defensive coordinator, the Owl defensive personnel surrendered just seven points and 189 yards in total offense to Southern Mississippi.
Expect Kirk to have this defense flying to the ball again this weekend, especially spurred on by the home crowd. The FAU offense will find its rhythm early, which may mean running the ball early to open up the play-action offense later on in the game.
While it is unknown whether or not FAU will make a bowl game this season, the Owls must win six games before being considered for a postseason bowl. A home win versus New Mexico State will bring this team to 5-6 with only the rivalry game versus FIU remaining, setting the Owls up for a very important game on November 29th.