Terrorist attack in Kenya hits home for FAU swimmer Talisa Lanoe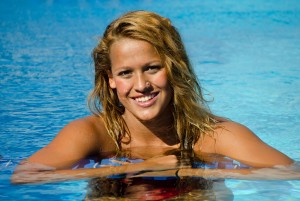 Talisa Lanoe stands at the edge of the FAU pool as terrorists hold her aunt and cousin captive in the Westgate mall in Nairobi, Kenya. Surrounded by 51 of her fellow FAU swimmers, Lanoe pulls her goggles over her cap as she talks with friend and teammate Kelsea Yarnell. She does not know.
It's Saturday, Sept. 21 and the swimmers are preparing to dive into the water to warm up for the FAU Alumni Meet. But if Lanoe were at home in Nairobi — where she holds six national records in all of the backstroke events — she would've probably been at Westgate, the local mall, just two minutes from her home, having a pastry at Artcaffe, a coffee shop and bakery.
Almost 8,000 miles away — about two hours before Lanoe dives into the pool — 10 to 15 members of the Islamic militant group al-Shabaab enter Westgate Mall from the second floor of a parking garage. They fire their rifles at terrified shoppers, regardless of whether the mall patrons are surrendering or running for safety (visit upressonline.com for more information about the Westgate terrorist attack).
The al-Shabaab members make their way to the top floor of the mall, where a children's cooking competition is taking place. They open fire again and start taking hostages. Lanoe's 15-year-old cousin, Nuriana Merali, and Nuriana's mother, Salima Merali, are among those taken.
Later, they were among the dead.
 Back at the meet, Lanoe had no idea about the attack. She did not know that her father, Erwan Lanoe, drove away from the mall just minutes before the gunmen entered, his car loaded with groceries from the Nakumatt supermarket. She did not know that the terrorists took her cousin, Nuriana, and her aunt, Salima. She did not know about the attack at all until after the Alumni Meet.
While Lanoe stood in the locker room — water still dripping from her hair — teammate Frida Nilsson read through news headlines on her phone, stopping at one in particular.
 "Talisa, look at this," Nilsson said. "There's been a shooting in Kenya."
 FAU swimmer Iwona Lefanowicz watched Lanoe stand in shock as she read the article. Tears filled Talisa's eyes as she realized that the attack happened just minutes from her home, at the mall that she would go to at least five times a week.
"At first, I didn't know anyone that died," Lanoe said. "I didn't know how bad the situation was, but I felt horrible. Just the fact that something was going on like that in my own country, it brought me to tears."
As most FAU students enjoyed the Owls' first home football game of the season on Sept. 21, Lanoe sat on the bleachers, desperately trying to contact her mom and dad.
In Nairobi, Lanoe's mother, Shelina Popat, frantically called friends and relatives to make sure that they were safe. Popat tried to go to the mall, but the roads had been barricaded. Lanoe finally made contact with both of her parents, who were safe.
Of the 67 people, that died, as of publication time, Shelina Popat lost 10 friends and two family members in the attack.
 "I just couldn't believe that any person, like living human could be capable of doing such a cruel thing," Lanoe said. "I mean, human life is precious. You just can't go around shooting people. It's just not right and so many people suffered because of it."
 Lanoe found herself paralyzed by the shock and glued to her friend's couch on Saturday night while others went out. She couldn't pull herself away from the reports describing the event. Tears streaked down her face as she read article after article, feeling as if there was nothing she could do to help her people.
 "That's one thing I hated, that I couldn't do anything from [the U.S.]," Lanoe said. "I couldn't physically help, which killed me."
 Some of those feelings subsided when Lanoe's cousin made a webpage with a donation link to raise money for the Kenya Red Cross Society. The donations help victims of the attack and family members that have lost loved ones. Lanoe posted the web page on Facebook and Twitter.
Still, that wasn't enough for Lanoe. She personally called many of her friends and asked them to donate. Soon after, the website received over $500 in donations from people in four different countries.
 "I'm so patriotic when it comes to my country that something going on just brings me to tears and brings so much sorrow and anger because I just don't understand how someone can do that to my country and my people," Lanoe said.
 FAU head swimming coach Steve Eckelkamp heard about the attack late on Saturday and immediately thought of Lanoe.
Eckelkamp later realized that his biggest fear had come true –– the Kenyan swimmer had family involved in the attack. The FAU coach of 24 years lent his support to Lanoe at practice, acting as her family far, far away from home.
"We reached out to her and just said, 'You know what? We're here for ya'.' It's a terrible thing, a tragedy," Eckelkamp said.
 Although several teammates showed their support and tried to reach out to Lanoe, she felt a special connection to the compassion that her coach had shown.
"When I went to go see Steve, he was really understanding and he just listened," Lanoe said. "Hearing it from your coach just makes you feel that much better."
 It wasn't until swim practice on Monday, Sept. 23, that Lanoe was able to finally distract herself from the news. Lefanowicz, who had tried to distract Lanoe before, noticed that as soon as the Kenyan backstroker dove into the water, her painful thoughts dissipated and Lanoe was finally able to relax.
"Swimming is like, a little bit, our getaway," Lefanowicz said. "All our problems or worries that we have … we just come [to the pool] and that helps."
Staying Afloat
Lanoe has been competitively swimming since age 6, so it's no surprise that immersing herself in the 50-meter pool and propelling through the chilled water helped ease her heartache.
 "I've always loved the water," the 19-year-old said. "I loved training… so swimming practice was really fun. I loved it as much as people hated it."
The first sight of Lanoe's potential for swimming happened at the Grand Royal Hotel pool at age 4. It was Shelina Popat's birthday, and the little girl and her father decided to surprise mom, who'd never seen Talisa swim on her own.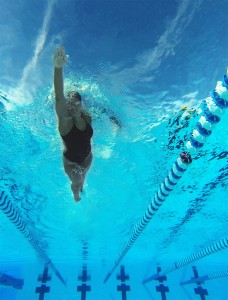 As soon as Shelina Popat arrived at the 20-meter pool, Lanoe dove into the water and swam an entire lap on her own. Shelina Popat was so ecstatic about her daughter's achievement that she bought her a Little Mermaid Barbie.
 "It was at this point that I knew that she had God-given talent and a star was born," Shelina Popat said through email.
 Combining hard work and sheer talent, Lanoe qualified for the Kenyan Junior National Swim team by age 13.
At that point, Lanoe had pride in her country.
During a meet in South Africa, a swimming official couldn't believe that a Kenyan swimmer was the top in an event and told Lanoe that she didn't belong in the fastest lane. The official made a snarky comment and insulted Lanoe by commenting that Kenya will never take a medal. That remark set off an emotional charge in Lanoe. Aided by the utmost of determination, Lanoe took home the gold in 200 backstroke and broke her first Kenyan Junior National record.
 "[The comment] really tormented Talisa, but it gave her the drive to prove [the official] wrong," Shelina Popat said.
 In less than a year, Lanoe realized that she couldn't receive the training she needed in Kenya.
Despite her mother's initial concerns about her young daughter attending school in a dangerous country, Lanoe made the decision to go to a school to focus on swimming. The school, TuksSport, was specifically for athletics and associated at the University of Pretoria in South Africa. Praised for its swimming program, TuksSport produced seven swimmers who went to the Olympics in 2008.
It was a complete contrast to the training that Lanoe had received in Kenya. In Nairobi, Lanoe often swam in a cold, run-down pool that wasn't well maintained.
"Sometimes it was like green and you couldn't even see the bottom [of the pool]," Lanoe said.
When Lanoe first arrived at TuksSport, she didn't have any friends and was not prepared for the intensive training. Yet even after training over 20 hours a week at Tuks, Lanoe would still spend Sunday, her day off, in the pool having her best friend, Jade Howard, critique her backstroke starts.
 "As soon as we moved to that sports school, she became really passionate about [swimming]," Howard said.
 While attending the University of Pretoria, Lanoe became determined to train in the U.S. one day. The U.S. is known for having rigorous training schedules, amazing coaches,and producing swimmers like 22-time gold medalist Michael Phelps. When Lanoe finished high school, it became time to make that goal a reality.
Persuading her mother to allow Lanoe to go to school in South Africa was difficult enough: but now asking the worried mother to allow her daughter attend school in the U.S., a 25-hour plane ride away, proved to be even harder.
"[Shelina Popat] just thought, 'Oh, Americans are too free and you're not going to swim anymore. You're just going to party the whole time'," Lanoe said.
After Lanoe relentlessly begged her mother to let her come to the U.S., Lanoe decided to try a new tactic. She created a PowerPoint presentation, explaining exactly why she should make the long plane ride. The slides featured five Florida schools and elaborated on the benefits and the programs offered at each school.
Lanoe's effort was eventually rewarded with her mother's blessing.
 "Talisa is an only child, and I would like to spend every waking moment with her considering it won't be long before she embarks on a family of her own," Shelina Popat said. "But it's a sacrifice I am willing to make if it means the happiness of my daughter."
 Lanoe desired a school in a warm climate, so she applied to all Florida Division 1 universities that had a swim program. Eventually, she narrowed the decision to FAU and FIU, paying dorm fees, registration fees and choosing classes at both schools.
The 5-foot-7 swimmer flew to the U.S. in Aug. 2012, just days before classes began. Her 23-year-old cousin, Tahir Popat, who lived in Colorado, flew to Florida to help the Kenyan swimmer make a decision regarding where to spend her next four years.
The two rented a car and drove to FIU first. Immediately after seeing FIU's campus, Lanoe determined that it didn't fit the image that she had in her head. Lanoe wasn't attracted to a school that had two main campuses, as it would mean driving back and forth with training in the typically hectic Miami traffic. She then went to check out FAU, which she immediately fell in love with, moving into the dorms that same day.
 Soon after Lanoe settled into her new home at FAU's Glades Park Towers, it was time for Lanoe to focus on swimming. She wasn't sure how the university's recruiting process worked and hadn't received a response from any coaches that she'd written to.
Staying persistent, Lanoe went to a practice to speak with Eckelkamp.
 "She kind of just popped up and walked onto the pool deck," Eckelkamp said. "I thought, 'Nothing to lose here. We're going to give her a shot.'"
Lanoe took the shot –– a walk-on spot on the team–– and swam with it.
Kicking for the Gold
One year later, Lanoe is a sophomore and continues to compete in FAU meets as well as international competitions. Traveling is not foreign to Lanoe, who is now part of the Kenyan Swimming Federation, has attended events such as the 2012 Fina World Championships in Turkey.
 "She's trying to balance both appeasing the Kenyan Federation and the NCAA," Eckelkamp said.
 Lanoe is currently training to compete on the ultimate stage –– in Rio De Janeiro, Brazil. After just barely missing the cut for the 2012 Olympics, Lanoe is working even harder to secure her spot on the 2016 Olympic team.
"This year I'm not going to let anything get in my way," Lanoe said. "I'm going to make sure that I make a cut so I'm definitely going,"
Kenya's swimming association only takes the top swimmer out of both males and females as well as swimmers that get a specific qualifying time. This means it's imperative for Lanoe to meet that time to make it in 2016.
Lanoe continues to get stronger and improve her stroke every day at practice. Her teammates have taken notice and know she's destined for bigger things.
"I believe in her 100 percent," Lefanowicz said. "She just needs to work hard, as much as she does right now and she will go [to the Olympics]."
While Westgate collapsed due to a fire during the attacks, Lanoe's admiration for her country still grows.
If Lanoe wears her Kenya cap and jacket at the 2016 Olympics, she won't be carrying the sorrows of a country that has been faced with tragedy, but the pride of a country that stands united.
"By never backing down, by persevering in the face of adversity, her resilience has driven her to achieve," Shelina Popat said .
[divider type="thin"]
Continuation and Corrections
In the October 8 edition of the University Press, it was noted that Salima and Nuriana Merali were taken hostage.  Since then, the University Press has received new information about their deaths and has learned that they were killed before victims were taken hostage.  Here is the corrected version:
Amidst the chaos during the Westgate mall attack, Talisa Lanoe's aunt, Salima Merali and Lanoe's cousins, Nuriana and Aliyaaz Merali hid under a large refrigerator, behind a meat counter, in Nakumatt supermarket along with several others.  Suddenly, the group heard footsteps approaching.  At that point, an al-Shabaab terrorist shot the huddled mass of civilians and then left.  The three family members were among the people that were shot. Salima and Nuriana's wounds were so severe that the two died almost instantly while Aliyaaz suffered two gun shots in his leg and hip.  Aliyaaz sat next next to his mother and sister as their wounds bled.
The terrorist returned later, allowing children to leave and stating that they would not be hurt.  At that point, a French woman, Amber Prior, stood up from hiding under the refrigerator, and asked for her children to be released.
The terrorist then turned to Aliyaaz and asked if he was alive.  After revealing that he was, the terrorist asked Aliyaaz if he was Muslim.  The eight-year-old boy replied, "Yes."  At that point, the terrorist allowed Aliyaaz's release.
This was not enough for Aliyaaz– he asked if he could take his mother and sister.  Unfortunately, Salima and Nuriana were dead by then.
Since then, Aliyaaz has had two operations for the wounds.  While his life was spared, it is difficult for him to live a life without his mother and sister.
In an email from Lanoe's mother, Shelina Popat, Popat wrote, "Now this boy has to lead his life scarred forever with this deep rooted sinister memory, scared forever, without a mother and elder sister! Its just too too sad!"
In this video Aliyaaz can be seen on a stretcher:
http://www.youtube.com/watch?v=7CX06EX_M8E&feature=youtube_gdata_player&desktop_uri=%2Fwatch%3Fv%3D7CX06EX_M8E%26feature%3Dyoutube_gdata_player&app=desktop#
Here is the article that discusses the attack from Amber Prior's perspective.
http://www.telegraph.co.uk/news/worldnews/africaandindianocean/kenya/10358285/Kenya-mall-attack-Mother-who-negotiated-with-terrorist-to-spare-children-tells-of-ordeal.html