The assignment is straightforward enough: get through an hour of exercise bootcamp, survive, and write about it.
FAU's Student Wellness Center, where the class takes place every Tuesday from now until the end of the summer semester, is located on the Davie Campus, not 15 minutes away from where I live. Again, simple.
Being that I am an FAU student, there is no payment involved. Just one waiver form to sign, along with possession of an Owl card.
And then there's the air-conditioned recreation center where we'll be taking the…
"Oh, no. This is an outdoor class", explains Thamas Schuchanek, the Wellness Center's recreation supervisor. As he says this, I look up at what was a canvas of clouds just a few minutes ago. It's hot, I only have one bottle of water, coupled with a severe lack of physical endurance.
Oh, happy day. This is the story of my one hour summer workout, courtesy of FAU's Campus Recreation department.
[divider type="thin"]
"We're just waiting on everyone to get here," says Kamal Cudjoe, our instructor for today's session.
Cudjoe is a certified personal trainer. He's also the CEO and owner of Tailored Fitness, a personal fitness company.
Last spring, Cudjoe talked to the Student Wellness Center about buying a package of boot camp sessions to be made available to FAU students.
Working on a trial basis, the sessions attracted enough participants in the spring and fall semesters –– up to 80 combined –– to warrant summer sessions.
Now in his second semester working with FAU, not to mention recently celebrating a year of operating Tailored Fitness, Cudjoe can't say he expected to be doing this when he was in school.
"I actually attended FAU," he says. "I played soccer all my life. I wanted to become a professional after school, but sometimes things don't quite line up how you want them to."
After college, he acquired his certification as a personal trainer. And here he is now, working with me and four other participants. He's all smiles, joking around with people as they join today's class.
The sun is out in full strength, the day's breeze seems to have gotten bored and left and Cudjoe looks back at his students for the day: "You guys ready for some fun?"
[divider type="thin"]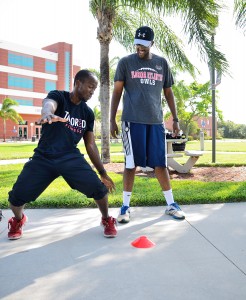 Tuesday, June 18, 5 p.m.
The hour started with several cardio-centered exercises.
First: knee-ups – running in place with your knees getting as close to your chest as possible.
Second: jumping jacks
Third:  butt-kicks – running in place, this time having your heels kick you in the rear.
Fourth: more knee-ups.
After making it through these exercises, along with a few others, we're allowed a short break. I use that couple of minutes to combine a water break with a quick pat on the back for making it through what was surely phase one. And then…
"Ok, people," said Cudjoe. "Now that we've warmed up, let's get started!"
[divider type="thin"]
I was partnered up with participant Natasha Henderson for the rest of the hour. "This is my fifth session [with Cudjoe]," she said. "It's always fun."
Henderson is a junior at FAU studying psychology. She was amped, energetic and I was not about to be the weakest link.
Except, I was. In fact, I was the one rusted-iron link in a chain of tungsten carbide.
Cudjoe set up a series of "stations," each representing a different exercise.
The first station includes two 15-pound medicine balls. Students are to hold a ball to their chest and do some squats.
The second station involves two cones, placed about 50 feet apart, which students shuffle between, back and forth.
The final station is just free space for combined push-up and plank position exercises.
Each station takes 50 seconds, with students having to jog –– or in my case, practically crawl –– from station to station. The idea, as Cudjoe put it, is to avoid putting a number on reps. 50 seconds of continuous exercise means different reps for different people, depending on each person's physical capacity.
The first time around wasn't so bad. In fact, I was doing pretty well. This medicine ball would not own me. Not today.
Cudjoe instructed us to go around the stations three times.
I had gone through two stations, still on my first run-through, before I was huffing and puffing.
One thing I'd quickly discover about our instructor is that he's an ever-rolling ball of energy. Cudjoe constantly encouraged every student, but he was particularly encouraging to his most lagging student.
"C'mon, Mohamed! Finish strong, finish strong!"
"25 more seconds, Mo! 25 more seconds!"
"You got this, Mo! You can do this!"
I can do this.
[divider type="thin"]
I couldn't do this.
I sat out the third run-through, having gone around the stations twice. I would remain on the side, soaked head to toe, hoping to never do another physical activity as long as I lived.
At the end, I gathered enough energy to get up and join the rest of the participants in a post-workout stretching session. After that, I'd collapse onto the grass on the side again.
The only thing left to do was talk to our instructor about my performance.
For the ever enthusiastic instructor, this must have been a particularly difficult assessment to make. He took a moment and thought about the best way to say this. Then, furrowed brow and all, Cudjoe somehow managed to string together enough positive words to replace, "heck, that was bad".
"Positive attitude, average performance,"
[divider type="thin"]
Bootcamp is being offered on Davie Campus every Tuesday at 5 p.m. from now until August 24. For more information, visit: http://www.fau.edu/student/broward/wellnessbroward/index.php