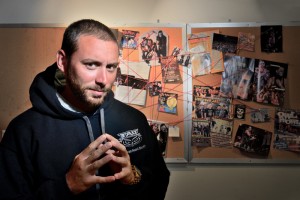 As Student Involvement and Leadership Coordinator Mike Burdman sits in his office, papers and pens lay scattered across his desk. To most people, this probably seems normal. But to me, those papers and pens should be replaced with a bunsen burner and some test tubes. And a lab coat should definitely go over his signature navy blue FAU-embroidered polo.
On May 13, FAU's Program Board announced the headliner for their sixth annual Bonfire will be punk-ska band, Less Than Jake.
This may be the Bonfire's sixth year, but it isn't the first time FAU's booked a classic. You can thank Burdman, who's in charge of booking the entertainment, for that.
"Some of the experiences I had during my undergraduate years I still consider to be the best of my life. I feel like a big part of my job now is to help Program Board and [the] Homecoming [committee] create these same types of memories for the students who are on campus now and in the future."
And he really is focused on channeling those memories.
While other colleges are focusing on booking bands that are hitting the top 40 charts today — FIU had B.o.B perform at their homecoming concert last year — Burdman is looking at the ones that hit it a decade ago.
Call it nostalgia for college students, call it reminiscing for 20-somethings: I call it "The Bonfire Theory," and I'm pretty sure it's genius.
While adults in their 50s are paying $100 or more to see Bon Jovi, Aerosmith, and Styx on stage again, our generation's bands are already capitalizing on the same movement.
Bands like Fall Out Boy are doing 'reunion tours' of their own and we're eating it up — buying tickets, records, hoodies, and commemorative t-shirts.
I just went to their concert in June. Ticket cost: $47, parking: $10, t-shirt with tour dates on the back, $25. Total cost? $82. Reliving my middle school years? Priceless.
Fall Out Boy started in 2001, but only began popping up in the mainstream world around 2005, with their single "Sugar, We're Going Down." The band received multiple awards from outlets such as MTV and Teen Choice. They were even up for a Grammy in 2006 for "Best New Artist," but lost to John Legend.
But 12 years after their start, they're still banking off of their 2005 single, as they play for people (myself included) who listened to "Sugar, We're Going Down" when they were still in middle school or just starting high school.
And thanks to mad-entertainment-scientist Burdman, the same thing is happening on campus, and it's free to students.
"We sometimes use trial and error to come up with the best ways to plan for future events," Burdman said. "The Bonfire is a perfect example of that.  If you look back at the history of the event you can actually see how it has evolved from a DJ to a local band to finally what we have now, a full-on festival and concert." (see sidebar).
Starting last year, the rock bands FAU brought to perform have all been at least 10 years old since their start as a group.
First came The Misfits. They played FAU's bonfire last year and technically formed in 1977. The band went through some lineup changes, broke it off and reformed with new members a couple of times. But even in their most recent formation, led by bassist and vocalist, Jerry Only, they've been going 13 years strong.
Next came the Homecoming performance in October 2012. Reggae-Alternative band Pepper graced the Barry Kaye Auditorium stage to a sold-out crowd. Pepper formed in '97 — 16-years-old.
And now, a year later, we're hosting ska group Less Than Jake, who consistently made strides on the Billboard 200 list from 1996 through 2008. But it isn't the group's first time playing here. They actually played FAU's outdoor stage in 1999, and the band itself formed in 1992 — 21-years-old.
"Less Than Jake was the one that everyone agreed would be a great fit," Burdman wrote in an email. "I think we made a great choice.  Less Than Jake's full-throttle, high-energy performances are great and I think the students are going to love the show."
And it looks like he's not the only one.
"I think familiarity is successful when it comes to concerts. Especially at our age level," Nayib Pastrana, a sophomore multimedia studies major, said. Pastrana attended both The Misfits and Pepper concerts last school year.
"Less Than Jake is notoriously fun," Reno Erickson, a freshman Mechanical Engineering major who has seen the band perform twice, said. "[The show] will create a strong fun unity among the young college kids."
The Bonfire Theory: Booking bands that aren't necessarily popular right now, but were popular as today's college students were growing up. Nostalgia bands for the 20-something generation.
"What we are doing now isn't unthinkable. It's simply bringing the best experience possible to the student body through the means we have given to us," Burdman said.  "These 'classic' acts are quality and proven to be an entertaining experience for people of all ages and I am looking forward to the future and continuing along this path."
And according to the students, this path seems to be working.
Hannah Feldman, a sophomore business major, was introduced to Less Than Jake six years ago by her sister.  "I'm really excited! They are such a good band live," Feldman said.  "I saw them live for the first time at Warped Tour a couple years ago. So, I'm excited to see that they are still popular." This will be Feldman's third time seeing Less Than Jake
performing.
"I've listened to them on and off since I first heard them when I was like eight," Zack Lyons, a freshman finance major, said. "I think it's awesome just knowing that a group that has been around so long is still relevant enough to draw attention from college students who would want them to play a show for FAU."
Another perk The Bonfire Theory carries is the money FAU saves by booking older, cheaper bands.
This year's Freaker's Ball — FAU's annual hip-hop concert — which featured
rapper Kendrick Lamar, costed approximately $90,000, according to Program Board.
But, Less Than Jake's performance only coat $12,000. In fact, if you took the last three nostalgia acts FAU's hosted — The Misfits, Pepper, and now Less Than Jake — the three combined only add up to about $56,000 in performance expenses.
That means about five and a half nostalgic concerts could have been held before spending what it cost to bring Lamar here — which students had to pay $10 admission for, by the way.
"This year, once we had our figures in order, we contacted our booking agent for a list of acts that fit our criteria and whom were also available on August 29th," Burdman wrote in the same email.
The bonfire committee, led by Burdman, requested a list of 15 to 20 rock, hard rock, metal, punk and ska bands that would be available. The bonfire committee is a group of panelists made up of Student Government, Program Board, and FAU's alumni association. According to Burdman, other options included Danzig, Reel Big Fish, DevilDriver, and Sevendust.
"After reviewing the list with the committee a mutual agreement was made that Less Than Jake was the best choice."
So what does he have to say about his legacy?
"The Bonfire Theory," Burdman said. "That's got a fun ring to it, but I don't know if a theory is the best way to describe it.  I look at it more like an experiment.  Since FAU is still growing and transitioning to a traditional university we are often finding ourselves doing some different things for the first time."
Maybe a 'theory' isn't the best way to describe it…
Call it the Burdman Experiment — but I'm still pretty sure it's genius.
[divider type="thin"]
IF YOU GO:
Who: Less Than Jake
What: FAU's sixth Annual Bonfire
Where: outdoor stage – west side of campus, near track and field
When: Aug. 29, 6 p.m.
Extra: Free
[divider type="thin"]
Q&A
We reached out to Less Than Jake guitarist Chris Demakes to hear what he had to say about touring, a new album, and how it feels to play for audience members he watched grow up. Check out our exclusive interview here:
UP: What's going on in the world of Less Than Jake right now?
We just got done recording our 420th [Less Than Jake actually has seven studio albums but are known for having a lot of EPs, vinyl releases, and live recordings] album, so we have a new album that's completed and we're going to get it mixed at the end of June. We're out on the road for 12 shows right now, in July we have one show at El Paso and then November, we're going to be out promoting our new album. The new album comes out in late September on Fat Records.
UP: Tell me about the new album.
Not really much to say. I think that if people like Less Than Jake, they're going to love the record and if they didn't like us before, it's not going to change your mind. (laughs)
UP: How's the tour treating you so far?
We haven't even played a show yet. As far as being on the road, everything's good.
UP: How's it feel to be playing a college bonfire?
It's awesome. I'm going to show my age here, we played FAU back in '99. That was the last time we played there. We're excited to come back. College shows are always the most fun because college people, they're only there for one reason — to have a couple drinks and have a good time. So it's always fun.
UP: What's your fondest college memory?
The four of us are from Gainesville and our sax player's from Connecticut. We all went to the University of Florida together. We played shows there until we got banned from campus — I'd put flyers around campus with some profanity — we got banned for like [10] years. We played the mid-90s at UF and then we came back [in] probably 2005 or 6. We were reinstated by then, meaning anyone that worked there and remembered we were assholes [10] years ago probably wasn't working there anymore.
UP: A lot of our readers have grown up listening to you and watching you when they were pre-teens. How's it feel being able to play their college bonfire?
It's awesome. We're seeing people the longer we're around as a band, the more we have people coming with their kids that used to listen to us and now their kids are getting into their teenage years. A lot of people that want to see our band play is always a plus. It's great.
UP: Does it ever make you feel old?
It only makes you feel old if you think about the aspect of 'oh my god, those young guys' now with full beards and mustaches that I remember they were fresh faced kids back in the mid to late 90s. Now, they're there with their wife and kids. It's definitely strange. As long as people want to come see the band play, it's great.
UP: What do you want fans to know when you play the bonfire? What should they expect?
Well the longer they stay in their dorms and drink, the better we're going to sound. I always say after two or three beers you have, it's a different experience seeing us. I know that I do playing —  after two or three beers, I play better. But, I have a two beer minimum and a three beer maximum when I take the stage. There's a fine line there. I just want everyone to come there and have a good time regardless of if they've ever heard of the band, we'll make sure they'll have fun.