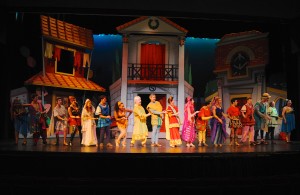 Women dressed in provocative outfits and men dressed in long shirts, which look like dresses, run and dance frantically across a stage as they begin to put on "A Funny Thing Happened on the Way to the Forum."
The audience laughs at the actors purposefully kicking their feet out of synch in a kickline in front of three Ancient Rome homes –– a house filled with prostitutes, a house of a rich family and their servants and an empty home abandoned by an old man in search of his children.
This comedy, written by Steven Sondheim, was one of the Department of Theatre and Dance's shows this summer for Festival Rep 2013. It took place at FAU's University Theater.
"It was really fun," Joanna Mandel, an FAU graduate with a bachelor in fine arts said. "It was a fun show."
In the play, a 20-year-old boy, Hero, falls in love with one of the courtesans he sees standing at the window at the house next door. Determined to win his love over, he makes a deal with one of his slaves, Pseudolus, that if Pseudolus can get him the girl, he will guarantee Pseudolus freedom.
The play continues on as Pseudolus tries to do everything in his will to keep Hero and Philia, the virgin courtesan Hero has fallen in love with, together.
The madness drives Hysterium, the head slave in Hero's household, crazy.
"[The actor who played Hysterium, Gerald Arroyo] just fully let himself go, he really committed to it," Mandel said. "The comedy was there."
The audience laughed at the antics and jokes made throughout the show.
"[The audience laughing] is the biggest payoff in the world for all the hard work we're doing," said the actor who played Pseudolus, Terry M. Cain. "It doesn't seem like work when you're having this much fun."
Over a two-month span, the actors prepared for the show with daily rehearsals, except for Mondays. Their rehearsals would last two to three hours each.
"It's just a lot of fun. It's like a big family," said Sam Streich, the actor who played Gymnasia, one of the courtesans. "I feel like it's the most fun I've ever had working on a show."
Live music played throughout the show in a room off to the side of the stage. The music was performed by FAU students in the music department.
"I think it's great," Mendel added. "I think live music is the best. It's the best way to perform."
"A Funny Thing Happened on the Way to the Forum" has been showing since June 28 and will continue until July 21. Tickets are available online at fauevents.com.