GEO Group pulls out of stadium naming deal with FAU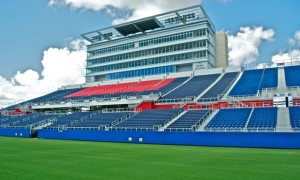 The former GEO Group Stadium came to be known as "Owlcatraz" and is now the FAU Stadium once again.
FAU sent out a press release around 6:30 p.m. on Monday, April 1 stating that the deal to rename the stadium after the GEO Group — a for-profit prison company based in Boca Raton — was over.
The Board of Trustees voted on the agreement to rename the stadium on Feb. 19 after the GEO Group agreed to donate $6 million to the FAU Foundation over the course of 12 years. FAU received national criticism from the media, community members, faculty, and students over the course of the next six weeks regarding the affiliation with the GEO Group, who has been the defendant in over 100 lawsuits regarding human rights violations in the past seven years.
FAU officially announced that the GEO Group withdrew from the deal.
The press release quotes George Zoley, GEO Group CEO and former FAU BOT member, stating, "What was originally intended as a gesture of GEO's goodwill to financially assist the University's athletic scholarship program has surprisingly evolved into an ongoing distraction to both of our organizations."
According to President Mary Jane Saunders, she is disappointed that the deal is over, but maintains support of the prison company which "employs many FAU graduates," according to the press release.
Saunders says FAU is going to look for other companies to give the naming rights.
"We will look for other sponsors for the stadium," Saunders said. "Ultimately, you're hopeful that you can help students go to school and have scholarships and support our athletics program."
Since the deal was initially made, a group of students formed an organization called the Stop Owlcatraz Coalition to protest the stadium renaming. They held a mock parade pretending to celebrate the deal being taken back as a part of April Fools' day at noon. This parade followed a sit-in in Saunders' office, a Q&A with Saunders, and a protest on the Jupiter campus where a member of the coalition was allegedly clipped by Saunders' car over the course of the past month.
The FAU Faculty Senate voted on a resolution sent to Saunders in support of ending the deal with the GEO Group on Friday, March 22.
According to Saunders, the GEO Group pledged a $500,000 donation, but nothing is in writing.
She could not confirm whether FAU plans to accept the donation or not.
[Dylan Bouscher contributed to the reporting of this story.]
For more on GEO Group withdrawing its donating, pick up next week's issue of the UP.