Natalie Cook comes to FAU to speak about discrimination and molestation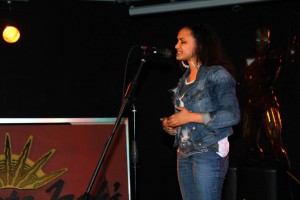 Standing on the Coyote Jack's stage wearing a denim jacket, a shirt with a picture of Jimi Hendrix on it, jeans, and black studded boots, poet Natalie Cook reads to an audience of approximately ten people, "A little boy is not a football game. You don't touch down there."
This excerpt is from a poem Cook wrote about the Sandusky case, For the Boys Molested by Gerald Sandusky.
Cook, a sophomore at the University of Wisconsin–Madison, read her poems touching on delicate topics such as the Atlanta child murders and discrimination at the spoken word poetry and open mic night, "End Discrimination Through the Arts."
The event, hosted by Multicultural Programming and Aware, Share, and Act for Peace, was held on Wednesday, March 20 at 7 p.m. It was held in honor of International Day of Elimination of Discrimination.
"I really love that [Cook's] doing the work that she does," Gabrielle Weintraub, a sophomore art education/studio major, said. "Talking about the things she does takes a lot of heart. And I really, really appreciate that."
Cook has been performing since she was 13 years old, and had her first poetry slam for a local radio station at the age of 14.
She said she didn't win that year, but the next year, she entered again and won. Cook is also a member of the spoken word poetry and hip-hop ensemble First Wave.
"I always feel like I've been writing since I came out of the womb," Cook said. "I literally feel like there hasn't been a time where I haven't been writing."
Cook met Laura Facundo, Multicultural Programming assistant director, at the youth leadership conference, Young People For (YP4). After seeing Cook perform, Facundo asked her to come down from Georgia to do this event.
Unlike other performances she has done, Cook said this one was memorable for her.
"This one was very intimate," Cook said. "I'm used to performing for larger crowds, so it was really interesting to perform for a smaller crowd and literally see everyone's face that I was performing in front of. I think that was really precious. I'll really remember this one."
Cook said the smaller crowd made her feel like she knew everybody, as she made conversation in between poems.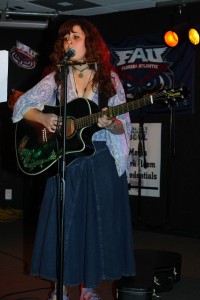 One member of the audience looked up at her familiarly, recalling the time the two of them hung out. Weintraub, a close friend of Cook's best friend, saw a flyer for the event the day before, so Weintraub made sure to show up.
She has seen performances of Cook's on YouTube, but this was her first time seeing her live.
"I feel like I connect more with her," Weintraub said. "The message is still just as profound and just as moving … You really feel her presence as an artist, as an individual, as a woman, as a philanthropist. You can feel her more."
Cook performed the poems For the Boys Molested by Gerald Sandusky, Wayne, Little Girls, Ol' Boy River, and 6093.
The event ended with two singers from Sigma Alpha Iota, the International Women's Music Fraternity at FAU. They performed songs about discrimination. Afterward, the audience was served free drinks and food from Coyote Jack's, including french fries and pizza.
"With poetry, you can listen to a poem that provokes you and it will stick with you for days upon days," Cook said. "I think that's the power of poetry. It really sticks with you."