Homeless man shot by FAU PD on top of Pace Americas building on FAU Blvd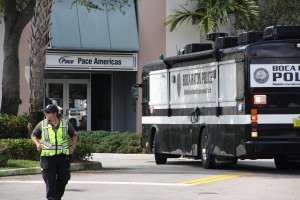 Shots were fired by campus police today Feb. 8 after an armed homeless man was found on the roof of Innovation Centre on FAU Blvd.
Two FAU PD officers answered a non-emergency call at 10:01 a.m. and arrived on the scene to find a white, male, homeless man between the age of 20 and 30, according to FAU Police Chief Charles Lowe.
The homeless man, whose name could not be confirmed, allegedly produced a knife. The two police officers fired shots at the man, according to Lowe.
Lowe went on to say that no police officers were injured and no civilians were involved in the incident; the homeless man is in serious condition, and has been transferred to Delray Medical Center, a level one trauma hospital.
Neither Lowe nor the Boca PD Chief Dan Alexander could confirm how many shots were fired, but four bystanders have confirmed that they heard two shots.
"I was sitting at my desk when I heard two loud noises. I looked out [the window], locked the door, sat down and heard all of the sirens around ten in the morning," said Annette Robles, an employee of Aucamp, Dellenback & Consultants, the building directly across the street of the incident.
Lowe could not confirm how the homeless man got onto the roof of the building, whether or not a knife was recovered from the scene, or what injuries the man sustained.
FAU sent out alert to students through the FAU Alert system at 11:50 a.m. stating "an incident" occurred. The alert did not detail anything about the incident, merely stating, "the situation is contained and there is no danger to the university and no actions are required."
"I cannot comment on the investigation itself," said Lowe, during a press conference at noon following the incident. "There are folks working on it right now, this is all very preliminary. We should have more information."
The UP will keep you updated on this story.
[Emily Bloch and Bryant Eng contributed to the reporting of this story.]