FAU softball coach Joan Joyce crafted her legendary career with her competitive will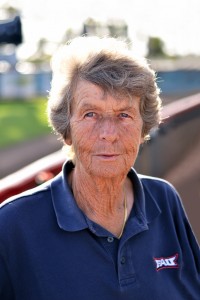 Take a stroll by the FAU softball stadium on most weekend afternoons and you'll stumble upon a woman tending to a run-down concession stand.
That woman is 72-year-old Joan Joyce, FAU's longest-tenured coach –– 18 years running –– and undisputed architect of the school's softball program.
Yet, the same Joan Joyce who's pitched 150 no-hitters, 50 perfect games, and received nine Hall of Fame inductions can now be seen grilling hamburgers and hotdogs, largely unrecognizable to the average passerby.
Still, Joyce feels an imm
ense sense of gratification in the labor she and her tight-knit crew put in.
"We run it," Joyce says while introducing herself, wearing a blue FAU polo and khaki shorts. "This is the way the team makes money that we use to enhance the field. All volunteer help. A lot of the stuff that's been done at this field — paver, walkways — has been [as a result of] us."
That type of dedication and hard work has become a recurring theme in Joyce's illustrious career and life.
And it's rubbed off on her integral support system, which includes longtime friend Carol Plantier, sister-in-law Ginny Joyce, and younger brother Joe.
"She puts so much energy into everything: the concession, the field, the team," Plantier, who went to highschool with Joyce, said. "It's just fantastic."
Ginny Joyce has known Joan Joyce for nearly half a century, sharing an obviously deep connection and vivid collection of memories. In that time, she's followed her around the country, shuffling from sport to sport, locale to locale, working concessions and volunteering however she can.
But Joan Joyce is not a boss in the traditional sense.
"She has people come and work with her, but you never work under her," Ginny Joyce emphasized as she distributed a soda to a fan. "She'll be down here on a 90 degree day, scrubbing the walls with a brush to make it look better."
The labor isn't just limited to food and beverages, either. Joyce has literally had her hands in every aspect of the program.
"You should've seen her two days before this season hit," Joe Joyce said. "She had a bottle of spray and was removing every little mark she could find in the dugout. All the red on top of the fencing, she put that there. This is just her baby."
[divider type="thin"]
Growing up in Waterbury, Conn., a sports-centric, blue collar town, Joyce knew immediately that she'd be a lifelong athlete.
Her father, Joe, played both softball and basketball, and doubled as the "babysitter" while her mother, Jean, worked nights. It was at this time that Joyce was first introduced to her eventual destiny.
"He took me and my brother everywhere," Joyce recalled as she fired up a Newport cigarette, rain pelting the pavement of the stadium's parking lot. "We were at basketball gyms and softball diamonds almost every night. We learned how to play and it became second-nature."
When she was 13, Joyce qualified for the Raybestos Brakettes, a legendary fastpitch team that has boasted state, national, and even international championships.
Though supportive, her mother initially was appre
hensive about the accomplishment.
"I'd come home all excited and she'd say to me, 'You can't play, you're too young to be traveling around the country for softball,'" Joyce remembers, flashing a grin. "I asked her why she even let me try out for the teams, and she said, 'I didn't think you would make it.' I proved her wrong."
From there, the ball quickly got rolling.
In her first national tournament with the Brakettes in 1958, Joyce pitched a no-hitter, one of many to come. Three years later, she'd face Ted Williams, the Boston Red Sox's Hall of Fame left fielder, in a game for charity.
In a moment she'll never forget, Joyce got the best of the "Splendid Splinter," striking him out in consecutive pitches. While that feat would go atop some people's headstones, Joyce actually felt bad for the man with 521 career home runs.
"Because I should've let him hit at least one," Joyce said. "I didn't let him hit anything. He finally threw the bat down and gave up."
Frustrated but impressed, Williams eventually formed a strong friendship with Joyce. He'd ask her to participate in his annual exhibition camps, which he held in Massachusetts.
Williams did, however, remain confused on how Joyce got the better of him.
"We were going to have lunch one day, and he asked me, 'So how did you throw that curveball?'" Joyce said. "I told him. He said, 'You know, girls aren't supposed to know that.' I said, 'Well, this girl does.'"
Joyce knew more than just how to throw a devastating pitch; she'd go on to star in several other arenas, such as the LPGA tour, U.S. women's basketball team, and Connecticut Clippers volleyball squad.
While Joyce did it all on the field, her contributions carried over off the field, too. Although she admits to never questioning her career choice, a story from her childhood nearly prompted another profession.
"Growing up I wanted to be a carpenter," Joyce said, almost unbelievably. "One summer they started to build a house right up the street and I was watching them. I ended up helping build that house. I did everything. I put roofs on, I put tiles in the bathrooms, everything. My parents ended up buying it, and we lived in the house that I literally built."
[divider type="thin"]
Aside from her nearly two decades as the Owls softball coach, Joyce currently doubles as the women's golf coach, a job she's held for the last 13 years.
Under her tutelage, three individuals earned Golfer of the Year honors, and many more have gone on to participate in state and national tournaments.
Joyce, who spent 19 years on the LPGA Tour, will be the first one to tell you how drastically both programs vary.
"Golf is a lot harder," Joyce explained. "In order to shoot good numbers in golf, you have to put in a lot of work and be dedicated. There's only so many good players in the country, especially in the LPGA. So many of today's players are being recruited out of the country, and that takes money. Money we don't currently have."
While her claim to fame came via softball and golf, Joyce's sport of choice is basketball. She was a four-time Women's Basketball Association All-American, played on the U.S. National Team in 1965, and even officiated three college national championship games.
"By far [my favorite sport]," Joyce asserted. "I don't know why I didn't end up a basketball coach [laughs]."
But Joyce isn't at all choosy. She will dominate in literally anything as long as there's a competitor willing to take her on.
"This one time, we were at a softball tournament in Tampa, and there was a ping pong table in the foyer of the hotel," Joyce expounded. "'Coach, c'mon and play ping pong!' they said. 'No, you don't want me to play ping pong.' This went back and forth. Eventually, I played and beat 'em all. Even my assistant coaches would challenge me in ping pong. I warned them, but finally beat them in three straight games out of four. They never challenged me again."
[divider type="thin"]
The last year has proved to be a steep fall from grace for Joyce. After winning 10 conference championships since 1995, her softball team finished with a losing record (15-39). It was an unfamiliar yet very tough experience for her to navigate through.
"It was very, very hard," Joyce said with a tinge of anger. "In fact, it was the first losing season in my life at any level.
[quote_left]"My favorite thing in life is to compete," Joan Joyce[/quote_left]
Given her situation, most other coaches would have contemplated retirement or a step down in position.
Not Joyce, though. Her competitive fire won't let any such thought cross her mind.
"My favorite thing in life is to compete," Joyce said. "That's me. Flip coins and we'll compete. That's just who I am now, and who I've always been. If my mother came up to bat, I'd probably have to strike her out, too."
Nowadays, Joyce aspires to provide for the others around her. She's never been married because she's never had the time to settle down, so she devotes her "marriage" to sports. She's never had kids, so her athletes — past and present — have filled the void.
"I would say she's more like a mother figure to me than anything," assistant softball coach (and former player of Joyce's) Chan Walker said fondly. "I lost my mom at an early age, so she's actually been that person that's taken over and been that mother figure."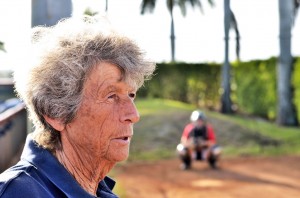 Underneath her fiery and competitive nature lies a laid-back personality and good sense of humor to go along with it. She encourages her players to have fun — not just compete — and they've taken it to heart, mostly at her expense. Joyce's cigarette smoking has become the butt of many practical jokes.
"One time, when they had that 'smoke free, breathe easy' sign on campus, I took it and hung it up in her office," FAU senior pitcher Taylor Fawbush said, failing to hold in laughter. "She threatened to call the cops on me."
Through it all, Joyce acknowledges that one day she will have to hang up her cleats.
But that doesn't mean she'd venture far from the house that she built.
"If I retire, I'm still going to be here," Joyce said. "If I stepped down, I'd even be a part of the coaching staff still. I'm not going anywhere else."