Annual bonfire promises to be biggest ever with The Misfits coming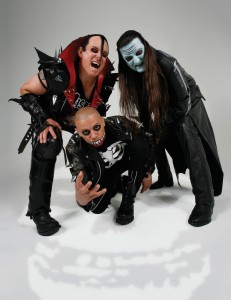 The most popular, most famous music act to ever play at FAU's annual bonfire didn't need to be convinced to come here.
It was the other way around.
The man now in charge of the bonfire, Student Government Coordinator Mike Burdman, remembers last year's bonfire and the misery that accompanied it. After weeks of promotion, the event had to be rescheduled because of a potential hurricane, and weeks later, his uncle Jerry told him how much he wanted to play the event next time.
And while he happens to be Uncle Jerry to Burdman, to others he's simply Jerry Only, the lead singer of The Misfits.
"I never would have thought he'd be interested in playing a bonfire," Burdman says. "Back then, I told him I don't have a lot of money for this event. He said, 'whatever, just pay us enough to cover expenses for the band.'"
Since 2008, the bonfire has been an annual event with a music act, and what started off as an event with music coming from OwlRadio evolved into local bands playing, and is now, well, something different.
"What kind of music do they play?" former coach Howard Schnellenberger asks. He started the bonfire tradition in 2001, before the football team had its first game.
They play, what Burdman describes as, punk-horror. They've been around since 1977 and have made seven studio albums. "The band, the symbol, their logo, it's recognized all around the world," Burdman says. "It's almost iconic at this point." And if this all feels very different to Schnellenberger, very hard to believe, that would make sense.
---
"Before they played an interscholastic football game," Schnellenberger says, "the students had to practice having a bonfire before they did it for real."
He wasn't joking, and before FAU had ever played a game in 2001, its old coach wanted bonfire practice. It was an easy way to sell his team, and he didn't want them looking like amateurs when the rest of the world showed up to watch.
So Schnellenberger would send his assistant coaches out behind the Oxley Center with simple instructions: build and burn.
"Our goal was to have the biggest, tallest bonfire that's ever been in this county," Schnellenberger says.
Ambitious though it was, the fire department wasn't having any of it, particularly Jim Slowiak, a firefighter driver for 38 years.
"We'd stack it up there, and Slowiak came out there with his fire truck and he'd say, 'ah, that's too high, go up there and take all five pallets and throw 'em down,'" Schnellenberger says. "We'd go down and throw them on the side. We'd leave, he'd leave, we'd come back and stack 'em up."
But not for long.
"Somehow this pile` grew to about 14, maybe 15 feet high," Slowiak says.
He had permission to have the pile 10 feet high.
"That bastard came back again," Schnellenberger says. "We'd have to take them down again. This time we didn't put them back up until the night before the pep rally, after dark."
"We left it," Slowiak says laughing. "If it was any bit higher we would have probably said something. The fire marshal was there and he was shaking his head."
And with Schnellenberger's guiding hand, the bonfire that was once an event with miscues and gaffes galore — one time Burdman had to chuck a gascan into the pile to start the fire, another time an assistant coach's son had his eyebrows burnt off he was so close to it — is no longer so.
---
There's going to be a burning head at this year's bonfire. There usually is.
That's because every year the football team's first opponent has its mascot built and burned in effigy. This year's happens to be a seahawk (the Owls play Warner in the first game), and the fraternity Alpha Tau Omega is in charge of compiling it.
"The hardest part is actually just getting the pile big," Alexander Smith, a senior multimedia film and video major in the fraternity says. "We'll go three hours straight, 10 to 15 people."
According to Smith, it takes about 25 hours to build the pile and mascot, and his fraternity works in shifts, late into the night, but for a reason.
"Every year the best feeling is actually topping it," he says. "Everyone's all excited at the bonfire site and we always roll up with the cops, they kind of give us an escort down into the ditch where it's at, and we kind of need everyone we can get. The coolest feeling is seeing Howard out there and the football players and all the kids so excited — it makes it worth it."
Last year, the band that played (Stampede Movement) cost $1,000 to come. This year, it cost $4,000 to get The Misfits, according to Burdman. Typically, the band charges upwards of $15,000 for a show, he says.
But between the 1,000 T-shirts and the kind of music that'll be heard throughout campus given the sound system the band is bringing, Burdman isn't worried.
"This one here it's like, what's the setlist going to be, how'd you get The Misfits, please play American Psycho," Burdman says. "I haven't got any negative feedback yet. I think everyone who goes to the show has a good time watching them. They're entertaining, they have all the makeup."
Senior political science major Michael Turtz, who's attended the last four bonfires, remembers the first thought he had upon hearing of this year's act The Misfits.
"Who are they?" he remembers thinking. "I looked them up on Wikipedia, they're actually bigger than I thought. A lot of my friends know they are, some of them are excited."
"I am too", Turtz says, "to a degree."
Even still, Burdman has a prediction.
"This will be the largest, most attended, most exciting bonfire that FAU has seen thus far."
---
Your Thoughts?
"This year I actually wanna go."
"Sounds like a pretty good time."
"Never heard of them."
"Whoever managed to book The Misfits is my new personal idol."
"This is my first time hearing about it, but I'd go."