In 2011, Student Government had someone doing a big chunk of the work and someone overspending a lot of the cash.  And the president and VP just looked good doing whatever it is they do.
Hardest working
Boris Bastidas
By Chris Persaud
Before Boris Bastidas became Boca campus' top Student Government lawmaker, it was hard to find out how SG legislators spent student money, let alone talk to them.
But all that changed when Bastidas became Speaker of the Boca campus' House of Representatives in fall 2010 – and, quite frankly, busted his ass to see a lot of changes.
As speaker, he uploaded all House legislation and meeting details online – something previous speakers failed to do – so that students can see what the campus legislature is up to with a few clicks at fau.edu/sg/HOR.php.
Plus, he started the Student Government Focus Groups, where on five separate occasions last year students told SG face-to-face how to make FAU better. SG got over 50 complaints and suggestions from dozens of students. And there was free pizza.
Then there's the LGBTQA Resource Center, the on-campus safe haven for gays, lesbians, bisexuals, transsexuals and students who are unsure of their sexuality. Bastidas, who was on the committee to create the Center, wrote up bills to give it enough funding and staff.
"Some people might say he's very adamant, or pushing too hard for something," says SG Director Heather Bishara, "but he stands up for what he believes in."
As if that wasn't enough, Bastidas wrote or co-wrote 20 of the 34 bills proposed to the House in 2011 – more than any other House rep.
In July, he wrote bills that would have put questions on the September ballot asking students if they think parking fines should be lowered and if their money should go to upgrading class registration servers.
All were vetoed, but Bastidas vows to bring them back up again in time for the spring election in February.
"We're pushing for real change," says Bastidas, "I'm just glad I'm on the side that's trying to bring these issues to light."
Not only does he work a lot, he's also eager to talk to students. If you want to speak with Bastidas, drop by his office in room 215 of the Student Union, or send an email at [email protected].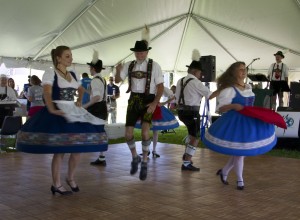 Biggest budget busters
By Chris Persaud
Chances are that this spring we won't be seeing flashy ethnic-style events like FAU's first Octoberfest or gay pride march.
The reason for that: the folks who put on those events, Multicultural Programming (MP), can't spend any more money this semester.
The reason for that: they spent their money so fast a SG higher-up had to stop them before they went bust.
In under five months, Multicultural Programming spent $80,901.36 of its $112,363 budget, causing Boca campus Governor Ryan Ebanks to freeze their spending.
Since it can't spend what it has, MP can't do events for Black History Month, Asian Heritage Month or put on any ethnic beauty pageants (which means less opportunities for free food and pretty girls).
And it looks like they'll need to learn how to spend more wisely before they can spend any more at all. Ebanks says he'll meet with MP to figure that out, but hasn't set a time yet. "I wouldn't say it was irresponsible," he says about MP's spending, "They just need a lot of planning."
Marie Dumas, who has been MP Director since June, didn't want to talk to us about it.
Throughout fall 2011, MP-sponsored and co-sponsored events like Octoberfest (no beer, though), the LGBTQ march, a drag show, an Anti-Thanksgiving Dinner and the Miss Latina Pageant, which cost the organization almost three-fourths of  its budget.
In November, when MP's account was frozen, Dumas asked the Boca campus House of Representatives for $29,562 – they got $14,562.
That leaves MP with $46,023.62 to stretch out among Jewish, Black, Asian and Women's History Months this year – if they're allowed to spend any of it. That's just over half of how much they spent on Hispanic, LGBTQ and Native American History Month events.
Some SG members think giving MP more money would solve the problem. SG's money comes from the $11.96/credit hour Activity & Services fee students pay each semester ($143.52 for 12 credits), meaning all the money MP spends comes from students' pockets.
When Dumas asked the House for extra cash, House Campus Budget Chair Jason Wu said, "They're spending the money well; they just don't have enough of it." Wu's the legislator in charge of the committee that decides how Boca SG money is spent each year.
Ebanks told us something similar. "At the program level they're trying to do, I told them they should request more money at the rate they're going."
Well, that's one way to treat a splurger.
Hottest duo
Robert Huffman and Ayden Maher
By Michelle Ferrand
When they walk into the room, it's how incredibly cute they look in their suits that keeps me looking – not their political jargon or promises.
One of them has big, beautiful blue eyes that complement his humble smile, and the other has presidential swag with cute assets. Whatever the reason, Student Body President Ayden Maher and Vice President Robert Huffman make a good looking duo.
Their responsibilities as our president and VP are a little unclear to me, to be quite honest. But really, I just care about how good they look doing their jobs.
Maybe it's because Huffman is a combination of handsome and sweet, like Edward Cullen from the Twilight Saga – except that Huffman isn't a pale, blood-sucking vampire. And maybe it's because Maher looks charming and debonair, almost like a modern JFK, leaving you (or me, at least) with the desire to be his modern-day Marilyn Monroe.
Plus, it doesn't hurt that his pants accentuate his ass.
The bottom line is they'll either leave you swooning or breathless. But as effortless as it looks, they take looking good very seriously.
"We look in the mirror once we're done working, we usually eat lunch, then we look in the mirror, then back to work and then we pause and adjust our hair," said Maher.
All kidding aside, Maher and Huffman are two naturally good looking guys, but their fancy titles probably help a little, according to some people who knew them before they became FAU's president and VP.
"I went to the same high school as him," said junior psychology major Tatyana Carvajal about Maher. "He was good looking, [but] he got cuter now with all of his suits."
Kristy Meyer, a senior arts and humanities major, believes being an SG official works for Huffman, too. "I've known him for some time and he used to have this long hair," she said. "Now, he looks cuter all cleaned up."
While Huffman said it's an honor to be included in the hottest male duo, he also feels "humbled and a little surprised." But he really thinks all the credit is owed to his parents.
Maher also considered it an honor – actually, the biggest honor yet.
"It's definitely the best award I've ever received at FAU," Maher said. "We didn't even have to campaign. We just had to look good."
One thing I ask of them both: stop looking so good –– the whiplash and drool are starting to get a little annoying.