These talented artists might not be featured in the Guggenheim or be signed to Island Records yet, but they're on their way.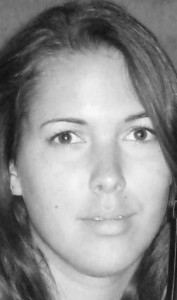 Best visual artist
Tyler Buckheim
The Gamut BFA Exhibition at the Ritter Art Gallery made me "ooh" and "aah," but for the most part, there wasn't anything I hadn't seen before. It was when I came across an abstract piece with mysterious human figures in strange positions that I wanted to stay a little longer.
It was Tyler Buckheim's unique art that fascinated me.
Some of Buckheim's pieces are simple – like a portrait of a chair or a pair of shoes – and others are very abstract. Whichever it is, Buckheim's art can summon a whirlwind of various emotions through techniques and dark color schemes.
Buckheim's art makes many experience something different, and her inspiration to do this comes from somewhere deep within. "I portray that in my art in a way where the viewer can relate to it and put it in their own context," said Buckheim.
While Buckheim has definitely mastered her skill, it wasn't something she planned on doing. Despite the fact that her parents are artists and she practically lived inside galleries and museums, she actually wanted to be a veterinarian. She didn't take her scribbles and doodles seriously until middle school, and eventually realized it was her calling.
What sets Buckheim's art apart from the rest is that it has an identity. When you look at her art, you see the heart, you see the emotions, and you see her. It's not just a one-dimensional painting –– it's like a living and breathing creature.
When she found a way to give her art a voice, Buckheim finally became the artist she wanted to be.
"My work felt more like art I should be making, which I have been trying to do for a long time now."
Buckheim is 2011's best visual artist not only because of her innate talent, but because her art stood out among the rest as the most unique and real –– which makes me grateful she never became a vet.
Best musical artists
Fireside Prophets
These guys make you feel like camping out, sitting around a fire, and singing your heart out with your buddies –– all with a really sweet bass line.
Fireside Prophets craft catchy lyrics, worthy of being sung in the shower, that blend magically with their guitar riffs which rival the expert level on Guitar Hero. A drum beat stitches everything together.
But what's especially impressive isn't just their cool vibe and musical skill. It's also their passion for music –– something the industry can't manufacture.
"I live and breathe music," said Justin D'Alfonso. "When I'm on stage, it's the only time I feel alive and at home."
Considering college students tend to suffer from procrastination, this kind of work ethic is pretty admirable. In the past year, they steadily poured out new music for their EP, "Resinate," which comes out this spring. They're also booking more shows, and plan to catch a music label's attention. Now that's ambition.
But who exactly are the Fireside Prophets?
The band is Justin D'Alfonso (guitar/vocals), Travis Schmeider (drums) and Oren Gross (bass). All have been or currently are FAU students. The trio, whose sound is described by their front man as "dirty south reggae," actually played their first show at FAU in 2008.
Since then, their popularity has grown significantly. The band currently has 1,447 fans on the website reverbnation.com, where musicians, producers and venues all over the nation come together and communicate. And so far, the band has 452 likes on Facebook.
"Fireside Prophets are a talented band and will go a long way in the future," said Nate James, a sophomore commercial music major. "The sound that they bring to the table is very unique and original."
There's no doubt that the Fireside Prophets are working hard to go far –– and they have what it takes to do it. Their music and lyrics are unique and impressive, but most surprisingly, there's no Auto-Tune within earshot –– a refreshing fact, considering there are enough Rebecca Blacks and Ke$has in the world.