Maria Falzone's sex talk is nothing like the one you may have received from your parents.
Bold, outspoken, and hilariously funny, The self-proclaimed "sexpert" spoke on the rules of greater, safer sex at the Florida Atlantic University Carole and Barry Kaye auditorium on Thursday, September 12th  hosted by Program Board.
The event began around 7:15 p.m. and lasted until 8:45. Falzone covered everything from how young adults get mixed messages about sex to how to properly use a condom, all while keeping the audience of about 300 people thoroughly entertained.
"The only reason you should ever have sex is because you want to and because you like it,"  Falzone explained to hundreds of attentive students while discussing her first rule.  "Just because you love someone doesn't mean you're ready to have sex."
She wasn't afraid to ask students when they first received a sex talk from a family member, and even held a few short conversations with crowd members.
"Sex grows in the dark in our country," Falzone told the crowd. "Innocence is killing children when it comes to sexuality."
The event — called "Sex Rules" — aimed to entertain students while still educating them. Falzone listed off her three major rules for sex: know yourself and what you want, never use alcohol or drugs during sex, and communicate with your partners.
"Before you can share it with someone else you need to know about your body," Falzone stressed to the students.
She shared some of her own experiences, like her first sex talk with her mother and how contracting herpes from a friend was the one thing that changed her view on sex.
Falzone discussed the importance of not letting drugs and alcohol into one's sex life. She enforced the idea of always having a sober buddy when going to parties.
The "sexpert" went on to talk about more serious and controversial topics like rape and the risk of substances being put in drinks at parties, but still kept things light and funny when she later said how men aren't pigs when it comes to sex. That one got a clap and cheer from every male in the audience.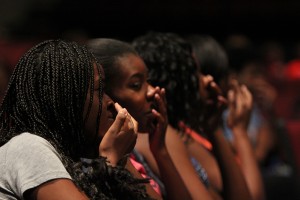 Her use of crowd participation shone when she asked for a male volunteer. Many, around 20 students, shot up their hands, and Falzone chose a young man in a blue t-shirt named Justin.
Falzone and Justin demonstrated her third sex rule, communication, and how important it is. Falzone had the two role play as a new couple and discussed what they felt comfortable doing early on in a relationship.
When Falzone mentioned they should go "all the way," Justin responded with "can't we just go home and cuddle?" sending the audience into a roar of laughter.
Such a serious and important subject can be difficult to address to a roomful of college students, but Falzone's humor kept the crowd's attention.
Her outrageous impression of a male orgasm, including full fledged faces and sexual noises, lasted for a few minutes and had the audience going wild.
Along with this, her reference to male kegel exercises as "super dick", which included pelvic thrusts and super hero cries, threw students off-guard and got the entire crowd into hysterics.
"Safer sex can be fun, but no one's ever said that to you" Falzone pointed out towards the end of her set. Safe sex packets were distributed immediately following the show, further emphasizing her point: Sex can be a great thing if done safely and correctly.