FAU has an entire club devoted to gaming — not just video games. The Student Union plays host to a rather popular gaming corner. Gaming, like any pastime, is an activity that people love to talk — and argue — about. The topic's a broad one, divided into a multitude of genres that cater to nearly any imaginable taste in a gamer.
So it would stand to reason that — like most gamers — the regulars in the Union's gaming corner have definite preferences when it comes to games. So, what are the most popular games in the corner, and why are they so popular?
[divider type="thin"]
1. Super Smash Bros. (SSB Melee, SSB Brawl, Project M)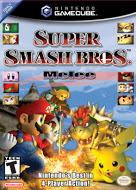 Interestingly, the title of Most Popular Game appears to be undisputed by Union gaming corner regulars.
"Number one, Super Smash Bros. Melee," said College Gaming League President Michael Williams.
"Smash Bros. Melee, because everyone plays that here," agreed Computer Engineering major Devon Clark, a junior.
"One is Smash, Project M and Melee," said Aaron Shelton, a junior graphic design major and member of CGL.
Yes, Super Smash Bros. Melee, a fighting game available for Nintendo's GameCube console, and a mainstay of both the corner and College Gaming League's meetings and events. The game's popularity has proved pervasive enough that last spring's "Geek Week" event used the game as the basis for a videogame tournament.
"Everyone plays Melee here," echoed Freshman Phillip Jeanty, a Biology Major.
 [divider type="thin"]
While assigning the top spot was rather easy, the rest of the "best" were disputed, with choices being dependent on the positioning of a couple commonly-agreed-on games; and the different thoughts on whether game mods (modified versions of a given game) and games in the same series counted as either one entry or multiple entries. For instance, Williams and Shelton consider Super Smash Bros. Melee distinct from Project M, a popular and oft-played mod of Melee's successor game, Super Smash Bros. Brawl; while Clark and Jeanty address the two as a single item.
Nevertheless, some commonality did emerge. Shelton, Williams, Clark and Jeanty all identified the Street Fighter, Tekken, and King of Fighters game series as being quite popular in the corner as well.
[divider type="thin"]
2. Tekken (Tekken 6)
A fighting game — currently in it's sixth iteration — created by Namco, and often found on the Xbox 360 in the gaming corner. Unique amongst the fighting games played in the Union in that the game features fully three-dimensional movement for characters, and a relatively slower pace of gameplay compared to its contemporaries. A favorite of corner regular and CGL member, Ales Soares, a sophomore film major spoke about her skill at the game in a previous UP story:
"I do kick their butts in games. Like in Tekken, oh my god,"  Soares said about playing against male gamers, "I wasn't that good before, but now I practice and [the boys are] afraid and they have to really work for it. And there is a lot of cursing and stuff."
[divider type="thin"]
3. Street Fighter (Street Fighter IV)
A fighting game made by Capcom and one of the most widely-known franchises in the genre. Often played on the gaming corner's Xbox 360, the series is in it's fourth iteration, and has popularized many staple features of the genre. Gameplay is fast-paced, characters are restricted to two-dimensional movement, and matches are often over in little more than a minute. In addition to its popularity amongst FAU's gamers, the game is also quite popular in organized tournaments.
[divider type="thin"]
4. King of Fighters (The King of Fighters XIII)
A fighting game series created by SNK, currently in its thirteenth incarnation. Infamous for it's difficult boss battles and distinctive art style, it too can be found on the Xboxes in the corner. The game is characterized by breakneck-pace gameplay over several quick rounds per match, and is a favorite of Clark and Jeanty.
[divider type="thin"]
Video game-savvy readers (or anyone with basic literacy) may notice a pattern here; by and large, the most popular games in the Student Union's gaming corner are quick-paced fighting games (as might be inferred from their titles). There's a couple of reasons for that, chief among which is the spirit of competition.
"Fighting games are pretty popular…people enjoy violence, and people enjoy the competitiveness of fighting games," Williams said, speculating why fighting games are so popular. "I mean, video games have always had an edge of competition… "
"Everyone has a competitive side, and they really just want to show off some skills" said Jeanty, "and fighting games are the best for it, because they're action-packed and they're quick bouts."
The second reason, alluded to in Jeanty's statement, is that of time. Namely, fighting games can be played in short bursts, as a given match rarely lasts longer than two minutes, and is therefore easy for student gamers to both pick up and put down without disrupting their daily schedule.
"That's one of the reasons why I ended up starting to do it a lot," explained Clark, "because I always used to play fighting games, and it's actually really preferable that way, because you just sit down, go through a quick match, and be done before you have to go to class."