Follow the Leader: Mark Nelson is one of FAU's most talented – yet quiet – baseball players
Mark Nelson embodies what it means to walk softly, but carry a big stick. Figuratively and literally.
The Owls infielder — and co-captain — was a key cog in FAU winning the Sun Belt Conference last season.
But Nelson is not your typical rah-rah sort of leader. He lets his actions speak for him, a trait he's possessed for quite a while.
"Always," Nelson said. "I've recently stepped up a little bit vocally, but for the most part, my life has always been lead by example."
And it's led to a great deal of his success.
FAU has won the conference title in two out of the last three seasons that Nelson, a senior, has been a part of the squad. His younger, less-traversed teammates look to him for support.
"The seniors like Nelson, they've been through it," sophomore pitcher Austin Gomber said. "Those guys were here when they to regionals in 2010. That's what we want to do. We lean on the guys with experience and that know what it takes to get where we want to go."
Even the more-accomplished players hold a great deal of respect for Nelson. Alex Hudak, who's currently with the Kansas City Royals, has known Nelson for around seven years and still raves about him.
"What's so great about Mark is he's just a character," said Hudak, who played the last two seasons at FAU. "He's got a sense of humor but he never lets it get in the way of how hard he works. He'll crack a joke or keep you on your toes, but he's always out there working hard. That's what makes him a great player. His intangibles as a person are something you can't teach. He's a great dude."
[divider type="thin"]
Baseball has been ingrained in Nelson for as long as he can remember. He tried out other sports, but almost immediately fell in love with his bat and glove.
"I always played other sports, but I wasn't as good," Nelson recalled. "There wasn't much competition between other sports and baseball. I knew when I was a little kid that baseball was for me."
Growing up, his idols were Ken Griffey Jr. and Mark Grace, each for different reasons.
"When I played outfield, I was a big Griffey guy," Nelson said. "Throughout my whole life, I was a huge Grace fan, especially since I'm a Cubs fan and now play first base."
But there's one less famous idol who Nelson always aspired to become: his big brother, Brian, who he credits with breaking him into baseball.
"My brother's always played," Nelson said. "He's about three years older than me. I've always pushed myself to be as good as him and his friends. That's definitely helped out, playing against the older kids when I was younger."
Brian Nelson played high school and college baseball, the latter at the University of West Florida as a shortstop. As an older brother, he knew Nelson was destined to follow in his footsteps.
"Mark's always been very competitive," Brian Nelson said. "When we were kids, he wanted to beat me at everything. Video games, wiffleball, stuff like that. We'd be out in the street and he'd challenge me and my friends."
Both Brian and Mark were brought up in a baseball household and baseball-heavy region of Orlando, so it was no surprise they ended up gravitating toward the sport. Still, Brian is proud of his younger sibling for all that he's accomplished at FAU.
"Extremely proud," Brian Nelson exclaimed. "That goes for everyone in our family."
[divider type="thin"]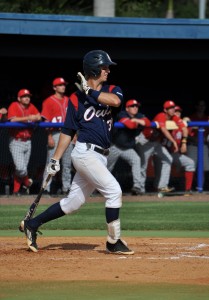 Although he's a good player and quiet leader, Nelson can be an excellent practical jokester, as well.
Outfielder Corey Keller can recall two pranks in particular.
"One time [at the team hotel], they got these water guns. A few of us were trying to just relax in our rooms, and they're spraying us with water guns. [Nelson's] filling up this huge jug of water for his gun and we opened our door and it came pouring into this room. It kind of pissed me off."
"There was another time when I was sleeping in the pullout bed," Keller said. "I accidentally left the door a little cracked and Mark came in and flipped over the bed. I actually got folded in half. He likes to be a jokester. I'm going to get him back this year."
The ribbing goes both ways, however. Nelson's teammates — past and present — don't hold back from poking fun at his stature.
Standing 6-foot-2, Nelson now weighs 200 pounds due to making the transition from outfield to first base. But there was a time when his frame was much scrawnier, as recounted by former teammate and longtime friend Mike Albaladejo.
"The first time I saw him in high school, he was the same size, but literally a buck fifty (150 pounds). I'm talking about just like a pencil," Albaladejo said with a laugh. "But to see him now and the player he developed into, a first baseman that's about 200 pounds, it's just a complete 180. I tell him all the time, like, 'Golly, you were 150 pounds soaking wet, what happened?'"
The extra mass has given his teammates more ammunition to work with.
"We're always making jokes with Mark in the locker room that he's got a big belly, so we always point it out and laugh about it with him," outfielder Geoff Jimenez said.
Much like his abilities on the field, Nelson takes the jokes in stride, displaying a humble nature that is quickly spreading throughout the team.
Nelson will never tout his own accomplishments or make much — if any — ruckus. And his teammates wouldn't have it any other way.
"Mark is the man," infielder Mitch Morales said succinctly. "He's just a great guy."