FAU's Prank-Star: Vitaly Zdorovetskiy
YouTube star Vitaly Zdorovetskiy — well known at FAU for his Do You Even Lift? video which has been viewed 1.2 million times with 24,616 "likes" and 928 "dislikes" — calls himself a "professional idiot," but he didn't leave his native home of Murmansk, Russia just to play jokes. Zdorovetskiy wants to be a star.
For Zdorovetskiy, the road to fame has been unconventional and often rocky. After an injury riddled stint as an aspiring pro-skateboarder, a rendezvous with the adult film industry, and multiple encounters with the law, the 20 year old Boca resident has finally found his niche; producing prank videos.
Zdorovetskiy has been producing YouTube videos — which can be viewed on the YouTube channel VitalyZDTV — for over a year and a half. Miami Zombie Attack Prank! is his most popular video and has been viewed 19.2 million times.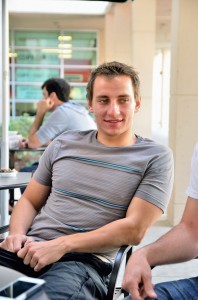 Inspired by last May's gruesome cannibal attack of a homeless man in Miami, Zdorovetskiy dressed up as a Zombie and traveled to some of the poorest neighborhoods in Miami to scare random bystanders.
Tanya Beniquez, a sophomore communications major thought Miami Zombie Attack Prank! was hilarious. "He just went crazy out of nowhere," Beniquez said.
Recently, Zdorovetskiy's career as a full time YouTube producer has brought him to FAU. "[It's] one of my favorite places to film," said Zdorovetskiy.
Some FAU students are familiar with Zdorovetskiy after Do You Even Lift? went viral, with scenes filmed near the breezeway as well as the Recreation & Fitness Center. But this time around, he's not alone.
Zdorovetskiy reunited with his friends and fellow YouTube video producers Roman Atwood and Dennis Roady— the Ohio State University masterminds behind prank video website SketchEmpire.com — to help film and produce his latest FAU video, The Letter B Prank.
The three met while collaborating on an Ohio version of Zdorovetskiy's zombie attack prank entitled Columbus Zombie Attack Prank with VitalyZDTV. Atwood and Roady invited Zdorovetskiy to their hometown of Columbus, Ohio to help them produce a prank video similar to Miami Zombie Attack Prank!
Zdorovetskiy, Atwood, and Roady agreed to talk about their most recent video filmed at FAU, but the pranksters were nearly half an hour late for their interview.
"[We all had to] take a shit at once." The only problem being that there was only one toilet to share.
"Three guys, one toilet," Roady recalled with a wide grin. The jokester's reference to the internet video Two Girls One Cup was a simultaneous stomach curdling and comical preview of the three's personalities when mixed.
Never-the-less, Zdorovetskiy and his prankster colleagues arrived at Starbucks on FAU's Boca Campus and immediately expressed that they were optimistic that their video would be received well by FAU's student body.
The video features Atwood and Zdorovetskiy placing a small mailbox sticker with the letter B on it onto the backs of FAU students. Zdorovetskiy then tells students that there's a "B" on them.
After observing manic reactions of students being afraid of getting stung by a bee, Atwood or Zdorovetskiy politely remove the sticker from the students' backs revealing that there was in fact no insect on them at all.
Roady called the reactions to the prank "absolutely beautiful," but officials at Florida Atlantic University are unlikely to share Roady's sentiment.
The UP requested a statement from media relations and student affairs concerning the prank videos Zdorovetskiy has produced at FAU, but repeated requests were ignored. Then, only days after the UP's interview with Zdorovetskiy, he said he recieved a disturbing visit.
Zdorovetskiy contacted the UP claiming that Robert Vickens of the Florida Atlantic
University Police Department visited Zdorovetskiy's home and asked him to come into his office for questioning. The UP contacted the FAU police department, but was not able to reach Vickens.
Later that evening, Zdorovetskiy posted this message on his Facebook page:
"Trespassed from FAU … everyone loves me there … cops gotta mess everything up."
[quote_left]"Trespassed from FAU … everyone loves me there … cops gotta mess everything up."Zdorovetskiy[/quote_left]It's unlikely that Zdorovetskiy will be able to return to FAU to film more prank videos, but he argues that if he were still in his home country of Russia, the police wouldn't pose much of a threat.
Zdorovetskiy believes his home country's corruption would actually make it easier to produce prank videos. Zdorovetskiy says Russian police can easily be bribed. The British publication The Guardian stated that "the sheer amount of bribes paid to officials has skyrocketed" under Vladimir Putin's reign.
The prankster pointed at Starbucks' window in the Breezeway and, with a smile, said, "You give [the police in Russia] five bucks, I can break this window."
Born in Russia, a young Zdorovetskiy realized early that career prospects in his home country were bleak.
"No future, no nothing, pretty much be a bum, drink vodka every day," said Zdorovetskiy. "The education [in Russia] is higher, but when you finish that education you cannot get a job."
According to Forbes Magazine, Russia's unemployment rate dropped to a modest 5.3%, but "a country can achieve a very low unemployment rate while still being relatively poor and having a number of serious structural issues."
Despite his apparent contempt for Russia, Zdorovetskiy hopes to one day return to Europe to produce more prank videos. He has a large fan base overseas — recently his Miami Zombie Attack Prank! video was ranked 2012's No. 1 prank video by the popular British show "Rude Tube" — but Zdorovetskiy would rather move west before he goes back east.
Zdorovetskiy has his heart set on Hollywood. "That is my goal," he said, despite rumors that he was considering enrolling at FAU. Zdorovetskiy plans on moving to California this October.
One of Zdorovetskiy's first tastes of fame came when he appeared on Comedy Central's Tosh.0, but Zdorovetskiy is more interested in starring in comedy or action films than being featured on someone else's television show. He believes that YouTube will propel him to more desirable roles.
"I am pursuing my career through YouTube, so when I go to auditions I have a resume to show, because a lot of it is acting."
While the YouTube sensation has no reservations about becoming a movie star, Zdorovetskiy has already begun to experience some of the negatives of fame and attention during his short time as an internet sensation.
Zdorovetskiy said his personal relationships have, at times, taken a backseat to his obsession over his fan's feedback, praise, and criticism.
"My girlfriend hates me, all my friends, my best friend … we are not friends anymore," said Zdorovetskiy. The online actor says he'd rather be looking at what YouTube viewers have to say. "I'm on my phone constantly, comments, comments, comments — [YouTube comments] mean a lot to me."
The strain that Zdorovetskiy's career has had on his personal life isn't anything he can't handle. To achieve fame, Zdorovetskiy has overcome challenges from the Police, the Law, YouTube competitors, and severe critics. A friend lost over an obsession with YouTube comments won't phase the stoic Russian.
[divider type="thin"]
[title type="h3″]2007[/title]
Zdorovetskiy's aspirations for stardom date back to his high school years. In 2008, footage of Zdorovetskiy executing impressive skateboarding tricks in a video titled Sponsor Me: Vitaly Zdorovetskiy surfaced on YouTube.
The then-16 year old had aspirations of pursuing a career as a professional skateboarder, but according to Zdorovetskiy, constant injuries derailed any hopes he had of gaining sponsorship. He resorted to waiting tables until his next big opportunity came up.
The short video has only been viewed about 16 thousand times, which pales in comparison to Zdorvetskiy's prank videos.
[divider type="thin"]
[title type="h3″]2011[/title]
Zdorovetskiy wants to be a movie star, but it didn't take him long to figure out he preferred the mainstream film industry over the adult film industry. Shortly after Zdorovetskiy turned 18, he appeared in a pornographic video with porn star Diamond Kitty. The short video appeared on the popular adult website BangBros.com, whose headquarters are located in Miami, Fla.
"I needed the money," said Zdorovetskiy. "You only live once, I am trying to do everything possible."
"He has an enormous cock," added Roady. "That is his problem. It gets him into trouble."
[divider type="thin"]
[title type="h3″]2012[/title]
For Zdorovetskiy, fame and success was followed by notoriety and legal trouble. His Miami Zombie Attack Prank! video, which received 19 million views and was featured on Comedy Central's Tosh.0, was sandwiched by two different arrests.
On March 23, 2012, the prankster was arrested for impersonating a law enforcement officer following the production of his video Disturbing the Peace 4. Vitaly was wearing fluorescent orange shorts, a white shirt, and a Santa hat, but was never-the-less cited for fraudulent impersonation.
Vitaly was arrested again on June 26 for hoax bombing charges stemming from a mishap that occurred while filming Russian Hitman Prank Gone Wrong! Vitaly is still engaged in a legal battle with the State of Florida.
"[The State of Florida] says go to trial, but if I go to trial and lose I could be facing six years."
It still isn't clear whether or not Zdorovetskiy truly wants to be a movie star, or just desires recognition, fame, and praise for his unconventional collection of talents. What is clear though is that Zdorovetskiy's most recent prank video produced at FAU is sure to get a reaction.
View Comments (2)