New info on Delray man arrested for watching child pornography at FAU library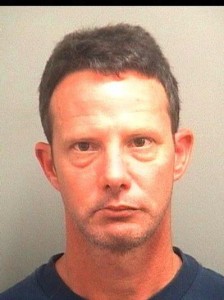 Over a year ago, FAU police began investigating Andrew Manning, 41, after a witness reported he spent "an extended period of time" watching porn in the S.E. Wimberly Library, on the Boca campus.
The Sun Sentinel reported he was arrested on Thursday, July 5, on four counts of "obscene material." The UP dug a little deeper and found Manning has been a registered sex offender since 2004. According to the Florida Sex Offender Registry, he was convicted for having possession of child pornography.
Manning, a vet assistant, used the library to watch "pornographic material, including material depicting children," according to the Sun Sentinel. According to a report by the FAU Police Department, one of the sites showed "animated, sketched, and 3-D rendered images of male children involved in explicit sexual activity, including extreme bondage acts."
Assistant state attorney Gregory Shiller explained this time Manning was busted for watching images that depict child pornography, not actual child pornography like his 2004 conviction.
On June 10, 2011, someone witnessed Manning watching porn in the library, then contacted FAU police.
According to the report, after Manning left the computer, "the witness checked the search history on the computer and made note of numerous websites accessed that were pornographic."
After, the officer was informed Manning returned to the same computer. The FAU officer confronted him and found he visited the same websites as the prior incident. The officer escorted him off the Boca campus, gave him a trespass warning, and told him he may face criminal charges.
Manning has no connections to FAU other than his illicit use of the library.
According to William Miller, dean of university libraries, "The FAU Libraries are not 'public libraries,' but are instead funded by the university to serve the needs of students and faculty, our primary customers."
Anyone outside of FAU cannot borrow books from the library unless they are members of the FAU National Alumni Association, but they can access the computers with a guest username and password they can get at the reference desk.
"We have security measures in place, and we do not tolerate illegal behavior, by anyone. If a problem occurs, it is handled by the appropriate personnel," said Miller.
The report doesn't say why Palm Beach County Sheriff's Office arrested Manning on Thursday and not sooner, but Shiller explained "sometimes computer forensics takes a long time."
Manning was booked in the Palm Beach County jail, but posted $12,000 bail.
Because Manning posted bail before he was seen by a judge, state prosecutors are waiting for the next court date to be posted.
Manning's past conviction "could play a role in his sentencing," said Shiller, but that is not yet determined.