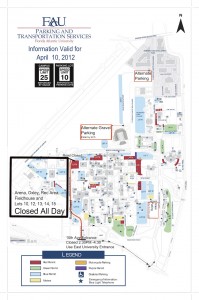 Because of President Barack Obama's visit on Tuesday, you can expect it to take longer than usual to get to campus.
I-95, Glades Road and all campus roads are expected to be backed up, according to Parking and Transportation Services' announcement. So if you need to be on campus from noon to 5 p.m., FAU recommends to carpool or get dropped off on campus, according to the announcement.
If you're coming home at 1 a.m. on Tuesday night, don't bother parking in any lots west of West University Drive (Lots 10, 12, 13, 14 and 15), the university says. These lots will be closed all day. But Lot 5 and the gravel lot north of the stadium will be open, according to the announcement. If you're planning on going to the Arena, the track, the Field House or the Oxley Center, give yourself a few extra minutes to walk over there.
Students can park on the grass area off St. Lucie Ave (across from Lot 25) and on the paved area north of PBSC, according to the announcement. But since all students, faculty and those going to the event can park in these areas it still may be packed.
Campus shuttles will be there to pick up students and faculty, but won't take you to the athletics complex unless you're going to the event, so plan on walking there.
If you usually take West University Drive to get to campus, don't. It will be closed from 2:30 to 4:30 p.m.
If you're coming from I-95 on Glades Road, you'll have to use the third FAU entrance on East University Drive. Volusia Street and Dade Avenue will still be open, but you'll be redirected to Indian River Street and then East University Drive anyway, but you can use the 20th Street entrance to get to campus.
Also, Lifelong Learning Society classes will be cancelled on Tuesday and rescheduled. If you have Exercise Science classes on Tuesdays, you won't find them in the FAU Arena as usual,  but class isn't cancelled, according to FAU. The announcement says students should contact their professors to find out where class will be on Tuesday. All other classes will go on as usual.
Parents picking up their kids at the Henderson School and Slattery Center are asked to use the 20th Street or Spanish River Boulevard entrances, according to the announcement.
Click here for more information about what to do and not to do on Tuesday.