Review: Marvel's Agents of S.H.I.E.L.D. "The Bridge": All kinds of feels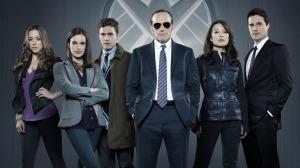 Marvel's "Agents of S.H.I.E.L.D." goes all out for its winter final episode, leaving viewers out on a cliffhanger alone with their feels.
The episode begins with a prison break and a bunch of super soldiers. The terrorist group Centipede from the pilot episode is back along with a few familiar faces.
After being debriefed on their new mission, the team sets out to look for escaped prisoner Edison Po (Cullen Douglas) and find out how he is involved with Centipede. Not knowing that much about the terrorist organization, the agents get some backup from an old "frenemy."
Remember Mike Peterson (J. August Richards)? The hard-working father from the pilot episode looking to give his son a better life after he gets super powers from Centipede? Yeah that guy.
He's back and thanks to Fitz (Iain De Caestecker) and Simmons (Elizabeth Henstridge) and their "Night-Night Gun" (a tranquilizer gun Brett Dalton's Ward shot Peterson with in the pilot), he's got his crazy powers under control.
While on the hunt for bad guy Po, Skye (Chloe Bennet) is still trying to find information about her mother. Meanwhile May (Ming-Na Wen) and Ward (Dalton) are working out some tension they still seem to be harboring after their one-night stand a couple of episodes ago.
There isn't a lot of character development in "The Bridge." Instead, the focus is more about the plot. As TV shows start taking their winter breaks, plot development acts as their way to keep viewers coming back next year.
A great part about this episode is that the show brought back characters from previous episodes, like Peterson and the girl in the flower dress a.k.a. Centipede recruiter Raina (Ruth Negga) and subplots like the eye tracker Amador (Pascale Armand) had in "Eye Spy" instead of relying on outside movies like "The Avengers" and "Thor: The Dark World."
Fitz and Simons take a back seat in this episode but are no less adorable, especially Simmons who can't get enough of Peterson as she measures his muscular body. "You do know we have equipment that takes measurements?" asks Fitz.
There are some great moments with Richards' Peterson who has really found his niche with the good guys at S.H.I.E.L.D. Skye is particularly happy to see him again and to see him use his powers for good. However, with Joss Whedon, when things start looking up for a character  there is always some foreshadowing of bad things to come.
The feels in this episode really start when Skye confronts May to help her find information about her mother. May, already upset at what she thinks was an attempt by Ward to protect her in a fight with evil super soldiers ("It was tactical, not personal" insists Ward), tells Skye to get over it. Skye's not the only one with family issues. Coulson (Clark Gregg) has a touching moment with Peterson when he asks why Peterson hasn't seen his son Ace (Ajani Wrighster) since the events in the pilot episode. There's that foreshadowing again.
This episode isn't all emotions though. There are some pretty good action scenes with Peterson showing just how good his Centipede powers are by beating up the evil super soldiers when May, Ward and Coulson are down for the count. He kicks ass even after getting stabbed!
Not only does the plot thicken with Centipede but there is also a new mysterious character introduced to the series. The Clairvoyant is so secretive that Raina isn't even allowed to know what he's like. As Po said, he killed that last guy who asked too many questions.
I won't spoil the ending for you, but I will say make sure you have Kleenex close by.
As a winter final, I give "The Bridge" an A. This episode has it all. There are emotional scenes, well-choreographed fights scenes, and that S.H.I.E.L.D. humor we've all come to love. Don't worry fans, Marvel's "Agents of S.H.I.E.L.D." will return Jan. 7. Plenty of time for you to catch up on any episodes you might have missed.