FAU senior guard Alex Tucker reflects on his last regular season game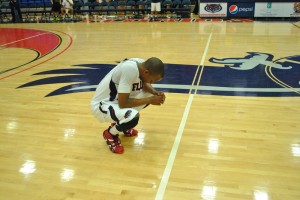 It's the last regular game of the season. FAU's down 83-82 to Troy and bolting up the court — game on the line, punctuation of the season on the line — and the team has a shot to win it. Point guard Ray Taylor swings the ball to senior Alex Tucker who sees an opening. Tucker drives left, as Troy's Alan Jones lets him get free around the edge before Tucker goes up strong with a layup attempt.
It's blocked.
The 6-foot-9-inch Tim Owens swoops over and sends Tucker's shot flying backwards. The buzzer sounds. A distraught Tucker walks gingerly toward half-court. While Troy players are hugging and high-fiving, the rest of the Owls are walking, heads-down, back to the locker room.
Tucker crouches down and thinks, his red shoes bending at the soles trying to keep steady a broken man.
"Just thinking about the good stuff and the bad stuff that happened in the Burrow," he says. "I had a lot of good memories — beating Big East teams, winning the championship last year in the Burrow, and then, obviously, the games we've lost."
After a full minute, the 5-foot-11-inch guard from San Pedro, Calif., retires to the locker room, his thoughts consumed with pain.
"What really hit me was when I was on the court, the fans and the students were still there, and then they started to applaud, and I realized that's the last time we're gonna hear that in the Burrow," Tucker said. "And my dad came out from California and he just told me how proud he was, how proud he was I was going to graduate. It was an emotional night."