Men's Basketball: FAU defeats ULM 58-30
New year, new defensive mentality. And a new lineup, too.
FAU raced out to an 11-0 lead that it would not relinquish, defeating ULM 58-30 in its conference home opener at The Burrow. The 30 points allowed were an all-time FAU record for fewest in a game as were the seven points ULM had at the half.
After allowing an average of 73 points per game in the last five games, FAU head coach Mike Jarvis tried to motivate his team to play better defensively by showing clips this week from former NFL coach Herm Edwards and former NBA player Charles Barkley.
"Those were the messages," said Jarvis." You play the game to win and in order to do that you got to play defense."
It paid off.
"Holding them to seven points in the half and they only had eight made field goals for the game?" Guard Ray Taylor asked. "That's great defensively. We got to keep this going and keep playing defense the way we did tonight."
After losing five straight games, FAU started seldom used forward Jelani Floyd in place of the team's leading rebounder, Pablo Bertone. Coach Mike Jarvis had a method to his madness.
"The reason why we had a new starter tonight was that last week after one of our losses, I said to the team, this is the only team I've ever coached in my life where every player has started," said Jarvis. "And then I said no…one guy hasn't started and my son said to me, why don't we start him (Floyd)? Now, nobody, absolutely nobody, can say they didn't get a chance. [We're] probably the only 12, 13 man squad [in the country] that can say every player has started."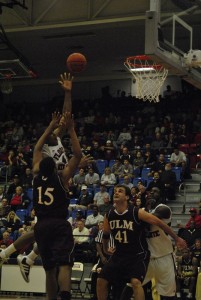 Floyd had two rebounds and did not attempt a shot in six minutes of action. Bertone had two points and a block in nine minutes off the bench. Solid defense by FAU held ULM to 3 of 21 shooting in the first half as it built a 23-7 halftime lead.
FAU guard Greg Gantt made as many 3-pointers(three of them) as ULM did shots in the first half, as he outscored the Warhawks by himself with 11 points. Gantt finished with a game-high 20 points on 8-13 shooting.
"We put in a new offense this week in practice and we're trying to perfect it right now," Gantt said. "I think it's really good for our team. Our guards are coming off a lot of screens, it's a lot of movement. It's getting our big men more open."
The Owls hit eight 3-pointers in the game. ULM committed seven turnovers in the second half and did not score its first points until 10:15 into the game on a three-pointer by Charles Winborne. Hugo Mingo led ULM with 12 points on 8-8 free throw shooting.
The Owls defense limited the Warhawks' ball movement, as ULM had four assists for the game. ULM shot 19.5%, hitting just 8 of its 41 shots. Coach Jarvis was pleased with the fact that FAU played "team defense" and did not rely on one-on-five defense.
FAU had five steals and five blocks in the game.
"Defensively for the rest of the season, you're going to see this kind of defense out of us," said Taylor. "As long we can get stops, we should be able to win games."
FAU held ULM to eight points in the paint. FAU, in contrast, spread the wealth, totaling 13 assists — eight from point guard Ray Taylor.
Jarvis wants to keep his team sharp, insisting that no one's role is secure.
"Tomorrow [in practice] I might put two groups of five on the court and we might play a 15 point, 20 point game," said Jarvis. "And the team who wins will start [the next game]."
FAU plays at Arkansas-Little Rock on Jan. 7 at 8:00 p.m.