Midnight Madness Kicks off 2011-2012 Basketball Season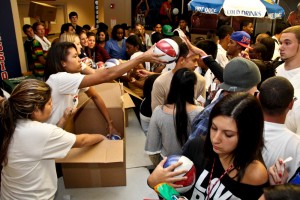 The Burrow was buried with Midnight Madness on Thursday night, as students and fans celebrated the beginning of basketball season for FAU's men's and women's teams. The FAU men's team's Sun Belt Conference Champions banner was raised to the rafters.Coach Mike Jarvis reflected on last year, but had a new goal in mind for his team.
"Last year was incredible," said Jarvis. "We made history by winning the league championship and we want to repeat. But we want to do more than just that. We want to bring the fans a team that will compete in the NCAA tournament in March."
The women's team is striving for equal success this season.
"The guys got a banner last year, we want to get one this year," said Women's coach Chancellor Dugan. "We've been working hard all summer on it."
Her team wore pink jerseys to honor Breast Cancer Awareness Month.
The free event, hosted by Student Government, allowed fans to participate in activities on the court with the teams.
"I thought the event was very nice. It was really exciting," said junior Criminal Justice major Nancy Francois, who played a game of knockout with the teams. "It was great to be able to interact with the players."
A thousand red,white, and blue mini-basketballs were given to students after the event, as well as a white "Beat MTSU" shirt that was distributed upon entrance.
The pep team, cheer team, and mascot entertained the crowd before the introduction of the teams.
Coach Jarvis issued a guarantee to fans, as he urged them to support the team this year.
"We need all of you to come out and fill this place up," said Jarvis. "Because you're going to witness the most exciting style of basketball you've ever seen. I promise."