Preview: We The Kings to rock FAU Jupiter's OWLStock
Art, crafts and music will kick off FAU Jupiter campus' newest event — OWLStock.
Local musicians, The KillBillies, Fresh Catch and Break the Hero, will be joined by We The Kings on the FAU Jupiter campus' recreation fields from noon to 6 p.m. on Saturday, Feb. 22.
At 4:30 p.m., We The Kings, the rock group from Bradenton, Fla., hits the stage to headline the night. Songs from We The Kings' latest album, Sunshine State of Mind, released in 2011, will be performed during their set.
The Killbillies, consisting of Ben Childs, Zak Hoffman and Micah Scott, will take the stage first at noon. They're starting the music festival off with a folk/Americana/rock blend. According to the KillBillies website, the audience can look forward to a "Pogues meets Mumford and Sons dirt grass sound."
The reggae/alternative rock of Fresh Catch will rock the crowd from the main stage following the KillBillies. The heavy reggae sound of Fresh Catch comes from "Whaily," "El Brujo," "The Nick," "Spesh," and "Whistle-Whistle," born out of Stuart, Fla. With three full-length albums independently released, Fresh Catch's sound has an island feel with keyboards, trumpets, bass, guitar and drums to match the Latin/Caribbean vibe created by a blend of vocals.
Break the Hero from Port St. Lucie, Fla. will follow, bringing an "aggressive blend of rock, punk, and metal," according to the band's website. Break the Hero's set finishes at 4 p.m., preceding We The Kings taking the stage.
Students will also have the opportunity to create a "unique piece of art that they can take home with them" with local artist and game designer Stephen Naumann, according to Jupiter Programming Board Director Blake Bailey.
The six hours of art and music are being hosted by FAU Jupiter's Program Board and Student Government. The Jupiter Program Board reached out to We The Kings' agent through Concert Ideas, a booking agent.
[divider type=""]
Event Schedule: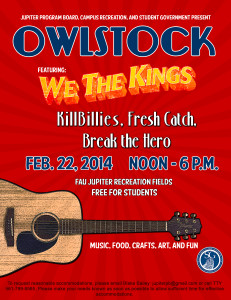 11:55-12 Introduction
12-1 p.m. The Killbillies
1-1:30pm Student Performance
1:30-2:30pm Fresh Catch
2:30-3pm Student Performance
3-4pm Break The Hero
4-4:30pm SG Election Candidates Speeches / TedXFAU Announcement
4:30-5:30pm We The Kings