My first music festival: AURA Music & Arts Festival
It was just past 2:50 p.m. on Valentines Day. My car was packed and my girlfriend and I were ready to celebrate — but not the typical way. Instead of a candlelit dinner or a movie, we were headed to AURA Music Festival in Live Oak, Fla.
The drive from FAU to Spirit of the Suwanee Music Park, where the three-day festival was taking place, took a little over six hours. We missed the first few bands, but around 9:30 p.m., after getting our tickets and parking, we were able to catch the Ohio jamtronica band Papadosio. Despite the nippy 60 degree weather, the campsite was full of musicians, vendors, artists, dancers, people doing yoga, and even some goats (but I'll get back to that). This would be our home for the next weekend.
Friday
We walked down a set of amphitheater stairs that we soon realized were built into an area of woods. This was one of the coolest areas of the park. It was dug out of the ground and descended down to a pit and main stage. At the bottom was Papadosio in the heat of their song "Cushion." There were trees with hammocks, people dancing and twirling hula-hoops and an entire row of artists painting to the rhythm of the music being played in front of them.
There was never more than one big act playing at the same time. There were two stages, the Amphitheater Stage and the Porch Stage that alternated use. So while one band played one stage, they were tearing down and setting up the other for the next band — music was always playing.
After watching a few more bands, we drove no more than three minutes to my friend's campsite about a half-mile away.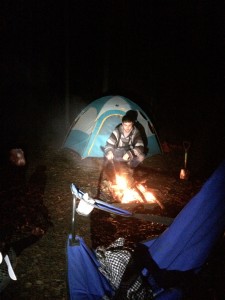 Admittedly, we were exhausted and just wanted to set up our tent and go to sleep. We ended up missing the silent disco — where two DJ's spin at the same time, and you put on headphones that only let you listen to one or the other, so you have a dance floor of people dancing to two different songs at the same time. The silent disco closed both Friday and Saturday AURA nights, going from 1:30 a.m. to 4:30 a.m.
Our campsite was right next to this dirt road where there was a stable. But there were no horses, just some goats and an emu. It was a weird place to camp out, but fitting with the festival vibe.
We made a fire, roasted some marshmallows and hot-dogs, drank some wine and went to sleep under the full moon to the music of Papadosio side-project, Earthcry (you could hear the music from the two stages almost anywhere in the park).
Saturday
The next day, I made my way down the amphitheater stairs and had to stop and listen. It was just after noon when this band (that I honestly didn't plan on checking out because of their name) called Pigeons Playing Ping Pong was tearing up the stage. They describe their style perfectly, calling themselves "high-energy psychedelic funk." I watched in awe for about 30 minutes.
I headed over to Dunedin Brewery for some beers before going back to my campsite to grill up some burgers and get ready to see the rest of the day's music. The Mike Dillon Band was on next, and when we got to the amphitheater, they were playing some groovy punk-rock music unlike anything I've ever heard.
The band consisted of a drummer, bass player, Mike Dillon singing and playing percussion and trombone player, Carly Meyer, dancing eccentrically across the stage.
It was beautiful during the day. The sun was directly above us and the temperature was at 60 degrees. Speakers blared electronic music from an Eno Lotus Lounge hammock tent, but soon after, Marco Benevento and his band started to play and the electronic music was turned off.
They had a world-fusion/rock n' roll sound, but later in the set played some of the most hilarious music I'd ever heard, all on top of simple, pretty melodies. He was joined by Mike Dillon to play "The Real Morning Party," where Benevento started the song by yelling "SMOKE WEED!" into his mic (many audience members did).
They broke into an epic "Buddy Rich versus Gene Krupa" (drum set gods) percussion battle between Dillon and Benevento's drummer, Andrew Borger. After, the band returned to the chorus — complete with Meyer running onto the stage and dancing with the band.
We enjoyed most of this set from the lawn surrounded by dozens of people doing yoga. Some by themselves, some in pairs, and others in larger groups. In fact, yoga and a "healthy mind and body" in general seemed to be an important theme at the festival.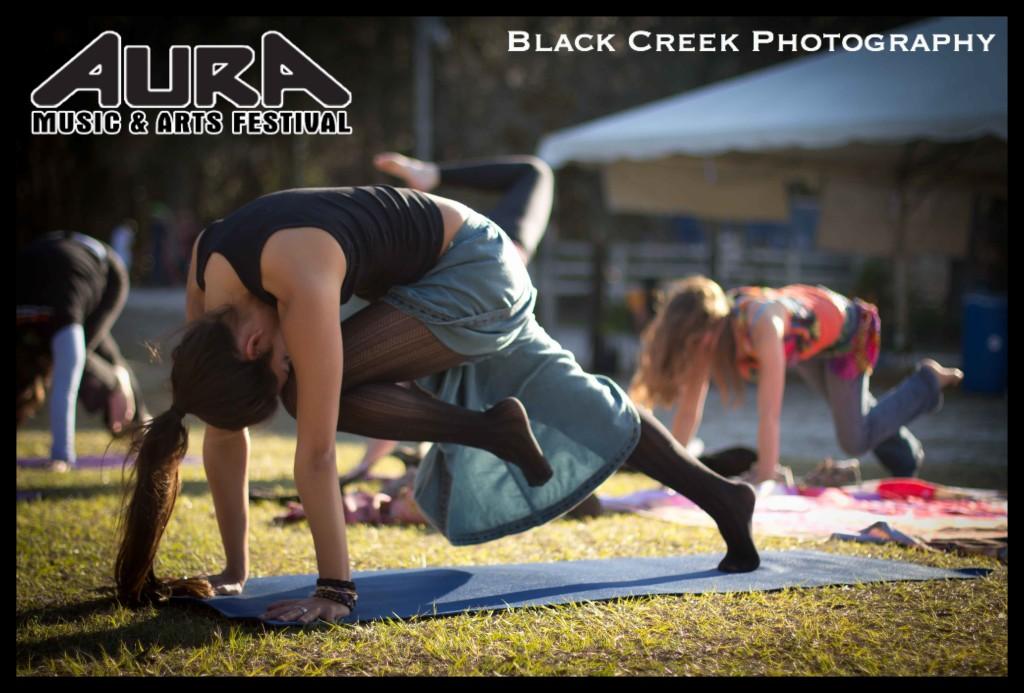 After Benevento's set was over, we walked around, checked out the vendors, and got some dinner. Most or all the food vendors sold homemade, organic, vegan, vegetarian, and other health foods.
We ate at Free Lovin Foodery, whose menu includes items like "Grateful Bread," "Bohemian Wrap-sody," and the "Whole Lotta Lovin' Plate." We got a chicken "Heady Bowl" which had rice, lettuce, cheese-potatoes, sour cream, cilantro, sriracha sauce and maybe another ingredient or two. It was just a delicious fusion of flavors — similar to all the music of the weekend.
After we ate, we went back down to the Porch Stage where a band was playing that I was surprised I had never heard of before. As soon as I heard their music, I knew it was just my style. The band was called Particle, and they played a mix of world-fusion and jam music, but some sections of their jams got very electronic and disco-y. They even played "Children's Story," a hip-hop classic by Slick Rick which got some audience members break-dancing.
Across the way, I saw an artist who goes by Red Delinquent carving these crazy designs into big squares of styrofoam to Particle's music. My girlfriend and I danced quite a bit to the band while watching Red Delinquent do his thing.
Most of the vendors sold homemade jewelry, art, clothes and other accessories. We ended up getting big, wool hippie hoodies to keep us warm. On our way back to camp, we met a festival-goer wearing shorts and sandals who told me he was from Virginia.
He was eating what looked like home fries, but they seemed a little different so I asked him what they were. He told me they were roasted beets and he got them from the Funkadelic Food Truck.
I had to go try them for myself so we went and got an order for ourselves. I never thought I'd like beets, but I guess I'd like anything roasted in a dry rub with aioli sauce.
We made it back to camp shivering in the 40 degree weather, bundled up, and went to bed.
Sunday
Sunday morning, we woke up to the warmest day of the weekend — a pleasant surprise.
We decided to explore the park and the city of Live Oak a bit before the music started. We walked around, saw the beautiful woods and took a drive around the city. We restocked on food (we were going to get the most out of our little Weber grill we brought along). When we got back, we grilled some turkey and cheese sandwiches and made our way back to the stage.
When we got there, the New Orleans based Earphunk was about halfway through their very high-energy set. There were a lot of notes coming out of that band, but they were as funky as they were busy.
After their set, we went to go watch a rather memorable band, Catfish Alliance, who played some of the funkiest, greasiest, grooviest southern rock, blues and jam music at AURA. The highlight of their set for me, was their cover of Jimi Hendrix's "Third Stone from the Sun," a song I love playing more and more with my own band.
Though I didn't make it in time to catch The Heavy Pets on Friday, I did hear the sounds of a jazzy, funky electronic trio coming from the Vibe Tent. I walked in, gladly surprised to see Lather Up! Lather Up! is a side project featuring the rhythm section of The Heavy Pets, Jim Wuest, Jamie Newitt and Tony D'Amato, who played renditions of funk-jam standards including "Cissy Strut" by The Meters, "Red Clay" by Freddie Hubbard and "Footprints" by Wayne Shorter.
We returned to the Amphitheater Stage after a few Lather Up! jams to see another one of the most memorable bands of the weekend, Ohio based band, The Werks. The Werks combined so many different sounds with a versatile rhythm section capable of deep, psychedelic jams and a shredding lead guitarist, Chris Houser.
The drummer, Rob Chafin, sang as well while playing off-the-wall licks and keeping the crowd moving. For some songs, Chafin would hit a trigger on an electronic drum pad, transforming the sounds of his acoustic drum set to that of programmed disco drums that sounded straight out of a Gloria Gaynor or Bee Gees record.
After an electrifying set, we returned to camp and cooked some chicken and green beans to the music of Dopapod. We even saw the goats again while we were jamming. After digesting our meals, we headed back to the stages to see the last show of the festival, Lotus, who I had been waiting to see for months after I missed them in Ft. Lauderdale.
We got there at around 8 p.m. to see almost everyone at the park in front of the Amphitheater Stage dancing to Lotus. They put on a great show to close the night and the festival, playing well past the time they were supposed to end. I'd be lying if I said I remembered what hour of the morning it was.
Overall, I couldn't have been happier with my first festival experience. Every single one of the bands put on a great show and there was not a single note that played over the weekend that didn't have me moving my body. AURA states on their Facebook page that their mission is to create "a community of music, arts, culture and togetherness," and I'd say that was achieved in great success.