Senior guard Greg Gantt is a having a career-year for the Owls
[minigallery id="12482″ prettyphoto="true"]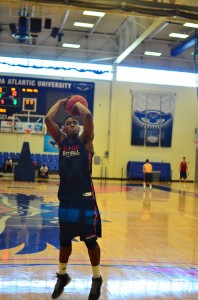 Erick Green of Virginia Tech, Doug McDermott of Creighton,…and Greg Gantt of FAU.
The third-leading scorer in men's basketball plays right here in Boca, and picks on his teammates while he's at it.
"Man, I killed Pablo today," Owls guard Greg Gantt said to assistant coach Peter Gash.
Never content, the 6'2" senior (currently averaging 22.5 points per game) was getting some free-throws up. Junior guard Pablo Bertone, who just happened to be today's victim, was trying to focus on his own shots.
Gantt wouldn't have that.
As Bertone shot his free throws, Gantt kept recalling the blunders of his Argentine teammate.
"So, Pablo tries to body me…" continued Gantt, now laughing, "and I give him a quick move, and I was gone."
Bertone starts to laugh, clanking what would have been his 12th or 13th make in a row.
Bertone got distracted. In contrast, opposing guards have had to heighten their focus once Gantt stepped on the court.
The Owls have been riding Gantt's scoring outbursts to relevance in the Sun Belt. On one particular occasion, he scored 26 points in a win against Troy. It was a Thursday, Dec. 27, a day Gantt would make FAU basketball history.
Gantt's performance placed him as the all-time leading scorer in the history of FAU basketball.
Now, in his senior season as an Owl, Gantt is playing the best basketball of his college career. In FAU's 20 games so far this season, he's scored at least 22 points in 15 contests. In his development, not only has Gantt maintained his role as a leader on his team, but he's done it while scoring at a blistering pace.
The scoring record, though historic, is the result of Gantt's hard work when no one's watching.
[divider type="thin"]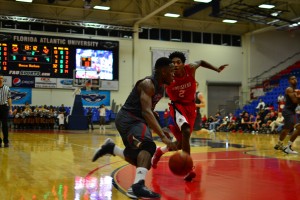 The senior shooting guard is moving more without the ball this season, made easier by his loss of 30 pounds. He's taken his defenders through mazes of screens, rarely shooting those stand-still shots he was known for.
"He's taken a small creature off his back," head coach Mike Jarvis said of Gantt's weight loss. "[The other players] see the fact that he's such a team guy, they see that he's such a hard worker. Those are things players learn from other, [more experienced] players, you know. So he's a good role model."
That knowledge has translated to Gantt's best season of Division 1 basketball. This season marks the first time he's broken the 20 points per game barrier, including a current eleven-game stretch scoring at least 20 points.
He hasn't done it alone.
"It's been a blessing," Gantt said. "The coaching staff here has so much knowledge of the game and it's really helped me. My intelligence has improved over four years. I think I'm a better student of the game, which has helped me slow the game down."
Gantt is as much a fan of the game as he is a student.
Though never modeling his game after a particular NBA player, Gantt has studied several trademark moves. "I watched Kobe Bryant in the post, Ray Allen and the way he came off of screens."
Even Gantt's toughness was something he had to develop, with the help of teammate Dante Anderson. In his junior season, Gantt would need that toughness.
That season, in 2007, Anderson was killed in a car crash. Gantt wears the number 22 jersey in his memory.
Gantt credits his teammate because "he taught me about being tough on the court."
[divider type="thin"]
Gantt was always equal parts student and athlete. While attending Gainesville High School, he was awarded "Scholar Athlete of the Year" for North-Central Florida. He finished middle school with straight A's and high school with a 3.93 GPA.
As for the athletics side of things, Gantt was a stand-out.
He was a starter all through high school, leading GHS to the 2009 FHSAA Class 5A state championship title. Gantt's high school career was the spark GHS needed to regain some prominence.
The year before he enrolled, the team had won just 10 games. His school benefited, but all of Gainesville started to notice Gantt. The Gainesville Sun declared him "one of the most clutch players in his school's storied basketball history." They also awarded him "Player of the Year" three times.
Gantt's role as an offensive spark would translate onto his time at FAU. As a freshman, he led his team in scoring with 15.6 per game, along with being the Sun Belt's fifth leading scorer. He was also named Third Team All Sun Belt.
The following season saw the then-sophomore once again lead the Owls in scoring with 14 points per game. Gantt's junior season maintained his role as the team's leading scorer while also being voted to the National Association of Basketball Coaches All District 24 Second Team.
"He used to be a stand-still shooter." said Tony Wise, who coached Gantt during his freshman and sophomore seasons. Wise was the coach who decided to take the then-140 pound freshman on to his varsity team. "And now, he's posting guys up. I even saw him playing point guard last Saturday [against Western Kentucky University]."
Kelly Beckham, in his only year coaching Gantt (as a high school senior), saw him as a "good all around player with great knowledge of the game."
Gantt has been a shooting guard since high school at least. His responsibilities have always centered around scoring the ball. That he now spends some time playing point guard, managing the offense, is a testament to his overall development as a player.
[divider type="thin"]
Gantt isn't a household name among college hoops fans.
Beckham has a theory: "I think it's just because of the conference he's playing in, you know? It's not the ACC, SEC, or Big 10, so it doesn't get as much attention. But [Gantt] could play at a high level in those conferences too. He's a fierce competitor."
Wise agrees. "He was a sweet kid, but when he stepped in between those lines, he knew there was a job to be done."
The University of Florida didn't see as much in the hometown Gantt to keep him around. He wasn't heavily recruited by the Gators. But, by the time Gator guards were done guarding him, Gantt had hit 6 of his 12 shots (3-5 on three's) in their 2010 match-up. In comparison, opposing shooting guard Irving Walker ended the game shooting 4-12 and 14 points.
The Owls are watching Greg Gantt put in a historic final season at FAU. The team's record continues to improve as they fight for position in the Sun Belt Conference. They will need the competitiveness that coaches saw (and still see) in Gantt.
It's the same competitiveness Gantt had developed as early as his varsity days.
As good as he's playing nowadays, Gantt isn't quite above some ribbing from his high school coach.
"He's never beaten me in a game of HORSE," Wise said. "He'll kill me for bringing that up."