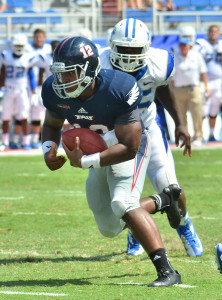 The last time FAU faced Southeastern Conference foe Auburn, on Sept. 24, 2011, they kept the outcome close.
On Saturday night, the Owls had no such luck.
In front of a regional audience –– the game was televised on Fox Sports Florida –– FAU (2-6) was dismantled by No. 11 Auburn, 45-10.
As the score would suggest, FAU fell behind quickly as the Tigers (7-1) began their barrage. On the game's very first drive, Auburn put together a six play, 78-yard touchdown drive, capped off by an eight-yard touchdown run by running back Tre Mason.
Before the Owls knew what hit them, they found themselves in a 21-0 hole with around eight minutes to go in the first quarter.
FAU's highlight on the night came in the minutes before halftime. Quarterback Jaquez Johnson marched the team 67 yards, capping the drive with a 29-yard touchdown run, his sixth rushing score of the season. The Owls went to the half trailing 38-7.
Johnson completed 9-of-20 passes for 133 yards, no touchdowns and no interceptions. He added 58 yards on nine carries on the ground. Johnson found little success through the air, prompting Owls head coach Carl Pelini to insert Greg Hankerson under center for one series –– a three-and-out.
The Owls' only other points came on their first drive in the second half. Kicker Mitch Anderson connected on a 31-yard field goal, making the score 38-10.
Simply put, FAU was severely outmatched by an Auburn offense which amassed 628 total yards (422 rushing), six touchdowns (four rushing), and 27 first downs.
"They have a great running game," Pelini told the Sun Sentinel. "We were not surprised at all. They have speed on the outside… they beat you inside. They are a good football team."
FAU finished with 247 total yards and as many punts –– 10 –– as first downs.
Adding injury to insult, FAU lost linebacker Freedom Whitfield in a scary incident when he collided with an Auburn punt returner, and had to be carted off the field on a stretcher
Whitfield was taken to a local hospital for precautionary measures, but later returned to the sidelines wearing a neck brace.
Going forward, FAU will need to win its four remaining games to reach bowl eligibility. Despite tonight's lopsided defeat, Pelini is optimistic about their prospects.
"We are capable of doing it," Pelini told the Sun Sentinel. "I've been saying it all year. We are capable of doing that as a football team and that's what our goal is."
FAU plays its Homecoming Game versus Tulane on Saturday, Nov. 2. Kickoff is scheduled for 5 p.m.