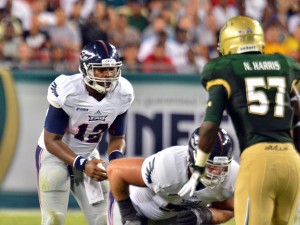 Who: Middle Tennessee State at Florida Atlantic University
When: Saturday, Sept. 21 at 12 p.m. EST
Where: FAU Football Stadium, Boca Raton, Fla.
TV: CSS
Radio: ESPN 106.3
Prediction: FAU 24, MTSU 20
After collecting its first win of the season, FAU (1-2) returns to Conference USA play in a meeting with Middle Tennessee State University (2-1).
In this, the Owls' 2013 home opener, the team has a chance to put together its first winning streak since the 2010 season, when they finished with a 4-8 record.
The odds aren't exactly in FAU's favor –– they're four-point underdogs (according to Yahoo! Sports) and MTSU outranks them in most categories –– but momentum cannot be overlooked.
FAU's morale is likely to be high following their blowout win over USF, which featured more consistent play from the offense and an opportunistic defense that scored two touchdowns.
Entrenched as the starting quarterback, sophomore Jaquez Johnson did a decent job of managing the game last week, leading a crucial scoring drive before the half and keeping the chains moving.
In his weekly press conference, FAU Head Coach Carl Pelini made it a point to praise Johnson, calling his decision-making ability "much better." Pelini also mentioned that Johnson was effective running the football, adding it only helped the offense going forward.
Against the Bulls, Johnson totaled 98 yards through the air and 55 on the ground. That was enough to beat USF, but Johnson must pile up bigger numbers to take down a talented MTSU defense, which ranks 73rd in the nation.
If the Owls' running game can't get going, Johnson may need to take matters into his own hands, and can ill afford turning the ball over. His weapons on the outside, 6-foot-4 wide receiver William Dukes and 6-foot receiver Daniel McKinney, have the size advantage over the Blue Raiders' smaller cornerbacks. Dukes in particular needs to break out after a slow start to the season (nine catches for 66 yards in two games).
As usual, though, FAU's defense will be counted on to keep the opposition off the scoreboard and help win the game. Pelini and his defensive staff know the Blue Raiders' offense is capable of putting points on the board in a hurry.
"I do believe it starts with the running game," Pelini said in his press conference. "They'll spread [the defense] out, and if they force you to bring guys down into the box, they can throw it well enough to hurt you. [MTSU has] a very balanced offense, which makes them very difficult to defend."
MTSU's rushing attack is based around sophomore back Jordan Parker, who's averaging 5.5 yards per carry this year. Last season, Parker ran for 851 yards and, coincidentally, recorded his first career 100-yard rushing game against FAU in the Blue Raiders' 31-17 win.
It'll be up to the Owls' front seven to hold the point of attack and contain Parker. FAU's defensive line must match the physicality of the MTSU offensive line and win the battle in the trenches.
If successful, it will allow the defense to get after Blue Raiders senior quarterback Logan Kilgore, who has combined for just one touchdown and four interceptions in his last two contests –– a 40-20 loss to UNC and 17-15 win over Memphis.
A QB that's prone to turnovers should be welcomed by an FAU defense which has shown the knack for creating and capitalizing off of mistakes. Pelini credits this to his players all getting on the same page.
"We're able to mix up some zones and man and keep offenses guessing a little more than we were able to a year ago," Pelini said in his press conference. "That has helped us."
If Pelini can keep the MTSU offense guessing, the Owls should be in an ideal position to pull out a close victory, spurred on by their home fans.
Loading ...