Football: FAU shocks Western Kentucky with decisive 37-28 win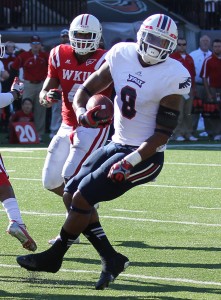 The Owls came into Bowling Green, Ky., winless in its last 15 road attempts. But, two weeks after they ended a six-game losing streak, another long drought has similarly been vanquished.
In a back-and-forth affair, FAU emphatically defeated the Western Kentucky Hilltoppers 37-28, improving to 3-6 on the year, 2-4 in the Sun Belt conference and 1-6 on the road.
Just as we predicted.
While the Owls have made an ugly habit of blowing late leads, they bucked that trend against the Hilltoppers, thanks to an all-around solid effort from each of the three units.
With five seconds to go in the game, the defense cemented the victory with an interception by defensive back Keith Reaser, who took the ball away from WKU receiver Willie McNeal on a last-ditch effort pass, sashaying nine-yards for the cherry-on-top score. It was Reaser's second interception of the day.
"He came up big for us today," defensive back coach Ross Watson told ESPN760. "He did a great job of being heads up and making intelligent football plays. I was excited for him to see that and pay off that way."
The pick-six was particularly crucial because it had come just moments after WKU cut the lead to 31-28, when FAU running back Jonathan Wallace inexplicably fumbled the ball on a handoff and it was returned 75 yards for a touchdown by the Hilltoppers' Quanterus Smith. It set up an onside kick, which the Owls would recover.
On the previous possession, FAU linebacker Freedom Whitfield picked off Western Kentucky's Kawaun Jakes, and the team was in clock-killing mode with 1:55 left in the fourth quarter.
Prior to the wacky antics in the final moments, FAU built its largest lead of the game with 3:09 remaining, as running back Damian Fortner scampered in from four-yards out. It capped off a 10-play, 80-yard drive that took 4:50 off the clock.
The TD was set up by a 15-yard personal foul penalty on WKU, and also a 35-yard reception by receiver William Dukes, who had another spectacular outing, totaling nine catches for 104 yards.
It was a close contest before Fortner found paydirt, however.
After FAU kicker Mitch Anderson knocked in a 47-yard field goal just 30 seconds into the fourth quarter – giving the Owls a 24-14 advantage – the Hilltoppers marched 63 yards in 1:08, scoring on a 24-yard touchdown throw from Jakes to running back Antonio Andrews, cutting the deficit to 24-21.
The third quarter brought about little action, save for a 20-yard touchdown reception by receiver Daniel McKinney on the third play of a 23-yard scoring possession. At that point, FAU led 21-14, retaking the lead after being tied 14-14 at the half.
When the game began, it looked like it was going to be a long day for the Owls. On the opening drive, the Hilltoppers made a statement in front of its home crowd. They drove 78 yards in 10 plays and jumped out to an early 7-0 lead on the heels of a two-yard TD plunge by Andrews.
There'd be no more scoring in the first quarter, but FAU quickly responded in the second. Quarterback Graham Wilbert snuck into the endzone from one-yard out, tying the game at 7-7.
Nine minutes later, with 4:02 left in the half, Jakes led another 10-play scoring drive, hooking up with McNeal for six-yard touchdown.
Trailing 14-7, and backed up deep in their own end, Wilbert would put together by far his most impressive possession — one that completely changed the dynamic of this game.
Escaping would-be sacks, Wilbert spread the ball around to his slew of weapons. He found receiver Jenson Stoshak for 23 yards, tight end Nexon Dorvilus for 10, completed two consecutive 11-yard passes to receiver William Dukes and found Stoshak for another 16. A 15-yard offensive pass interference penalty wiped out a touchdown, but it didn't faze Wilbert, who connected with McKinney for a six-yard touchdown on third and goal.
On that drive alone, Wilbert was 7-of-9 for 96 yards, which precluded his highly-effective afternoon. The senior signal-caller completed 23 passes for 257 yards, rushed 6 times for 14 yards and recorded three touchdowns. Most importantly, he failed to throw an interception for the fifth-consecutive week, as he is managing the offense at an increasingly-high level.
Wilbert failed to get much help from his rushing attack. Wallace accumulated 68 yards and Fortner just 20. Wilbert simply put the team on his shoulders and picked apart a stout Western Kentucky defense.
Special teams also did its part. Anderson continued his resurgence, punter Sean Kelly boomed a 66-yard punt (the longest of his career) and receiver Travis Jones returned a punt 48-yards on FAU's second possession, eclipsing his previous long of 18-yards.
In all, this was largely a team win for the Owls, who entered the day as 16.5 point underdogs. Coach Carl Pelini has this club believing, despite being out of bowl contention. If he gets the same kind of effort next week against FIU, a winning streak is likely to be born.
For now, a Gatorade bath and a monumental moment in the Pelini era, will have to do.