Burel Edmael sweeps the floors you step on, scrubs the stalls you crap in, and wipes the tables you eat at — but he never stops smiling.
Behind that smile is a man who has spent the last 16 years waking up at 6:30 a.m. every Monday through Friday. Edmael drives to work from his house in Delray Beach before some students turn in for the night and before others wake up for class. He clocks in at the Student Union at 8 a.m. sharp, wearing his signature blue polo, slacks and loafers. And as students start pouring into the Student Union for the day, he inspects every table, tile and toilet still dirty from the day before.
This week, the biggest mess Edmael cleaned wasn't left by any FAU student, it was the mess from tropical storm Isaac.
It was Tuesday, Aug. 28, when Edmael picked up the palm fronds scattered across the university after Isaac forced FAU to close Monday.
In the middle of cleaning up, Edmael was called over to the Owl Card Center, next to the FAU merchandise shop on the first floor of the Studen Union. A tile fell from the ceiling of the center, caving to the heavy rains which pounded the roof the day before — then another tile — and another after that.
"I came in Tuesday and half the ceiling was gone," Richard Hue, a senior criminal justice major says. Hue works at the center, registering new students and replacing lost cards. "I like Burel [Edmael], he's very enthusiastic, never looks upset … just gets her done," Hue says.
Edmael picked up the wet tiles from where they'd fallen, then swept and mopped the floor and went back to restoring the outside of the union.
Before stepping back outside, however, Edmael stopped to fist bump junior philosophy major Patricio Coicou.
"I don't think he knew I was Haitian, so one day I was talking to him, he spoke Creole, I answered," Coicou says. "Now we bump fists in the hallway occasionally and go our way."
Coicou works at the front desk in the Student Union, but Edmael fist bumps dozens of students daily, accompanying it with a giant grin and a "Hey brotha!"
When the palm fronds were piled up and hauled off, Edmael performed upkeep around one of his favorite areas on campus: the Live Oak Pavilion. The building is four conference rooms wide, tucked between the north end of the Student Union and Parking Garage I.
He spent the rest of his morning clearing the leaves, spanish moss and debris from the walkways around Live Oak with a leafblower.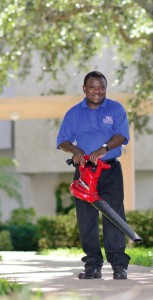 "If it has to be done, we do it," Edmael says. "The thing you do everyday, you're happy to do it."
Outside the conference rooms is an area littered with white tables and seats, which are shaded by the patio umbrellas and the branches stretching out from the southern oak tree in the middle of the courtyard.
"It's quiet over there," he says. When his lunch break comes, Edmael prefers to sit alone at one of the tables. His meal of choice is spaghetti, rice and meat. And although he usually eats alone, his coworkers are also his friends.
"Anybody likes working with him," Yolene Joseph says. She works alongside Edmael as the evening custodian. "He makes me fat because he brings me lots of mangos. He likes to give."
Joseph clocks in at 2:30 p.m., during the turnover from the lunch rush, while Edmael finishes up and clocks out by 4:30 p.m. And Edmael has never clocked out an hour earlier than that in the 16 years he's worked at FAU.
"They've never cut my hours," Edmael says. He thanks Larry Faerman for that, the Student Union director and Edmael's boss. "When they want to cut my schedule, he takes care of me. He's always there to help, he's a good man."
The feeling is mutual. "There's nothing he would not do if you asked, and do it with a smile," Faerman says. "As a leader, you take care of the people who are happy."
Origins 
It started in the Housing Department.
Edmael, his current supervisor Tony Moschetti, and Faerman all started working at FAU in the Housing Department. Sometime in the mid- 1990's, the university decided to outsource its maintenance and custodial services departments in the Student Union. This is where Edmael entered.
He came to America in 1994 and found work at Jantrex, the company FAU hired to keep the university clean.
Edmael was born and raised in Anse-à-Veau, Haiti. He eventually moved to Port-au-Prince, where he became a language teacher for knowing how to speak Creole, French, Spanish and English. Being multilingual came in handy when he left Haiti for Paris.
"It's easier to get paperwork over there," Edmael says. Then he got a visa and came over to America. After two years of working with the cleaning company Jantrex on visa, he applied for an open custodial position at FAU. He started out in the Housing Department, cleaning the University Village Apartments (UVA) at the end of each semester.
Of all the places Edmael has cleaned on campus, the interiors of the UVA dorms remain the filthiest, according to him. The challenge was cleaning over 528 dorms — each full of garbage collected over the semester — in the two week break between semesters. "We only cleaned when they moved out," he says.
When Faerman started working as a housing coordinator in 1999, he lived in the same UVA dorms Edmael considered the dirtiest on campus. Faerman recalled walking into one trashed dorm at the end of a semester and being awestruck by a ceiling fixture.
"There were beer bottle caps stuck to the popcorn ceiling in the living room," Faerman says. "The students who lived in the apartments went there too … academics wasn't their priority."
Then in 2003, Tony Moschetti started working alongside Edmael as a custodian in the Housing Department. Moschetti is now Edmael's supervisor, who reports to Faerman.
"We got into it together," Moschetti says. He became the custodial supervisor for housing, overseeing Edmael and the rest of the custodial crew.
Then Faerman moved into the Algonquin dorms and, soon after, moved up from housing coordinator to assistant director of the department.
But in 2005, the director of the Student Union, Brian Keintz, stopped outsourcing the custodial and maintenance services. This paved the way for Edmael, Moschetti and Faerman to transfer out of housing to their current positions in the Student Union.
Because the Student Union had no custodial services department, Keintz brought Moschetti over from the housing department to be the Student Union's custodial supervisor. "We didn't have a program, so I started it," Moschetti says.
Within a year, Moschetti brought Edmael over to the Student Union from housing, where they were reunited as custodial supervisor and custodian. Then in 2010, Faerman went from being the assistant director of housing to being the assistant director of the Student Union. A year later Faerman was promoted to director.
"It was a reunion of sorts," Faerman says.
In his 16 years at FAU, Edmael applied for one other job — within the university's maintenance department — didn't get it and didn't mind. "I'm happy to be here, nobody gives you a hard time. It feels like I'm at my house."
But Edmael doesn't have thousands of students floating in and out of his house everyday. "We're like a family here," Edmael says. "We take care of the students. Without students we don't have a job."
Family 
It was Saturday, Aug. 19, and Edmael, Faerman, Moschetti and other Student Union staff were tossing a football at Quiet Waters Park. The three were at a picnic for students and staff who work in the Sudent Union.
"We're gonna make it a yearly thing," Mark Anthony says. Anthony is the maintenance supervisor of the Student Union.
But Faerman makes it seem like the picnic has been an annual tradition for years.
"I think back to our housing days, we did a family picnic," Faerman says. "Everybody showed up real casual and [Edmael] had his kids dressed as if it was a very formal event. It was our first time meeting his family."
This showed Faerman that Edmael took as much pride in his family as he does in his work.
"We were playing field games and having ice cream eating contests," Faerman says. Where other families wouldn't let their kids participate, Faerman remembered Edmael's kids playing with the rest of them because their father told them not to worry.
"That's the definition of who he is: a workman, a family man, dedicated to each of those causes," Faerman says.
Faerman and Edmael met in the housing department before either of them were married with children.
"He knew me before my wife, so he's met my family as it has grown," Faerman says. "Similarly, I've met his kids on occasion as they were born and grown as well."
Edmael married his wife in 2003, a year after starting at FAU. Edmael's son is 11 years old and his daughter is 6 years old. Edmael has high expectations that his children will be attending their orientation as FAU students at the Live Oak Pavillion.
When his son was ready to take his first communion last May, Edmael reserved the Live Oak conference rooms to host the reception.
But that's not the only rite of passage Edmael expects to see his son complete at FAU.
"The best part is the graduation. I love to see all the students," Edmael says. "How they'll dress up and if they find jobs."
"One day I can see my son [graduating]," Edmael says. "Same goes for my daughter."
Maybe that's why he's always smiling.
---
Burel Edmael cleans more in a day than most FAU students will clean in their entire lives. Here's a breakdown of his daily tasks by the numbers:
– Amount of bathrooms cleaned: 19
– Amount of floors mopped: 20
– Amount of floors swept: 30
– Amount of floors vacuumed: 10
– Amount of windows wiped: 30
– Amount of mirrors cleaned: 19
– Amount of trash bags changed in a shift: 20  – 30
---
Here's a short list of tasks Burel Edmael completes daily:
– Clean the exterior areas of Student Union including Live Oak Pavilion, Student Activities Conference Center, and Center Market Place
– Ensure that all trash has been collected from Student Union including Live Oak Pavilion & Student Activities Conference Center
– Ensure that all restrooms are cleaned and fully supplied. Check for water leaks and inoperable faucets.
– Ensure that all stairwells are clear and cleaned.
– Ensure that all elevators are swept and mopped.
– Ensure loading dock is clear and clean.
– Check recycling bins.
– Monitor carpets in all facilities for gum, stains in the carpet, and vacuum as necessary.
– Wash and clean trash cans and walls as needed.
– Check on all windows and glass mirrors; cleaning as necessary.
– Clean outside and inside tables and surfaces as necessary.
– Monitor, clean, and trash disposal in offices.
– Other special projects like carpet cleaning and pressure washing as assigned.