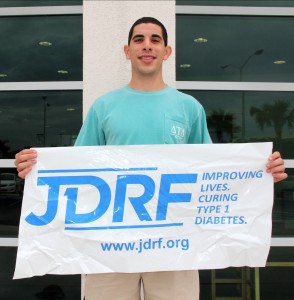 Forty-four iPhones, 60 FAU students, and $4,443 raised for juvenile diabetes research.
It was late Tuesday, Sept. 18, when Eric Marmer — a senior criminal justice major and president of FAU's Interfraternity Council — sent a Facebook message to his brothers in the Delta Tau Delta fraternity.
"Does anyone else think this is a good idea and willing to wear our letters and wake up at 3:30 a.m.?" Marmer asked his fraternity brothers in the message.
The idea was to gather as many of his fraternity brothers as possible to stand in line outside the Apple store in Boca Raton's Town Center mall for the iPhone 5 launch — to sell their spots in line for $50 each and donate the profits to the Juvenile Diabetes Research Foundation (JDRF). Back in June, the national Delta Tau Delta organization partnered with the JDRF to raise funds and awareness about Type 1 diabetes.
"It was an off-the-cuff idea," Evan Konecky, a senior elementary education major and Delta Tau Delta's new member educator, said.
Then, Thursday night around 11 p.m., 60 of Delta Tau Delta's 78 members showed up and stood outside the mall.
"It was pouring rain," Konecky said. "The only brothers excused had work or a test the next day."
The fraternity brought tables to play poker and pass the time. But their spots started selling quickly when others in line found out why the group was there.
Konecky jumped ahead from being the 33rd person in line to the 20th person when someone offered to trade their position for the cause.
"Just kind strangers," Konecky said. The woman who bought his spot at 5 a.m. also brought the fraternity 60 donuts, according to Konecky.
None of the fraternity members bought the iPhone 5 that morning, but they did sell 44 spots before leaving.
"Some people said 'We might get it,'" Konecky said. "We told them to hold off."
Then another stranger offered to match the fraternity whatever amount they raised, bringing the total amount raised to $4,443.
"Our main goal this semester is impacting the community," Konecky said.
So far the Delta Tau Delta fraternity has raised $6,700 for JDRF between the iPhone 5 release fundraiser and two barbecues held earlier this month.
"We did it," Marmer said. "Because we love giving back to the community."
— Mo' money, Movember —
The Delta Tau Delta fraternity is bringing back their annual tradition of not shaving the entire month of November. It's called "Movember," and the fraternity expects to raise between $10,000 to $15,000 for men's cancer initiatives this year, according to Marmer.
Conor Ryan, a sophomore criminal justice major and Delta Tau Delta's secretary, has already raised $215 and become a top fundraiser, according to the Movember website.
"Good job with the head start," Robert Huffman, student body president and member of Delta Tau Delta, wrote. "But be prepared to be beaten."