Preview: Get WOW'ed! Two events happening this week
Kicking off the fall semester, Mission Green, Graduate Student Association and new student programs are making sure there is something fun for everyone here at FAU.
These events are all part of Weeks of Welcome (WOW), a two week series of events compiled to adapt new students to campus life and all it has to offer. WOW includes seminars, socials and activities all based on getting you involved in student life outside of the classroom. Here are two events happening this week. Mark your calendars.
Green Market @ FAU Grand Opening
It's not easy being green, but FAU's trying to help.
With the organic food trend on the rise and students constantly emptying their pockets to eat out, an open market on campus means students get a chance to buy locally grown fruits and veggies — minus the scary prices or pesticides. "Oh my god, that's so cool! I'd so buy their food," Pamela Heguaburo, a freshman pre-med major, said.
As part of Mission Green's partnership with Inika Foods, an FAU alumni-owned food prep business, FAU's own green market will be held every Thursday from 4 to 8 p.m. at FAU Stadium. The grand opening is this Thursday, Aug. 30.
Each week, the Green Market @ FAU will offer a variety of local vendors, including alumni-owned businesses selling items such as fresh produce; prepared foods such as hummus, beets, pickles and sauces; artisan crafts and jewelry; organic products like soaps and lotions; and entertainment from students and other local artists.
"The green market is not limited to produce. Organic soaps, honey and flowers can be purchased at the green market, but not necessarily at places like Walmart and Target," Johnny Yuen, president of Mission Green said. Over 30 vendors are already signed up for the first green market based on Mission Green's Facebook page.
Though some students think it may not be for everyone. "I would not go. I would not buy handmade arts and crafts. I'm not a girl," Cody Curbelo, a freshman engineering major, said.
There are many perks to buying produce from an open market rather than a grocery store. "The growers will be there to talk about the products, and anyone purchasing items can feel good about what they are buying," Yuen said. Talk about customer service.
Some students are excited about getting organic fruits and veggies right on campus. "I plan on going. Organic strawberries are delicious," Max Torres, a sophomore electrical engineering major, said.
The atmosphere of the grand opening will be beachy — minus the beach. The opening theme is "A Day at the Beach" and will feature a ribbon cutting ceremony, as well as special guests including FAU President Mary Jane Saunders.
Mission Green will be passing out beach balls and even have nets set up for volleyball. A DJ will be there and guests are invited to bring umbrellas and beach chairs.
The green market will continue to be held at the stadium every Thursday, starting this week, and will continue throughout the semester. Admission is free and students can park for free in Lot 11. The event is also open to the general public.
Q/A with Johnny Yuen-president of Mission Green 
UP: Tell me about Mission Green? 
Yuen: Mission Green Student Association (MGSA) is an organization that promotes sustainability on campus through civic engagement. MGSA at FAU involves working on the community garden, helping out at the Tortuga Trail with SEEDS (Strategies for Ecology Education, Diversity and Sustainability), and promoting reuse and recycling.
How'd the idea of a green market come about? 
The idea of the green market came when we began hosting Green Fest, which is the annual fair at FAU where green companies showcase their products to students. Last year at Green Fest, students were able to purchase organic foods and soaps, as well as green school supplies. We wanted to bring sustainability into student life as an on-going event and not something that just happens once a year.
What kind of turnout do you expect at the opening? 
We anticipate around 500 people. The Farmer's Market is open to the public, meaning it is not limited to FAU students, faculty and staff. However, we do expect a good turnout from members of the FAU community, especially students who live on campus and are looking for clean, healthy ways of living.
What about students interested in becoming vendors in the future? 
Please contact Helen (Kennedy) at 561-297-0197 [or] [email protected] 
How do you feel about the products? 
MGSA is very pleased about the number of organic products available at the Green Market because in our community garden, we strive to teach garden newcomers the importance of organic gardening, such as using compost to fertilize crops and using methods other than pesticides to keep the bugs away.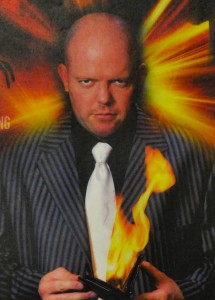 Mentalist: Brian Imbus
First a comedian. Second a hypnotist. Then a magician. And now, FAU's messing with your head again.
Mentalist Brian Imbus is visiting. That's right, more magic. The performance, which will have hypnotism and magic, is on Thursday, Aug. 30, at 9 p.m., in the Carole & Barry Kaye Auditorium, inside the Student Union. Program Board is sponsoring the event, costing them $2,500 to $3,500 according to Program Board Director Lexi Rosario.
Some are scratching their heads already. "We just had a hypnotist!" Joshua Flack, a freshman pre-business major, said.
"We just had one. He was great," Michael Precourt, a freshman film major, said.
A hypnotist and a magician both performed at FAU just a few weeks ago and gathered audiences of about 700 each, according to the auditorium staff who were working those nights. "I don't think we need another one for a while. Let's add some diversity to the performances at FAU," Precourt said.
But the event has Zack Statkus, a freshman pre-business major, excited. "Even though we had one before, they are still pretty cool to see people doing ridiculous things when they are hypnotized," he said.
But Rosario feels this show will be different than the ones before.
"More mind games. Both performances were different and featured different tricks. The performers all have different focuses. All the events so far were fun, it will be a great time," she said.
Imbus' act is called Miracles of the Mind and will demonstrate mind reading, prediction making and lots of audience participation, according to Imbus' website.
Imbus' promotional video features him simultaneously hypnotizing 30 volunteers on stage. The last hypnotist to perform at FAU, Chris Jones, hypnotized 18 people.
Beware though, if you're lucky enough to be a hypnosis victim, based on his videos, it seems all is fair in love and mind control. As Imbus says trigger words, he has his hypnotized volunteers pound on their chests and call themselves Tarzan, discover that their funny bones are missing, or even be under the impression that they are at a Michael Jackson performance. No one is safe at this performance.