Preview: Foam Party Hits FAU This Saturday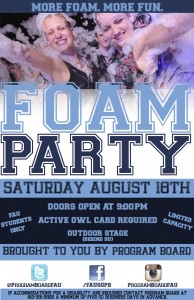 FAU's sixth annual foam party will be bigger and better than the last five — at least that's the hope with more foam.
This year's foam party starts at 9:00 p.m., this Saturday, Aug. 18, at the Outdoor Stage. The stage is set up in the fenced in field behind the Grand Palm Room of the Student Union. This event is part of So Fresh week, a series of events put on for new students by Program Board, a division of Student Government.
Former foam party goers agree the party is for new students and old alike.
"I went to the foam party last year. That was the first event that I attended as a new student at FAU," Tamara Butler said, a transfer student from last year. "I went to the party by myself, and I still had a great time. I met a lot of people that night."
Even if walking through towers of foam isn't your thing, Butler said it's worth making an appearance. "I plan to go to the party because this will be the only time that I can actually have fun and meet new people before school starts," she said. "Once it does, I won't have much time to attend events due to school and work."
Another benefit to the foam party, Butler points out, is that unlike your average party, the pressure's off. "You can actually dress down and wear something comfortable such as a bathing suit, shorts and a flip flops," she said.
This is the biggest event in the So Fresh program's itinerary. Last year, approximately 2,500 people showed up, and this year, the board is expecting 3,000 people, at least.
"Because we're upgrading on a few things, it'll be a lot more fun," Lexi Rosario said, program board director. "We're having two slides this year. We're getting another foam generator and are using hot water this year which will make it foam more."
There will also be two DJs at this year's party, the same as last year's. DJ Bre, who has DJ'd FAU's last two foam parties will be DJing the party and DJ Thunder, from OwlRadio, will be DJing the outside entrance line. DJ Bre also has a visual presentation prepared for his music.
As for preparation, students are going all out. "I'm just really excited to dance to good DJs and walk through the blow up foam dispenser while covered in glow paint," Miki Matrullo said, a junior anthropology major. "I still have paint on a belt from last year, and it reminds me all the time of how much fun it was."
If you're planning on going to this year's foam party you must be a current FAU student, and you must bring an active Owl card. This precaution is taken to avoid the problems 2010's foam party faced. In 2010, the foam party was indoors, and Owl cards were not checked. The event was packed with tons of non-FAU students, but there were still thousands waiting outside due to overcrowding.
Since the party was indoors, the body heat became so overpowering the event had to be shut down early, and half of the Boca Raton city police force were called on campus operating under martial law. Despite that, 2011 was an improvement, according to Rosario, and she expects 2012 to top that.
"I know how much this foam party means to the student body, so we're really trying to exceed those expectations and set the tone for the rest of fall semester," Rosario said. "This event introduces programming to the students and really welcomes new students to FAU and returning students back."
So Fresh 2012 started Sunday, Aug. 12, and continues until Monday, Aug. 20. The last two events are the Freshman Convocation and an Activities Fair.
For more details and a complete schedule of events, visit http://www.fau.edu/freshman/sofreshweek.php.
[Ed. Note: In the original version of this story, it was reported there was one DJ at last year's foam party and one slide. This has since been corrected.]
---
To get you completely prepared, I asked FAU students that have been to foam parties in past years for Do's and Don'ts
"Do NOT, I repeat DO NOT get fresh. Your clothes will be trashed."
–Jonathan Saint-Louis: freshman, neuroscience & behavior
"Wear sandals or some kind of shoes you don't mind getting messed up. DO NOT wear socks! Also, it might be a bad idea to bring your cellphone. Mine got messed up from all the foam, but if you can't stay away from your phone put it in a plastic Ziploc bag."
–Samantha Gipson: sophomore, undecided
"Ladies, don't wear a white top!"
–Brad Greene: junior, business
"DO bring extra clothes and wear closed shoes because you do not want your feet trampled. Do NOT hit on girls wearing less clothes than a go-go dancer, they may look fun and cute, but they will probably make out with 7 to 9 different guys before you."
–Pj Donovan: junior, mechanical engineering
"Don't do anything you don't your parents to know about UNTIL you go back to the dorm rooms! This is a foam party, not an adult video!"
–Zach Whitehead: sophomore, exercise science
"Come early, it gets really crowded! Leave the drama at home, law enforcement officers will be there securing the area. In addition, leave anything unnecessary at home or in your car because it is a school campus! Ladies, if your hair is done, come prepared, because you may not walk out looking the same at the end of the night!"
–Miquelda Saint Elus: junior, criminal justice